The hype: Finding gold mines during the pandemic
April 12, 2021
To a high school student, working part-time at Teaspoon, getting free boba and earning minimum wage for making drinks might sound like a pretty good deal. But, imagine having the chance to cash in on a 2600 percent return on your stock investments in just a few weeks.
Last November, senior Peter Budko invested all his Teaspoon earnings and more that he borrowed from his broker into GameStop — a video game retailer whose value plummeted at the beginning of the pandemic. After conducting extensive research, Peter was certain that GameStop stock, referred to as "GME," would continue to rise above his then 2600 percent return. With this certainty, he refrained from selling his stocks even though they had reached an all-time high.
"As you can imagine, losing a 1600 percent return is not a great feeling," Peter said when asked about his decision to hold the stock instead of selling it at its peak in January. "At the end of the day though, I can't complain about a 1000 percent return, and I remain confident that there will be a significant bounceback. I just try to keep in mind that thousands of people actually lost money, and millions more never even bought in. Compared to them, I am extremely fortunate."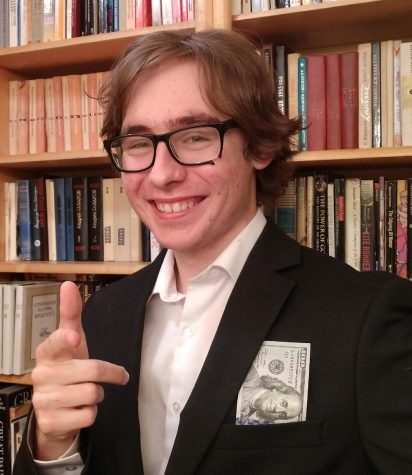 After the first major price spike in January, senior Eike Rehwald similarly convinced his father to buy GameStop's stocks in early February. While his father was initially hesitant to buy in, Eike kept a close eye on the stock and eventually swayed his father to put in some side money.
Both Peter and Eike realized the opportunity to benefit from GameStop early on while following the stock market analysis posted by users on the subreddit thread r/Wall Street Bets. Most users of this thread — known for chasing high-risk investments — are there "just for the ride," according to Eike. Others, however, are financial professionals who actually came up with the idea of potentially short squeezing GameStop.
Their plan was contingent on the forced closing of more than 462 GameStop stores in 2020 due to the pandemic. As a retailer that depends on physical sales, it seemed almost certain to many hedge fund companies that the GameStop stock would fall dramatically. In order to capitalize on this drop, these companies tried to short GameStop, or bet that the GME stock would fall.
Although shorting is a common strategy on Wall Street, the combination of massive shorting by hedge funds and short squeezing from the side of individual traders is no regular occurrence. The major GameStop incident was a once-in-a-lifetime opportunity created by the abnormal pandemic-era stock market. While GameStop stocks have not had a significant bounceback since their peak price of 483 dollars in January, both Peter and Eike remain confident about their future growth.
Unlike Peter and Eike, senior Abigail Hagan missed out on the opportunity to buy into GameStop at a low price because she didn't notice its potential profits early enough. While she does express regret for not buying in on time, Abigail recognizes the danger of investing in such a volatile stock.
"I didn't invest in GameStop because it was too high by the time I got around to it, and I think it's a really risky stock," Abigail said. "It's been really entertaining to watch, but it's a dangerous day trader's dream. You can easily become rich off of it if you have the money, [but otherwise,] it fluctuates so dang much every day."
However, Abigail realized that other than the dramatic GameStop saga, the pandemic also gave rise to a number of long-term investments that often guarantee gains because many stocks were at their all-time lows. Like GameStop, many industries were failing due to travel constraints and stay-at-home orders. Despite these drops, essential industries, such as airlines and food, will almost definitely recover as people will require their services after the quarantine, according to Abigail.
"I looked to the airline industries [at the beginning of the pandemic] because I knew eventually people are going to travel again," Abigail said. "These airline companies are too big and too global to ever shut down, so it was a pretty safe buy. Then, I realized that airlines need oil, and I bought an oil stock too. While it was bad at first because no one was driving and no one really bought oil, America is going to need oil again, so you might as well buy it. I think it's smart to bet against yourself in a sense."