'The Collective' reveals message during cultural assembly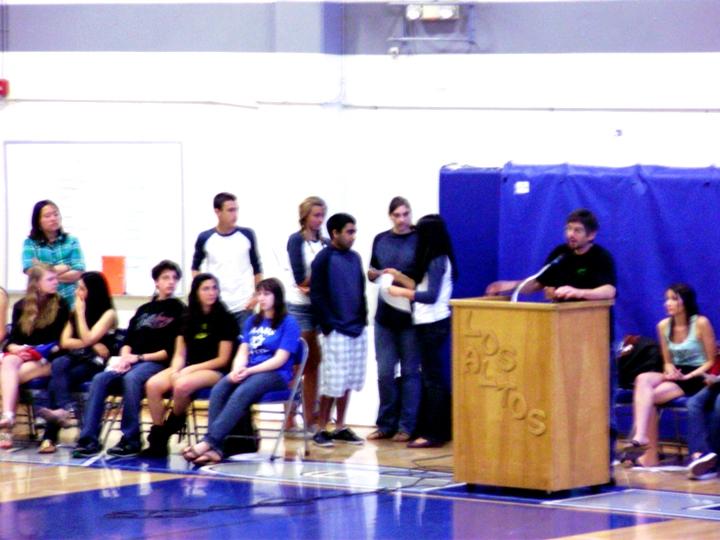 "The Unit" members stand in front of the Diversity Assembly on Friday, April 8.
The Collective held the second part of its reveal at the Diversity Assembly today, Friday, April 9.
"Our mission is to promote the respect and unity of others on the Los Altos High School campus," said The Collective's "Unit" member junior Carolyn Yang. "We as students and staff at Los Altos High School are a part of The Collective and united by a common goal to create a greater good."
The Collective had students take part in a silent activity to show "respect for all students." Students were asked to stand up and sit down if they had participated in activities described.
Social studies teacher Seth Donnelly spoke about school donations to Haiti and One Dollar For Life (ODFL), asking students who had contributed to either cause to rise.
English teacher Susana Herrera then invited students to stand up if they had ever attended Camp Everytown, served as a peer tutor, been tutored by a peer tutor, or been enrolled in a support class.
English teacher Michael Smith then performed "I Believe I Can Fly," introducing his song with the words "we can do a lot of things together."
Carolyn spoke again after Smith's performance.
"We want students to branch out and get to know each other," Carolyn said. "Our goal is to foster school unity. This is just the beginning of a new phase."
Carolyn also said The Collective plans to bring events to the school open to all students.
Other students working with The Collective also stood at the front of the gym, wearing T-shirts with "The Collective" logo.
The Collective was originally scheduled to hold its entire reveal during the Diversity Assembly. But on Wednesday, April 7 Carolyn went on the loudspeaker to hold "part one" of the reveal.
The Collective first launched its campaign on Wednesday, March 24. It is sponsored by Community Hope and Sober Events (CHASE). The Collective is implementing the ACTUALITY program, which is based out of Team Fort Collins, a nonprofit from Colorado.
Leave a Comment