Thawed chicken, clean dishes, and a lucky nickel: Omar's journey working through a pandemic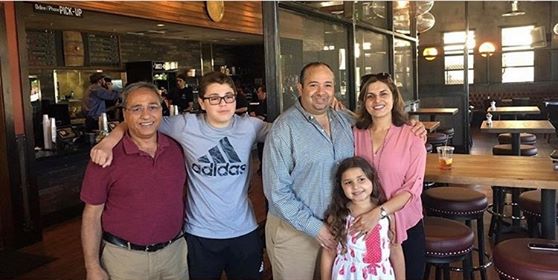 Some Los Altos students may be able to relax at home during the pandemic, doing homework and watching the newest additions to Netflix, but that's certainly not the case for sophomore Omar Ibrahim. His family owns Dishdash, a restaurant group that serves Middle Eastern cuisine. He's worked there daily since Dishdash had to dismiss more than half of its staff. Suffice it to say, Omar has barely had time for television.
On a normal day, Omar works at the restaurant from eight in the morning until noon, along with his brother, Samir Ibrahim. It's often his job to clean and prepare chicken for use after it's thawed overnight. He said he also washes the dishes and packages take-out meals.
"We've had to cut costs now that we can only do takeout," Omar said. "We've even switched up the menu and created family-style orders so that it's easier for families at home."
While the coronavirus remains a danger to our community, Dishdash's staff has been taking precautions to keep its customers and workers safe.
"Everyone working wears masks and gloves," Omar said. "Even if workers are just bagging food, it's important that they are cautious. Everyone needs to be more cautious."
Only after he finishes working in the restaurant is he able to begin focusing on his schoolwork, which he says has been more difficult without a classroom environment. He's thankful for the credit/no-credit system, which has benefited him during distance-learning.
"I've had to miss a few Zoom calls when I'm working, but teachers have been pretty accepting, as long as I emailed them beforehand," he said. "If I put my head down and work, I can get it done. The staff at Los Altos has been exceptional."
Although Dishdash was supposed to reopen its doors on May 31, new curfew measures have postponed the event until further notice. Still, Omar's family has made sure that, when the time comes, customers are able to visit their locations safely. Tables are placed six feet apart and dividers have been implemented as extra shields. Dishdash is also rehiring employees, and soon there will be enough employees re-hired so that Omar won't have to work at the restaurant every day.
"After all of this, it's going to take a while for everyone to recover," Omar said.
Thankfully, Omar's got an anonymous donor helping him out during these difficult times.
"Some old dude saw me on the street once and slipped a nickel into my pocket," he said. "Told me things would get better."
However unusual that old man was, let's all imagine some creepy old man is slipping a nickel into our pockets and telling us things will get better. Like everyone else, all we can do is hope that he's right, and that he can somehow give us a nickel while properly social distancing. And go eat at Dishdash.