Teachers, Students Should Take Advantage of Differentiation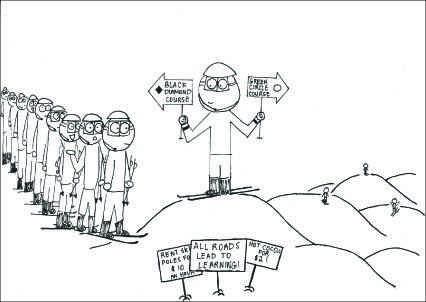 Many students are regularly faced with the dilemma of choosing between a class that is too difficult and work-intensive for them and a class that is not challenging enough. Too often, when they choose the second option, they end up spending a year feeling unchallenged.
Teachers are responsible for educating classes full of students with varying levels of comfort with the material, and cannot be allowed to tailor a class to challenge one group of students at the expense of another. However, there is a solution to this problem: differentiation, a teaching strategy in which teachers provide different materials at different levels to students in the same class. Furthermore, it is a solution the school already encourages teachers to use.
Courses can be differentiated in three areas: content, or the resources provided for students; process, or how students are instructed; and product, or how students demonstrate their understanding. Teachers often differentiate content by providing different resources beyond just text, like images and video, to students and differentiate process by allowing students to work in groups or individually, among other ways.
Teachers should incorporate more differentiated options for product into the curriculum. In turn, when offered this resource, students have a responsibility to take advantage of a system that holds them accountable while playing to their interests.
Some teachers at the school already differentiate their courses in terms of product. Social studies teacher Derek Miyahara, for example, started allowing students to choose their homework assignments based on their grade in the class when he realized that some weren't being challenged. Students with A's or B's could choose whether to do the homework from the textbook.
Miyahara noticed that not only did students find their work more meaningful, he received less complaints about grades. Giving students more options also makes them more accountable for their education because they have more control over the ways they demonstrate their learning.
Differentiation can also give students a chance to do assignments that they find more interesting. In turn, students need to make the most of this opportunity by choosing to do work on a level that challenges them appropriately.
The district has been working on utilizing differentiation for over a decade, and it is also encouraged on the state level. "Engaging and supporting all students in learning" is a California Standard for the Teaching Profession, and differentiation gives teachers a way to do just that.
"Each [student] is an individual, and that's what differentiation's about, really understanding … students to know what's going to motivate them, what's going to move them forward, what's going to be a stumbling block in their learning as well and how to get them what they need," new teacher coordinator Carmen Gomez said.
Leave a Comment