Talon's 'Best Of': Mountain View and Los Altos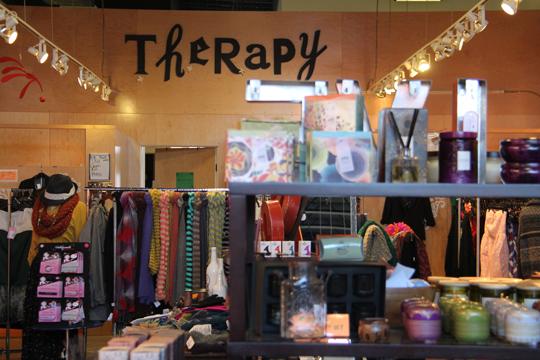 Best Clothing Store: Therapy
Therapy is Los Altos' greatest fashion improvement throughout the downtown renovations. Although new boutiques that have arrived in downtown Los Altos that sell beautiful clothing of good quality, they are extremely expensive. Because of their prices, these stores tend to cater to the older demographic of Los Altos, so Therapy's clothing is the healthy medium whose clothing (sometimes) fits students budget as well as their taste.
Even though Therapy is a lot less pricey than boutiques like Chelsea, it isn't that cheap. The store sells Free People, Betsy Johnson and Obey, so don't expect to find shirts for less than $30. Unfortunately, downtown Los Altos lacks a cheaper shopping alternative, and Therapy is the cheapest good-quality clothing store we have around. In addition to selling trendy clothing (even for men), Therapy holds a variety of gifts and houseware products. In fact, Therapy seems to carry more gifts and trinkets than clothing. The magnets and books are famous for their sardonic humor and their pillows, artwork and journals, are, for lack of a better word, artsy.
One drawback of Therapy is that their products don't cater to the simple t-shirt and jeans (or yoga pants) type of people. Finding basics like plain skirts or t-shirts is difficult as Therapy carries the current trending clothing like blazers and patterned chiffon or peplum tops. The few basics that they carry are expensive, and may not be worth the trip. Another option that's available that carries similarly priced products yet a different style is Apricot Lane (315 Main St. Los Altos) which conveniently is on the same street. Apricot Lane doesn't have the same indie-vibe as Therapy, and it carries more high-end mainstream clothing. In downtown Mountain View, there's a similar store called Boutique 4 that carries similar prices to Therapy, but holds a different style.
In spite of Therapy's indie-chic atmosphere, it has something to offer to the cynic and art-obsessed shopper. (To clarify: For the cynic, the snarky magnets are a great investment). From the pillows to the locally-made jewelry, Therapy offers Los Altos and Mountain View something Chico's and Yves Delorme can't. Whether it's to get a gift or just to satisfy personal whims, Therapy is one of downtown's best improvements.
Best Pearl Milk Tea: Ocha
Ocha Tea Cafe and Restaurant is an excellent pearl milk tea cafe in Mountain View and arguably one of the best in the Bay Area. Nestled in a busy shopping center along Grant Road, Ocha is a great sit-down restaurant for a quick bite, but is also known for its mouthwatering milk tea. Unlike other tea cafes, employees brew fresh tea for all customers every time they order and this truly adds to the high-quality flavor in every drink.
Ocha also offers many milk tea flavor choices, from almond to honey to mango. Unlike other competing tea cafes which offer drinks spoiled by the addition of excessive substitute powder, Ocha serves milk tea drinks without the artificial taste. They take the extra step to ensure the quality in each of their drinks by preparing freshly-made tea (other cafes brew tea before customers order their drinks). In addition, the tapioca balls are cooked thoroughly and have a consistently chewy texture that is unique only to Ocha. Also, for a personalized drink, one may take advantage of the option to decide how much ice and sugar they want added into their drink as well as the choice of having it served warm or cold.
In addition to its vast variety of milk tea drinks, Ocha offers an expansive menu of food options. It is a great place for a formal sit-down meal as well as for a quick one if in a hurry. The menu includes plates ranging from fried rice plates to crispy chicken and fries. Some of its specialities includes the flavorful appetizers they prepare. The popular popcorn chicken is succulent and crunchy, making it a great choice.
However, while Ocha may offer a wide range of options from quick snacks to full-course meals, it provides one of the best milk tea drinks in our local area. Though it may be on the more expensive side (each milk tea drink priced at $3.50), Ocha is an excellent cafe to satisfy your pearl milk tea cravings.
Greenest Store: Book Buyers
Recycling and reducing are easy, but in a technologically-oriented society, reusing is difficult as buying the latest technology is too tempting to pass. However, Book Buyers, a used bookstore with locations in Palo Alto and Mountain View, is making reusing easier and fulfilling.
The store itself carries a wide range of books, magazines, movies, journals and calendars. Book Buyers products are usually much cheaper than any other bookstore in the area and the only pricey products at Book Buyers are the new ones the shop gets directly from the seller. For example, the brand new copies of "Anna Karenina" and "Emma" are around $20. But the rest of the products—books from the people around the area—are about half the price of "fresh off the press" books. The price of the books, however, does depend on the quality of the used books. There are almost-new editions of books that are a little bit cheaper than the retail price, but there are also copies of "Interpreter of the Maladies" for $6.
Whether it's a journal or a copy of Penguin Classic, Book Buyers has it all. But given the fact that Book Buyers doesn't directly communicate with retailers for all of their products, there isn't a guarantee that they'll carry a specific book or author, so call ahead and see if they carry the copy as the staff is extremely helpful.
What makes Book Buyer's especially green is that it encourages recycling and reusing not only through purchasing used books, but giving customers the option to donate books. (Another place to donate books is at the Los Altos and Mountain View Libraries, which have Friends of the Library donation areas). They have specific book-donating days, so be sure to check out their website and see. While they can't monetarily reimburse for most donations, Book Buyers gives double store credit. So, in theory no one would ever have to "buy" a book at Book Buyers as long as they make donations.
In comparison to retail stores and restaurants, it's hard to find stores that promote greenness as being environmentally friendly often conflicts with business interests. Book Buyers, however, manages to encompass every principle of the green mantra—customers recycle by donating books, reuse by buying used books and reduce by not purchasing from big business bookstores—making shopping for books feel more satisfying than at Amazon or Barnes & Nobles (to further help the environment, bring a cloth bag to carry "new" books).
Best Overall Food Deal: Armadillo Willy's
On the corner of North San Antonio Road, Armadillo Willy's restaurant stands tall as the barbeque haven of Los Altos. The restaurant not only combines great barbeque taste with an array of menu options, but also provides an authentic southern BBQ environment. Of course, the tasty barbeque ribs, burgers and steaks are an appealing feature of the restaurant, but what makes the restaurant the best deal for food in our area is the price at which meals are served.
Barbeque is never cheap, but at Willy's one can get some of the best grilling deals anywhere as Willy's food is simply delicious, well-prepared and grilled to perfection.
Armadillo Willy's offers award winning Texas Ribs at only $15.95, compared to $28 Barbeque Beef Ribs at the local Los Altos Grill. Willy's ribs offer a great price for such a delicious meal.
Willy's burgers are also flavorful choices at surely affordable values. The burger prices range from $5.00-$7.50, and are all served with a side of coleslaw or french fries. Whether you're craving mushroom-swiss or even veggie-style, Willy's offers the best burgers at the most convenient prices.
There are certainly lots of food options around our area, but no restaurant can match the same food quality at the prices Armadillo Willy's offers. Willy's renowned barbeque is a sure bet hunger pleaser, and won't drain much out of the wallet. If looking for outstanding food at phenomenal prices, Willy's meets all expectations and beyond.
Best Sit-Down Restaurant: Cascal
If one's looking for an alternative to the well-known upscale restaurants in the area, try out Cascal, the Spanish tapas restaurant at the corner of Castro and California Street in downtown Mountain View. Cascal focuses on tapas, which are small plates of appetizer style food, allowing one to try many different things in one meal.
Cascal's welcoming ambiance sets a festive European mood for guests. The restaurant spans out onto a front patio and is comfortable during both the day and the evening, in which heat lamps and candles warm the tables. Inside, the high ceilings and aroma of freshly cooked meats and vegetables set guests up for a relaxing and adventurous meal.
Unlike other nice restaurants in the area, such as Los Altos Grill, Cascal's tapas cater to guests with all different types of taste pallets. Meals begin with homemade bread and an olive oil spread before the first round of tapas. Those who enjoy the spicier side of food are in luck, and will enjoy plates including the sizzling shrimp and beef taquitos. For others, who prefer vegetables and salad, both the watermelon and beet salad are delicious. Most tapas range between $10 and $15 a piece and the restaurant recommends each table orders two tapas per person to share.
Cascal also offers full entrees for those who do not want to forgo sharing tapas. They serve a variety of types of paella, a traditional Spanish dish that often contains rice, seafood and vegetables. A selection of ceviches, a mixture often consisting of lemon juice, fish and chopped seasonings is also available.
Cascal's one shortcoming is its mediocre service and friendliness. However, despite of Cascal's staff and prices, the quality of its meals picks up the slack. There is something for everyone, from vegans and vegetarians all the way to meat lovers. Cascal is the answer for anyone who wants to explore a variety of fresh, delicious food in the area.
Best Quick Eats: Main Street Cafe and Books
Although maybe not as popular as other quick food spots in this area, Main Street Cafe in Downtown Los Altos is a great place to expediently get something to eat. Located at the front entrance to Downtown, this café has friendly employees accompanied by a great ambiance.
Walking in, one is immediately welcomed by the delicious aromas of freshly baked goods. Along with a wide selection of great meals and pastries, one can also find good reading material as Main Street Café also sells books. This café is ideal for lunch. One can go in and order a quick sandwich and soup to go or grab a pastry and be on their way. For those who have more time, it is a great place to meet up with someone and have a longer relaxed lunch.
The most popular thing to get at the café is the soup and sandwich combo. It is very flavorful and filling, all for a reasonable price($8-$10). For coffee drinkers, this café lives up to its name, offering a wide selection of various types of coffees. Along with coffee, one can also get teas or ciders. To finish their meal, one can indulge in one of the many delicious pastries the café has to offer. The pastries and baked goods are very fresh and only cost around three dollars.
Best Alternative Hang-Out Spot: Redwood Grove
It's hard to argue with the facts; Los Altos and Mountain View don't offer many places for teenagers to "hang-out." While neighboring cities like Cupertino have malls, movie theaters, shopping outlets and swimming pools, Los Altos and Mountain View simply can't offer many of these amenities. What makes Los Altos truly unique, however, is its vast open space preserves and its expansive treeline.
Redwood Grove is a small, 5.9 acre natural preserve nestled snuggly just a stone's throw away from downtown Los Altos. At 482 University Avenue, Redwood Grove is just a short five minute walk from downtown Los Altos. Redwood Grove boasts a meandering Adobe Creek, a grove of majestic Pacific Coast Redwoods (hence it's name), some picnic benches and a a lot of hiking trails for the intrepid explorer.
Whether you're six or you're 60, Redwood Grove is a treat to the eyes for all. Situated right near Lincoln Park, Redwood Grove is a hidden vista of natural sights and sounds. Toddlers and children can search for insects and splash in the seasonal creek, while the more adventurous seven-year olds can trek from nearby Shoup Park through the brush to obtain a mock sense of safari. Adults and seniors can enjoy the green scenery and feast on the fresh air and open space.
Redwood Grove remains one of Los Altos' special, peaceful nature sanctuaries. Nowhere else in the area can someone get a sense of nature so close to home and downtown. Be it with friends or with family, hiking through Redwood Grove always inspires a sense of natural wonderment. Sometimes, right before dusk, hikers can see deer and their young fawns drinking greedily from the creekwater. Other times, nature-viewers might be able to enjoy the sight of a few brightly colored birds chirping on a crisp Saturday morning. The morning dew and the gentle trickling of the streams draw joggers and bikers through the week.
Leave a Comment