Talon Top Six: Weekly Current Events
End of North Korean Nuclear Experiments Could Lead to Peace
North Korea announced its intentions to suspend its nuclear weapons and uranium enrichment programs in exchange for US food aid on Wednesday, February 29. In addition to the halt, North Korea also agreed to allow international inspectors to keep watch over its activities at its main nuclear complex.
After its proposal to open talks with South Korea earlier last month, North Korea's announcement could signal its intent to establish a new peace under their leader Kim Jong-Un (below, center), who took over after his father, Kim Jong-il, passed away late last year.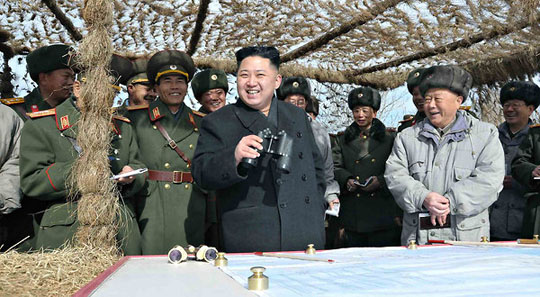 However, only a few days prior, Jong-Un delivered a speech suggesting that he may resort to military action against South Korea in order to consolidate his power.
"The United States, I will be quick to add, still has profound concerns," Secretary of State Hillary Clinton said during her announced of the agreement at a House Appropriations Committee hearing. "But on the occasion of Kim Jong-il's death, I said that it is our hope that the new leadership will choose to guide their nation onto the path of peace by living up to its obligations. Today's announcement represents a modest first step in the right direction."
In response to these recent flurry of events, the Obama administration has said these steps are "important, if limited." Obama, who is up for re-election this year, still faces the challenge of halting Iran's nuclear program.
[Photo from Korean Central News Agency, via Agence France-Presse]
Maryland Governor Signs Bill Legalizing Gay Marriage
Maryland Governor Martin O'Malley signed into law a bill to legalize gay marriage on Thursday, March 2. This new law, which would take effect January 1, 2013, would make Maryland the eighth state to legalize gay marriage.
"Religious freedom was the very reason for our state's founding and at the heart of religious freedom is the freedom of individual conscience," O'Malley said before signing the bill into law.
However, opponents of the bill vowed to initiate a referendum to reverse the law. In order to put the measure of the November ballot, which would reverse the bill before it enters into effect, opponents will need to collect nearly 56 thousand valid voter signatures. The movement to begin the referendum began after the state legislature passed the measure last week.
Supporters of the new law hope that the young voters, who have a history of supporting the cause, will be the turning point in the upcoming November elections while opponents will rely heavily on members of the African-American community.
Aside from Maryland, only seven other states and the District of Columbia have legalized gay marriage with Washington Governor Chris Gregoire signing her state's bill into law earlier last month. Currently, around 30 states have constitutional amendments that, in effect, prohibit the practice of gay marriage through various measures, most often by defining marriage as between a man and a woman.
For a video of the signing, see here.
Tornadoes Plague Midwest
Tornadoes stormed through parts of the Midwest and at least 12 people lost their lives on Wednesday, February 29. More than 150 were injured.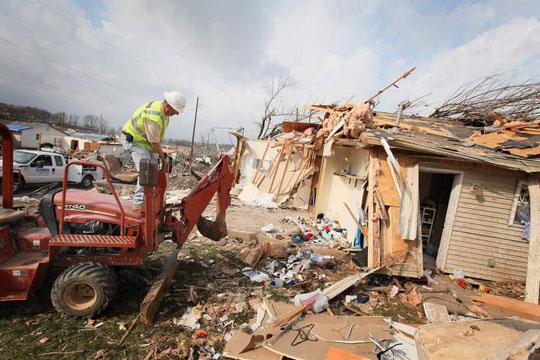 The destruction was most acute in Harrisburg, Illinois where 6 people died and about 100 were injured. Much of the town was destroyed and people searched the rubble for missing people.
The storms destroyed many towns, and there were deaths not only in Illinois, but also in Missouri and Tennessee, where three citizens died in each state.
Last year was the deadliest tornado year in 75 years, and a reported 550 died.
[Photo by Scott Olson, Getty Images]
Senate denies bill limiting birth control coverage
The Senate rejected a proposal regarding the 2010 Affordable Care Act that would have allowed employers and health care providers to opt out of paying for medical services that are against their religious beliefs or moral convictions on Thursday, March 1.
The bill, which was introduced by Senator Roy Blunt R-Missouri, was defeated 51 to 48. One Republican voted against the bill with the majority of the Democrats, while three Democrats voted for the bill with the majority of the Republicans.
Blunt and his supporters said the bill was a necessary precaution to protect first amendment rights of religiously affiliated supporters not to pay for medical services such as contraceptives, which they might oppose on moral grounds.
However, protesters of the bill said that Blunt and his supporters were attempting to deny women medical services which would be available to them under the Affordable Care Act.
"This is an important victory," Planned Parenthood Federation of America President Cecile Richards said. "Today's vote says that your boss won't be able to decide which prescriptions you can get filled and which medical procedures you can have."
Romney Wins Michigan and Arizona primaries
Presidential Candidate Mitt Romney (below) won both the Michigan and Arizona primaries on Tuesday, February 28.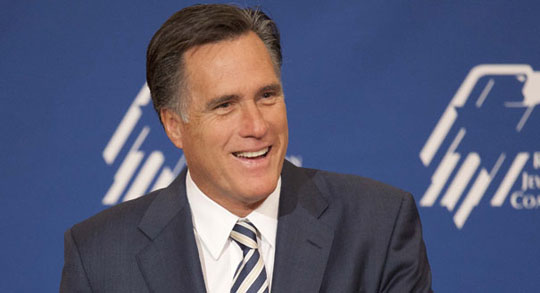 In Arizona, Romney won with 47.3 percent, Rick Santorum received 26.6 percent for a second place finish, Newt Gingrich came in third with 16.2 percent and Ron Paul received 8.4 percent of the vote.
The results were much closer in Michigan, where Romney earned 41.1 percent and Santorum was close behind with 37.9 percent. Paul got 11.6 percent and Gingrich took 6.5 percent.
Michigan was a toss up between Romney and Santorum. Michigan is Romney's home state and he campaigned heavily there. The next contests are on Tuesday, March 6, when 10 races will be held.
[Photo from the Associated Press]
WikiLeaks expose sealed indictments for Assange
In a series of confidential emails obtained from private US intelligence agency Stratfor, WikiLeaks revealed to the Sydney Morning Herald (SMH) that US prosecutors have drawn up secret charges against WikiLeaks founder Julian Assange on Monday, February 27.
Since Monday, February 27, WikiLeaks began releasing over 5 million emails it had obtained from Stratfor which, according to a partnership secured by the SMH, showed "how a private intelligence agency works, and how they target individuals for their corporate and government clients."
More specifically, WikiLeaks revealed an email from Stratfor Vice-President for Intelligence Fred Burton to Stratfor analysts, in which Burton stated, "We have a sealed indictment on Assange."
Stratfor is a intelligence agency which provides its services to many governments and corporations, while Burton is a well-known security expert with connections to US intelligence and law enforcement agencies.
Assange, who is currently awaiting a British Supreme Court decision on his appeal against extradition to Sweden in relation to allegations of sexual assault, would be in danger of open extradition to America if his appeal is rejected.
Leave a Comment