Talon Top Five: Weekly Current Events
Invisible Children co-founder detained
The San Diego Police Department (SDPD) detained a co-founder of Invisible Children for public intoxication and public masturbation on Thursday, March 15.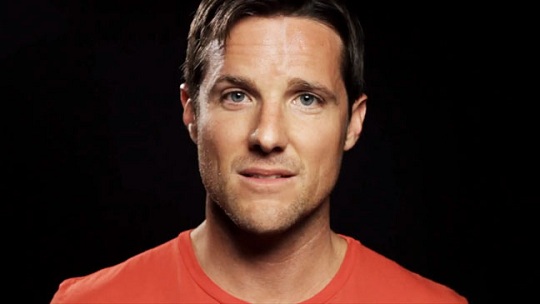 Director of Invisible Children and Kony 2012 Jason Russell, above, was allegedly found masturbating in public, vandalizing cars and possibly under the influence of something, according to a SDPD report.
"Due to the nature of the detention, he was not arrested," SDPD Lieutenant Andra Brown said. "During the evaluation we learned we probably needed to take him to a medical facility because of statements he was saying."
Police said they received several calls midday Thursday of a man undressing in public, running through traffic and raising unwanted noise. Upon arrival at the scene, officers detained Russell, who was found "in his underwear." Russell was taken to a medical center after the incident.
An SDPD spokesperson said that because SDPD could not determine whether he had criminal intentions, no criminal charges would filed against Russell.
[Photo from Hollywood Reporter]
Latest primaries and caucuses split between Romney and Santorum
Primaries and caucuses took place on Tuesday, March 13 in Alabama, Mississippi, American Samoa and Hawaii.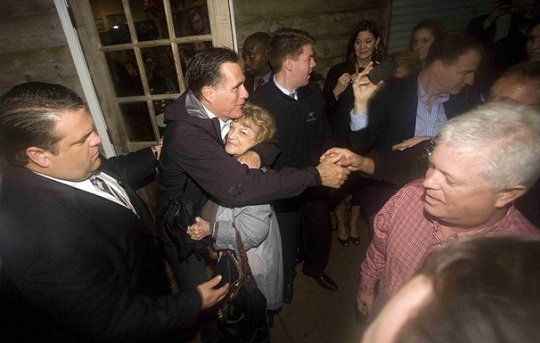 Candidate Rick Santorum took Alabama and Mississippi, while Mitt Romney, above, won in American Samoa and Hawaii.
In Alabama, Santorum received 34.5 percent, while in Mississippi, he received 32.8 percent. In Hawaii Romney netted 44.8 percent, while in the American Samoa, he took 100 percent.
Although Newt Gingrich has won only two states so far, and Ron Paul has yet to win any, neither shows any sign of dropping out.
The next race is the Missouri caucuses, which take place today, March 17. The next day will be the Puerto Rico caucuses.
[Photo from The Washington Post]
Iraqi militants free unknown American captive
Rand Hultz, an American citizen who said he had been kidnapped nine months ago by Iraqi militants, was released to U.S. officials today, March 17.
Hultz, below, said he was a former soldier who had returned to Iraq as a civilian contractor before being kidnapped last June by a Shiite paramilitary group under the guidance of the anti-American Shiite cleric Moktada al-Sadr.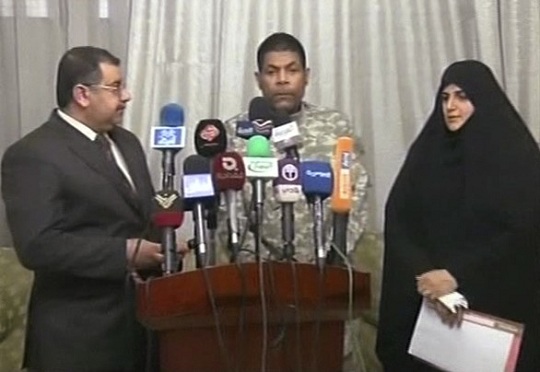 "It was explained to me that this is a gift to me, my family and the American people who opposed the war," Hultz said. "Without a doubt, I and my family thank Saeed Moktada al-Sadr."
According to the United States Embassy, the United States had no records of any American citizen still considered missing in Iraq. Hultz's ex-wife, Kendra Hultz said that she and her children maintained little contact with him and that she did not know he was missing.
[Photo from the Associated Press]
North Korea plans a satellite launch
North Korea announced yesterday, March 16 that it plans to launch a satellite into space next month using long-range ballistic missiles.
This step has prompted condemnation from both the United States and other nations.
North Korea recently came to an agreement to stop nuclear and long range missile tests, suspend Uranium enrichment, and allow inspectors into the nation. In return, they were to receive 240,000 tons of food aid.
This newest action by North Korea threatens to derail the deal, although no announcement has been formally made.
Utah governor vetoes abstinence-only sex education bill
Utah Governor Gary Herbert, below, vetoed House Bill 363, Health Education Amendments on Friday, March 16. If passed, the bill would have required Utah high schools to provide either a abstinence-only sex education curriculum or no sex education at all.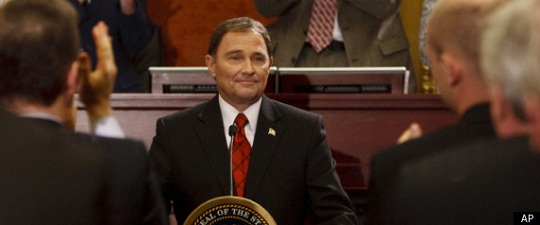 Before the veto, thousands of Utah residents wrote letters to the governor's office, more than 90 percent of them wishing for the governor to veto the bill.
"What's been striking about the correspondence that we've been receiving is that it's not template or spam content," Herbert's spokesperson, Allyson Isom, said in an interview with KNUER-FM. "It's individually and uniquely crafted and often very heartfelt, from parents, from educators, from those who care about Utah's kids and public policy."
Isom said that Herbert consulted with House Bill 363 writer, Representative Bill Wright, along with other legislative and community leaders before he decided to veto the bill.
To read the full bill, see here.
[Photo from The Huffington Post]
View Comments (2)