Violence continues in Syria as two Western journalists are killed
The violence continued in Syria this week, and two western journalists were among the casualties.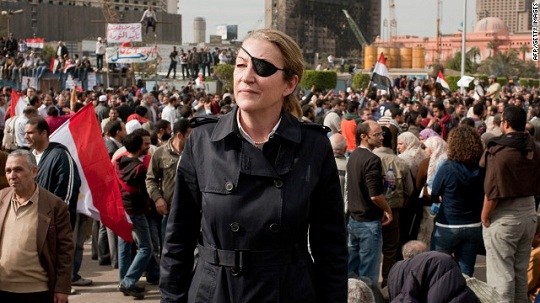 Marie Colvin, shown above, of the Sunday Times of London and French photographer Rémi Ochlik were killed on Wednesday, February 22 in the Baba Amr neighborhood of Homs.
Story continues below advertisement
Colvin was an American and a veteran war correspondent who had also reported from places like Libya.
The Syrian government has limited foreign journalists access to the country, making it hard for news outlets to confirm the events that have reportedly been taking place. However, thousands of Syrian citizens have been killed by the government to date.
For a video commemorating Colvin, see here.
[Picture from the Sunday Times]
DOW Jones hits 13 thousand
The Dow Jones Industrial Average (DJIA) topped 13 thousand points on Tuesday, February 21 for the first time since May 2008.
The DJIA tracks the performance of 30 major companies in terms of their performance in the stock market. The economic downturn has also seen a lowering in the DJIA.
It topped 13 thousand after news came out that Greece and the European Union had reached a deal on a second Greek bailout package. The economic turmoil in Europe has contributed to the troubled US economy.
Thirteen thousand points is a symbolic mark that the economy is getting stronger. While the market closed below 13 thousand, the fact that it was able to surpass it, even for a short period of time, is seen by many as a good sign.
Defense of Marriage Act ruled unconstitutional
United States District Judge Jeffrey S. White declared the 1996 Defense of Marriage Act (DOMA) unconstitutional and ordered the federal government to ignore the statute limiting the health benefits to wives of lesbian federal court employees on Wednesday, February 22.
The case involved the Office of Personal Management denying the wife of United States Circuit Court attorney Karen Golinski health benefits under the DOMA.
"The court finds that DOMA, as applied to Ms. Golinski, violates her right to equal protection of the law … without substantial justification or rational basis," White said in his 43-page ruling.
In his decision to rule against the DOMA, White said that tradition alone does not justify legislation that denies equality for any social group and that the "obligation of the court is to define the liberty of all, not to mandate our own moral code."
White's ruling will prove to be a major setback for the Bipartisan Legal Advisory Group, the newly formed House of Representatives panel that intervened to defend the DOMA after the Obama administration stated that it would no longer do so.
Six trillion dollars in fake U.S. bonds discovered
Italian authorities arrested eight people in possession of an estimated $6 trillion in fake U.S. Treasury bonds and other securities in Switzerland on Friday February 17.
An Italian police source said the operation, coordinated by prosecutors from the southern Italian city of Potenza, was carried out by Italian, Swiss and U.S. authorities after a year-long investigation.
The investigation, which began as an attempt to stop a group of mafia-related loan sharks, escalated after Italian authorities learned of U.S. Treasury bonds involvement through various wiretaps and computer intercepts.
According to the U.S. embassy in Rome, the forgeries, worth more than a third of the U.S. national debt, was "an attempt to defraud several Swiss banks."
Italian prosecutors said an international network situated in many countries was behind the forgeries.
Virginia drops invasive ultrasound from abortion law
Virginia Governor Bob McDonnell, pictured below, announced his intention of backing away from a bill requiring women to undergo an invasive procedure before receiving an abortion on Friday, February 24. One part of the controversial Virginian bill required women to undergo a invasive vaginal ultrasound screening before receiving an abortion.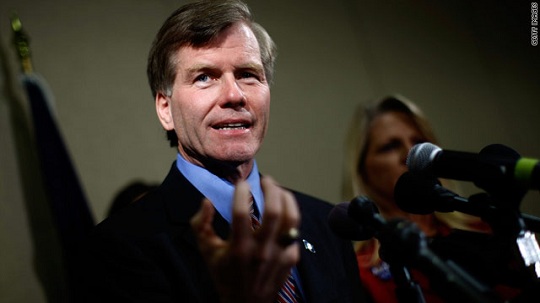 In a panel hosted by political website Politico, McDonnell addressed his concerns with the bill, citing that it might not withstand legal scrutiny if it passed.
"I got legal advice from various people, including my attorney general, that these kinds of mandatory invasive requirements might run afoul of Fourth Amendment law," McDonnell said.
However, McDonnell still announced his intention of pushing through with a watered-down version of the bill, which strikes out the vaginal ultrasound aspect, after Senator Jill Vogel, the senator who introduced the bill, rescinded her support for it.
"It was never my intent to force a woman to have a vaginal screening against her will, only to ensure that women seeking abortions are fully informed and that current state-of-the-art safety procedures are followed," Vogel said in her statement to strike her own bill.
[Photo from CNN Politics]