Washington State Legalizes Gay Marriage
Washington State legalized gay marriage with a signature on a bill from Governor Chris Gregoire on Monday, February 13.
The law will take effect in June, although opponents have said that they plan to stop the law by putting the measure on the ballot in November for voters decide.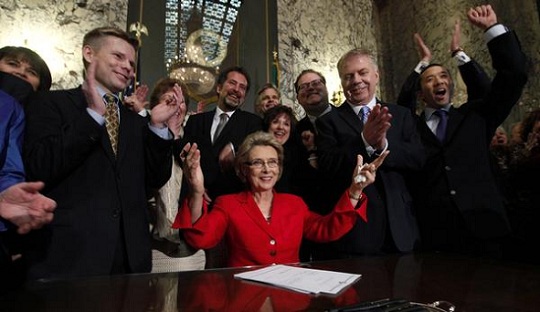 Washington now joins New York, Connecticut, Iowa, New Hampshire, Vermont and Washington, D.C. in their legalization.
Story continues below advertisement
On Monday, the New Jersey senate passed a bill that would legalize gay marriage. The assembly passed a similar bill today, February 16. The issue now goes to the governor, Chris Christie, who is expected to veto.
[Photo by Elaine Thompson, from The Associated Press]
Obama sparks controversy with birth control policy
President Barack Obama announced that all companies are now required to provide birth control, among other preventative services, to female employees free of charge. Although he later backtracked, Obama initially said this would also include church associated businesses.
This ignited a firestorm of controversy from church groups, as well as conservative politicians, who said they were being forced to violate their principles and that their religious freedom was being threatened.
Obama later amended his position to say that religiously affiliated institutions would not have to provide free birth control, but that instead insurance companies would have to cover it.
It remains to be seen what effect this will have on the upcoming election.
The Pirate Bay to delete most torrents (technically)
The Pirate Bay has confirmed that all torrent files being shared by more than 10 people will be deleted on Wednesday, February 29. Though this decision has caused a small panic amongst users, in reality, the majority of users will be unaffected. The site will still host magnet links, that The Pirate Bay has called a "step forward in technology" in an interview with TorrentFreak.
Since their conception, The Pirate Bay has been the leading BitTorrent site; however, users will soon no longer be able to download .torrent files. What this means is that The Pirate Bay servers will no longer host any of the files being downloaded by its users.
This change does not signify the end of The Pirate Bay, as users will still be able to download and share their items with magnet links, a concept in which users upload data directly to their peers instead of hosting files on The Pirate Bay's site.
The Pirate Bay has, instead, deemed this change as simply a means to circumvent the many methods being utilized by various national governments to shut down the site and seize their servers. Without the need to host torrents, The Pirate Bay will be able to move their servers much faster, allowing the site to easily transfer content away from countries which begin to target them.
Though there exists fear among The Pirate Bay users for the future of the site, The Pirate Bay has assured users that this switch is simply the next stage in the Peer-to-peer sharing technology. The Pirate Bay said that the transition to a magnet site is "a step forward in technology," and one that will make the site more resistant to being shut down.
Santorum Leads in Republican Primaries
Presidential candidate Rick Santorum has proved successful in a slew of Republican Presidential primaries in the last two weeks. They took place in Colorado, Minnesota, Missouri and Maine. Santorum won all except Maine, where Mitt Romney was the winner.
Colorado, Minnesota and Missouri were all held on Tuesday, February 7.
In Missouri, Santorum received the largest percent of votes (55 percent). Romney came in second with 25 percent, less than half what Santorum received. Trailing in third was Ron Paul, who obtained 12 percent. However, Missouri was a non binding primary where no delegates were awarded.
In Colorado, Santorum earned 40 percent of the vote, Romney again came in second this time with 35 percent. Gingrich and Paul were far behind with 13 percent and 12 percent, respectively.
While Santorum came in first with 45 percent in Minnesota, Paul came in second with 27 percent, Romney third with 17 percent, and Gingrich fourth with 11 percent.
Maine took place later, on Saturday, February 11. Romney came in first with Paul close behind, getting 39 percent and 36 percent respectively.
The next races will be on Tuesday, February 28 in Arizona and Michigan.
Obama's 2013 Budget Proposal to Slow Government Spending through 2022
President Barack Obama sent Congress a 2013 government spending plan that would raise taxes on the rich and create new projects over the next decade, while also slashing spending in certain areas, on Monday, February 13.
Instead of attempting to forge bipartisan consensus to solving the nation's $15 trillion debt, Obama will instead reprise recommendations he unveiled last fall in seeking to solve the nations high unemployment through a short-term increase in spending and a reduction in borrowing over the next decade.
In his plan, Obama will, with the help of the ending of the Bush-era tax cuts, call for changes to the current tax code that would essentially increase the tax rate on the rich by imposing a minimal 30 percent tax on households earning more than $1 million annually, while also seeing the end of the tax cuts on households earning more than $250,000.
In addition, in his blueprint, Obama will attempt to claim $850 billion in savings by ending the wars in Iraq and Afghanistan, while also increasing investments in education, manufacturing and federal research–devoting an additional $350 billion to boosting economic growth.
However, Obama's budget plan does not come without its hindrances. Obama's new budget will slash spending for NASA by 20 percent, decreasing the cap from $1.5 billion to $1.2 billion.
Though Republicans have called many issues within the Obama's proposal gimmicky, only time will tell whether the proposal will work and whether the budget is a political move.