Talon Top 5: Most terrifying video games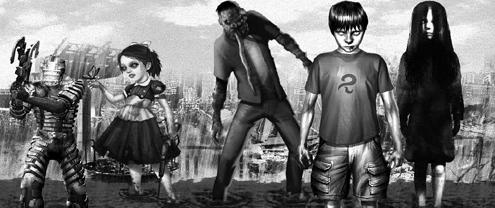 1. Silent Hill: Homecoming
The sixth game of the "Silent Hill" series is guaranteed to freak you out like no other game has before. The game begins in the nightmare of former soldier Alex Shepard on his way home. After finding his brother missing and his mother catatonic, he wanders the demon-infested town of Silent Hill to rescue his brother.
The realistic graphics depict every cult ritual and hell spawn with disturbing accuracy. With monstrous beasts popping out of the abandoned hallways of Silent Hill's penitentiary, even a professional gamer is to sure to get no sleep.
2. F.E.A.R.
Named Game of the Year of 2005 by Gamespy, "F.E.A.R." is the kind of game that truly resembles a horror film. This first-person shooter combines both action and terror. The story follows the First Encounter Assault Recon (F.E.A.R.) which responds to paranormal and supernatural activity.
But this isn't the Ghostbusters kind of ghost that many are used to. Reminding gamers of horror movies like "The Grudge" and "The Ring," it is clear that this game is based around Japanese horror films. From the opening scene it is clear that gore is never in short supply. After playing, you will never be safe again.
3. Bioshock
A game that is best described as a horror movie underwater, this game will seriously mess with your mind. Running around in the underwater city of Rapture as the character Jack, players are caught in the nightmare of a crazed man's insanity.
While running from genetically mutated "Splicers," Jack must explore the catacombs of 1920s architecture and collect "plasmids" to give himself superpowers. But to obtain these power-ups, players have to kill "Little Sisters," creepily cute little girls who watch over the plasmids. Scarier than fighting off mutants, killing a little girl for power will keep players up all night.
4. Dead Space
"Dead Space" is a game that takes the normal survival horror video game into the realms of space. Playing as Isaac Clarke, an engineer for the USG Ishimura, players are forced to fight an alien infestation on their own ship. Bones, tendons and muscles of your dead crew are repurposed by the "Necromorphs" into grotesque flying and crawling beasts who pop out at you from ventilation pipes in dark halls.
Along with great game play and a vast amount of weapons, "Dead Space" is a nail-biting experience for even the gamers that have "seen it all." With graphics filled with blood and gore, this game makes "Gears of War" look more like Super Mario World.
5. Left 4 Dead
Running through a zombie infested world at night, you and three other teammates are forced to run from safe house to safe house in an attempt to survive. Constantly jumping from dark corners, these zombies come at you when you least expect it. This kind of game play will keep you playing into the long hours of the night, and force you to re-think zombie videogames.
While other games may be scarier than "Left 4 Dead," the intensity of this game will have your heart pumping, and with the addition of the cries and screams of hunter or witches, it will be hard to get this game out of your mind, especially when peeing your pants.
Leave a Comment