Swinging to the top with Caris Kim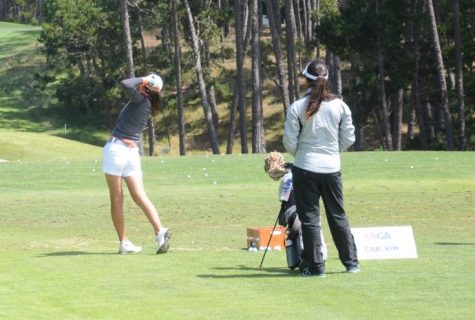 Junior Caris Kim began golfing when her golf club was taller than her. Like most five-year-olds, she followed her older brother and sister around from sport to sport. She soon began to realize her passion for golf and after many years of dedication and hard work, Caris became one of the best players in the SCVAL league
"Caris has the opportunity to play college golf and her strength is being consistent as well as her ability to scramble," varsity golf coach Richard Fuji said. "Caris's short game is one of her strengths.
Caris's golfing future is very bright, as she could potentially be on the same path as her older sister, Lauren Kim. Not many students have the opportunity of playing a professional sport after high school, yet Lauren Kim is one of these few talented individuals. Caris' older sister was recruited to Stanford University's golf team, and after she graduated she began touring with the Ladies Professional Golf Association, one of the largest golf tours in the nation. Spectating at her sister's professional golf tours gave Caris a picture of what a potential career in golf could look like.  
Despite her enthusiasm for the sport, for Caris, golf started with one clear setback: golf is an uncommon sport for youth. Unlike many other sports teams her peers participate in, Caris plays with athletes her parents' age. She felt disconnected from kids in her age group, which began interfering and distracting her from success. This occasionally discouraged Caris from continuing the sport. To her benefit, this ended when she joined the Los Altos girls golf team.
"When I was younger, it was pretty lonely because golf is an individual sport, and I had no friends [in the sport]," Caris said. " Especially when I wasn't playing how I wanted to, [continuing with golf] was really hard. Except now with the high school team, I have a bunch of other friends and it's much more fun."
When Caris joined the team, she felt welcomed into a new community—teammates to fall back onto when she isn't playing her best and friends to celebrate with when she wins. In turn, Caris uses her experiences and obstacles from when she was playing individually to improve the golf team. She makes sure the new players on the team don't experience the same stress as when she first started by cheering on her teammates and making them feel fully supported.
"Caris has done a good job being a leader on our team and has developed relationships with
our younger players," Fujii said. "As an advanced player, she helps give pointers to our
newer golfers."
This year, Caris contributed to a successful season for the girls golf team. They were nearly undefeated league champions for the first time, placed second in the SCVAL Division.
"
Although the entire golf crowd does not consist of "old men", many still are. Being around them a lot either when I'm practicing or just seeing them around forces my friends and me to be more mature. It helps in the real world when I can't always goof off with friends and be really immature.
— junior Caris Kim
Not only does Caris bring years of experience and skill to the team, but she also exhibits her sportsmanship and spirit to the team. Caris was nominated to receive the SCVAL All-League Most Valuable Player award.
Despite the obstacles along the way, Caris has always found her way back to golf.  Although she saw the individual aspect of golf as negative, she now realizes the valuable lessons that followed. Through spending many of her, she has learned a lot about what it means to be a good athlete on the grass. Caris learned worthwhile skills to have that she can use in the real world.
"Although the entire golf crowd does not consist of "old men", many still are," Caris said. "Being around them a lot… either when I'm practicing or just seeing them around… forces my friends and [me] to be more mature. [It helps] in the real world when [I] can't always goof off with friends and be really immature."
Caris believes playing with older athletes pushed her to become more mature both as a player and as a person and learn to work with a team to achieve success. Not only has Caris found success with the Los Altos golf team, but she also qualified for the US Girls Junior Golf Championship this past summer. Because of her achievements, she is strongly considering playing golf competitively in college. But for now, she's happy to keep on cheering her teammates on in the putting green.