Sushi Tomo: Mediocre Sushi For a Good Price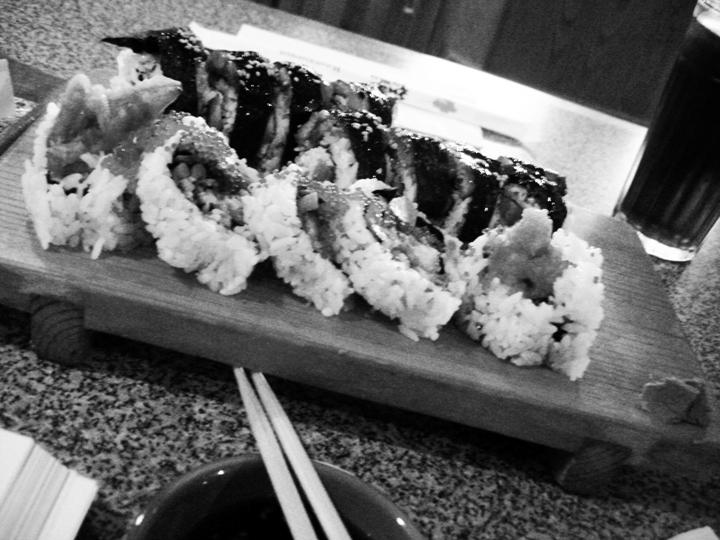 There is nothing special about a sushi bar in Palo Alto, and Sushi Tomo is no different. I expected Sushi Tomo to be like any other chain restaurant—a decent place to eat sushi—but I was completely mistaken.
Upon entering the restaurant, I was not greeted at all. The waiter was chatting with the janitor while I stood in a nonexistent line, waiting to be placed at one of the numerous empty seats. Finally, after hinting at my presence, I was told to sit anywhere.
At my table, I was given a menu to order from, but the selection was similar to most other sushi bars. They had a myriad of rolls to choose from, including the westernized California Roll, a simple roll of cucumber, imitation crab stick and avocado; the more elegant Shisamo Tempura, a roll consisting of dried deep-fried capelin and vegetables; and the even-more-intricate Hama Saba Roll, a complex roll of yellowtail and avocado topped with hamachi and saba. Aside from the sushi, Sushi Tomo also offers a variety of other dishes including teriyaki, udon, don and sashimi.
I decided to order a spider roll, which is a cucumber-avocado roll with a battered, deep-fried soft shell crab, and a dragon roll, which is a crab roll topped with eel. I also ordered an iced tea to quench my thirst.
As I waited for the food, I decided to read a book, though I expected the food to arrive fairly quickly because there weren't many customers. But as I watched the chefs, I saw that they completely ignored my order, rather continuing to make food for the sushi boats—Sushi Tomo's variation of the sushi train. This was fairly irritating because I was one of the only two customers there.
When the food arrived 15 minutes later, I was ready to dig in. But the taste was an overall disappointment. The iced tea was very bland; it was basically iced water with a slice of lemon. On my dragon roll, there was soy sauce splattered everywhere from the chef attempting to make multiple rolls at once. And my spider roll was falling apart, parts of the sushi rice were stale and most of it was not nearly sticky enough.
After I had finished the sushi, I followed Japanese custom and looked for the gari—thinly sliced ginger marinated in sugar and vinegar. The only problem was the gari was piled in a large jar. Though gari is suppose to be for dental hygiene, I was scared of how many dirty hands and used chopsticks had been stuck in that jar. In the end, I decided against it.
When the bill came, I wasn't as disappointed. The dragon roll was $7.95 for 8 pieces, the spider roll was $5.95 for 5 pieces and the iced tea was $1.25. Most of the items were priced fairly, and prices are consistent for lunch and dinner.
Though Sushi Tomo offers low prices, the lack of service and poor quality of the food made this restaurant a poor experience. Because of the large variety of sushi bars in Palo Alto, Sushi Tomo is not on my list of favorites, but I would not rule it out for a quick lunch break with friends.
Leave a Comment