Superintendent releases new bell schedule proposal
Superintendent Nellie Meyer sent another bell schedule proposal to district parents that includes four block days and one seven-period day. After final negotiations between the District Teacher Association (DTA) and the Mountain View-Los Altos (MVLA) school district finish, the MVLA school board will vote to ratify the schedule for the 2020-21 school year. 
An earlier bell schedule proposal was rejected in January because it did not meet state instructional minute requirements. Our current bell schedule is also deficient in instructional minutes. However, the new schedule is compliant with these requirements.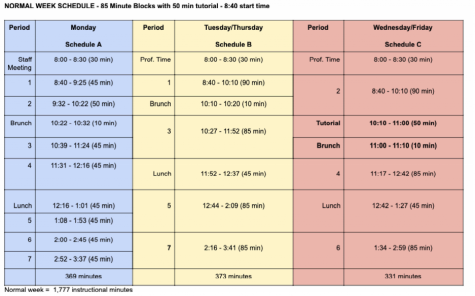 The new proposal has one seven-period day on Monday, two odd-block days on Tuesday and Thursday, and two even-block days with a 50 minute tutorial on Wednesday and Friday. Start times are consistent throughout the week at 8:40 a.m. Dismissal is at 3:37 p.m. on Monday, 3:41 p.m. on Tuesday and Thursday, and 2:59 p.m. on Wednesday and Friday. On seven-period days, classes are 45 minutes, and on block days, classes are 85 minutes.
A double block day schedule was chosen to better accommodate Freestyle and employed students, as well as part-time teachers. Additionally, according to the Hanover bell schedule survey given to students last year, fewer than 37 percent of students are satisfied with the current schedule, and 58 percent of students preferred a schedule with four block days.  
Block periods were designed as 85 minutes to satisfy student preferences for shorter blocks while also maintaining the current length of the school year, which both students and teachers consider a priority. 
The combined negotiating teams from the District Teachers Association (DTA) and the MVLA school district created the schedule during a recent all-day negotiation session. These negotiations came after an extensive brainstorming process, which included examining at least 30 bell schedules from around the country.
"The whole purpose of the discussion is to make sure that our schedule meets student needs, which personally, I believe is an ever evolving topic," district negotiator Leyla Benson said. "As expectations for students change, we need to create school environments that support students."