Students spot state governor downtown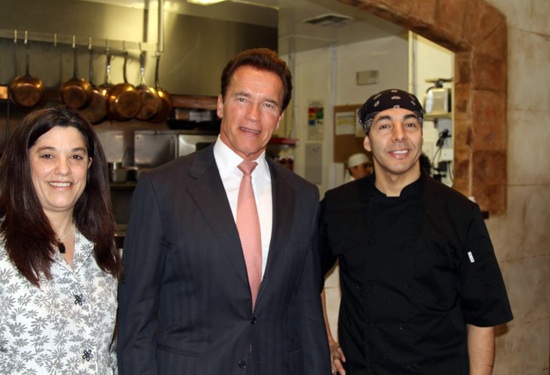 Governor Arnold Schwarzenegger poses with the owners of Zitune
in downtown Los Altos.
California Governor Arnold Schwarzenegger was sighted having lunch in downtown Los Altos at the restaurant Zitune today, Tuesday, January 12. The governor was accompanied by a friend, a staffer and security during the school's 40-minute lunch period.
"A lot of people did double takes because they didn't know who it was for a moment," Zitune manager Jon Sloane said. "All the guests were pretty much unaffected though they kept sneaking peeks. There was a little crowd gathering outside too."
Sloane said that the experience was "cool" and "not exactly normal" in Los Altos.
Senior Doug Tomlinson said he saw two black Suburbans and two police motorcycles in the parking lot behind the restaurant.
"Each car had a tough-looking dude with a black suit and an earpiece sitting in it giving serious faces," Doug said.
Onlookers did not take pictures, but Schwarzenegger took a photo with the Zitune owners after his meal.
Sloane said that Schwarzenegger ordered coffee, brussels sprout salad, Bronzini Mediterranean sea bass, tea and cookies. The reason for Schwarzenegger's visit in Los Altos is not known.
Leave a Comment