Students Sip Tea, Play Ultimate To Destress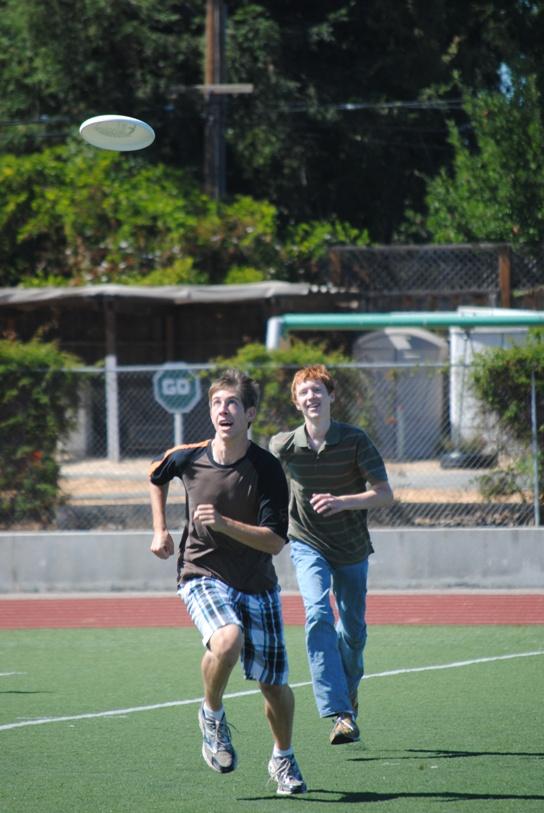 Some students are engaging in a heated debate in mock trial while others are investing their time in improving life in third-world countries by building schools, all the while keeping in mind that these activities will bolster their college applications. But some clubs view lunchtime in a different manner that doesn't affiliate itself with college advancement.
The Tea Club
For Tea Club presidents senior Simon Zorin and junior Adam Colcord, inspiration hit at three in the morning.
In April on a Europe art trip, while most students were fast asleep in a hotel, Simon Adam discussed the idea of starting a tea club for the following school year.
Perhaps it's because Simon drank tea daily in English teacher Keren Robertson's class last year.
"At least two or three people would want tea anyway," Simon said. "And there were cups provided by Ms. Robertson that we could just take and sometimes I would bring in my own tea just to widen the selection for myself and others."
Or maybe it's just because Adam and Simon both have a love for tea. Adam drinks two or three cups of tea on a daily basis and Simon grew up drinking tea with his family.
"I have a whole cabinet dedicated to tea, including my favorites: peppermint tea, earl grey tea, red African teas and green tea," Simon said.
While Simon has more tea at home than Adam, Adam still has a huge appreciation of tea.
"We buy tea in packs so we have a lot," Adam said. "I usually drink black tea in the morning and I really like raspberry tea, too."
Tea clubs are not a new addition to the school's club history. Adam's older sister told him about the club, which died out in 2007 because its members graduated.
"I heard it was just a small group of friends," Adam said. "It wasn't very open."
The Tea Club had its first meeting on September 27 in Robertson's room with Klüb Kitchen, which was generous enough to share its food with the Tea Club members.
About 20 to 25 members came to the first meeting, and more are expected to come.
Although they originally intended for the clubs to mingle, Simon and Adam changed the meeting time to every other Monday and occasionally Friday so the two clubs would not coincide.
The members said they plan to bring lots of food and many different types of tea. Simon and Adam said they understand that students have busy schedules, and don't want the tea club to be a burden.
"We just want people to enjoy the tea and food [and] chilling with friends," Adam said.
Senior Mikey Vendelin said Tea Club pays homage to a seemingly mundane activity.
"Tea is such a wonderful healing drink, and this club allows us to sample all kinds of tea and bring food," Mikey said.
Ultimate Frisbee Club
At lunch, while some students are scarfing down their sandwiches, others are busy running back and forth across the field, chasing a disk. And at the end, friends say goodbye to each other as they head to their next class and the players on the field pat each other on the backs for a game well played.
Consisting of 80 members, the Ultimate Frisbee Club plays Friday at lunch and Sundays from 2:30 to 4 p.m. The idea of the club developed out of a series of pickup ultimate frisbee games at cross country.
"There was a club started before we were freshmen that played pickup frisbee games at lunch," Co-President junior Stephen Soward said. "But it didn't have enough popularity, so it just died."
During baseball season, Stephen and his friend junior Joe Chedid more seriously considered forming a team.
"Stephen started bringing frisbees to cross country and we started playing with them before and after," Co-President junior Adron Mason said. "Because frisbee [became] a tradition in cross country, we figured we could … start the club."
On the second Friday of the school year, Stephen, Adron and about 30 other cross country members all went to the Bullis Gardner Elementary School to play.
"Ultimate is not about competition. It's about having fun and being low-key," Adron said. "It's all about the spirit of the game. We want to make the club about playing frisbee and having fun. Not about meetings, officers and qualifications."
The club is talking about the possibility of forming a casual team for those who are interested. When Stephen visited American University in Washington, D.C., he talked to the club frisbee team president, who happened to be his tour guide, about frisbee tournaments and websites like Bayareadisc. The club hopes to enter some of these tournaments.
"What we'd love to do is put together a semi-official team," Adron said. "Not with the intention of being super hardcore and competitive, just to get some experience."
Leave a Comment