Students produce music in Lennon bus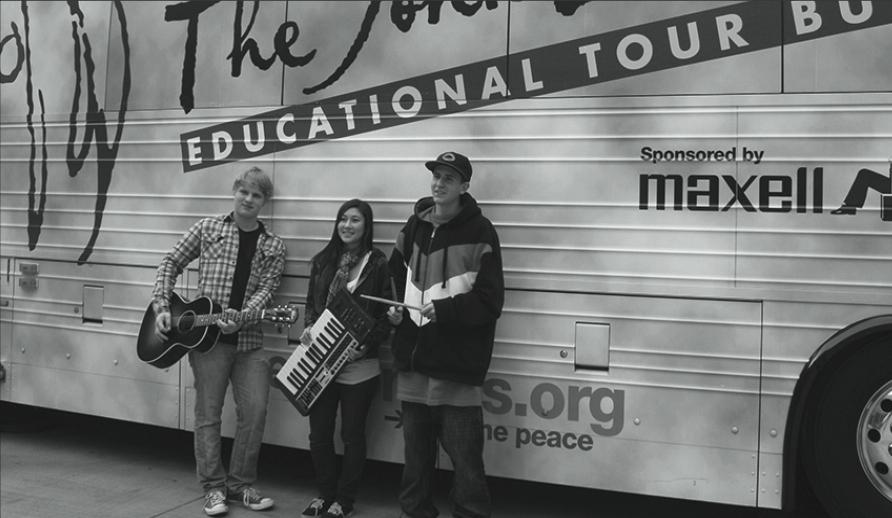 MVHS students junior Miller Wren (left) and senior Danielle Morimoto and LAHS junior Johan Hugoo
produced their own song and music video in the John Lennon Bus on Friday, April 2. The bus is commonly used by popular music groups such as the Black Eyed Peas.
For junior Johan Hugoo, Friday, April 2 was a day to leave his school textbooks behind and live "A Day In the Life" of a professional musician.
While his peers studied at Freestyle and LAHS, Johan and two students from Mountain View High School worked with music producers on the touring John Lennon Bus, where they recorded and produced their own song and music video.
"It was crazy," Johan said. "There was so much stuff, so many programs. I didn't even know what to do."
According to its website, the John Lennon Bus is a traveling audio and video production studio. As an educational facility, the Bus looks to encourage students to write, play and engineer their own music.
Apple Inc., which is one of the Bus' sponsors, invited Freestyle to send three students to the Lennon Bus as a result of Freestyle's status as an Apple Distinguished School. Johan and MVHS students junior Miller Wren and senior Danielle Morimoto were the only three students in the Bay Area who got to work on the Lennon Bus.
Johan said the bus' facilities included "basically everything": drums, guitar, pianos and recording software, as well as cameras around the studio. In the morning, Johan and the other students recorded an original song they composed with the musicians and engineers from the Bus. Of the three, Johan was on beats, Miller did guitar, keyboards and vocals, and Danielle edited on the computer. In the afternoon, they created a music video of the song "Picket Fences," which is on Freestyle's website.
Although Fergie of the Black Eyed Peas was also scheduled to visit the bus, the three students were unable to meet her. For Johan, though, this didn't make the experience any less enjoyable.
"We got to meet, you know, the people who make the music and stuff," Johan said.
Freestyle Web Design and Audio Engineering teacher Leo Florendo said this was the second group of students Freestyle had ever sent on the bus, the first being in 2006.
"Being creative is what Freestyle is all about," Florendo said. "It takes a lot of courage to compose an original song and record it for the world to hear [and] see. My part as an educator is to provide support and get out of their creative way. Sometimes the best thing I can do is to watch from afar, and that's pretty much what I did with this group."
The three students were chosen from a lottery. When Florendo found out about the Bus, he sent an email to Freestyle students asking who would be interested. Johan said "almost everyone" responded, leading to a random selection of who would go.
Although Freestyle peers were jealous, Johan said they were supportive when he was picked.
"They were all like, 'you should take … tons of pictures—it should be so much fun,'" he said. "They were excited for me. It doesn't happen all the time."
In addition to working on the bus, the three got free tickets to the Black Eyed Peas' concert that evening, where the group played after Ludacris and LMFAO.
Leave a Comment