To some students, dance is more than a fun way to exercise and have fun, but rather a venue for cultural expression.
Irish Dancing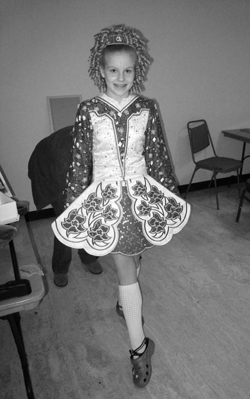 Sophomore Kellyn Blaisdell gets ready before a competition.
Sophomore Kellyn Blaisdell performs Irish dancing competitively. Kellyn takes part in a type of performance dance used in Irish dance competitions.
Performance dancing is further split into soft shoe and hard shoe dancing. In soft shoe dancing, dancers are more focused on being graceful. In hard shoe dancing, dancers focus more on the rhythm.
Story continues below advertisement
Dancers wear elaborate dresses with sequins, long "poodle" socks and curly wigs.
After a few friends got her interested in Irish dancing, Kellyn began taking classes in third grade. Kellyn generally participates in about one dance competition every month. Irish dancing competitions are called "feis." About a few hundred dancers compete during each "feis," which is hosted by an Irish dancing school.
"My favorite part of Irish dancing is the competitions," Kellyn said. "[During competitions] it is important to appear confident and to maintain good posture without looking down at your feet or staring the judge in the eye."
Persian Dancing
Sophomore Jasmine Sadrolashrafi studies Persian dancing, also known as "Raghes" in Persian.
Persian dancing is significant in Persian culture in that all Persian parties feature traditional dancing. Dancers perform during celebrations, including the Persian New Year, "Nowruz," and the 13th day of the New Year, "Sizdah Bedar."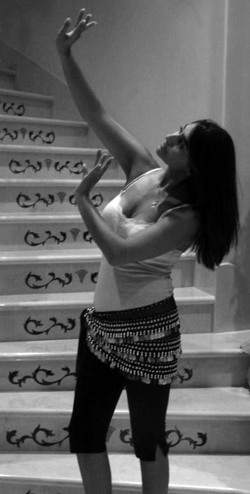 Sophomore Jasmine Sadrolashrafi practices Persian dancing at home. She has been dancing since age five.
Jasmine began Persian dancing when she was five years old.
"When I was younger, I showed a great interest for dance," Jasmine said. "Whenever I went to Persian parties, I remember watching the parents and older kids Persian dancing together, and I would join them."
She now dances professionally with the performance team and considers herself to be at an advanced level.
"I love everything about Persian dance, the movement and the music," Jasmine said. "I feel special when I dance. Persian dancing is important to me because it is an art that is valued by my culture, and something that I have been doing for my whole life."
Indian Dancing
Sophomore Ridthi Sanjanwala does "Kathak", one of several variations of classical Indian dancing typically from northern India.
Ridthi began learning Kathak three years ago. She currently takes a class at a performing arts center once a week and attends performances.
In Kathak, dancers make a lot of hand poses and stamp their bare feet quickly against the ground.
"There are a lot of hand movements, which show fluidity," Ridthi said.
Dancers wear many bells on their ankles that produce a jingling sound when dancing, so that dancers can create their own music. A long skirt is also worn by dancers, and flares when each dancer spins.
Ridthi originally decided to learn Kathak after watching performances and thinking that the movements were "really beautiful."
"It's really fun and relieves my stress," Ridthi said. "You can portray emotions without saying anything, using hand movements, gestures and facial expressions."