Students Interact With Professional Writers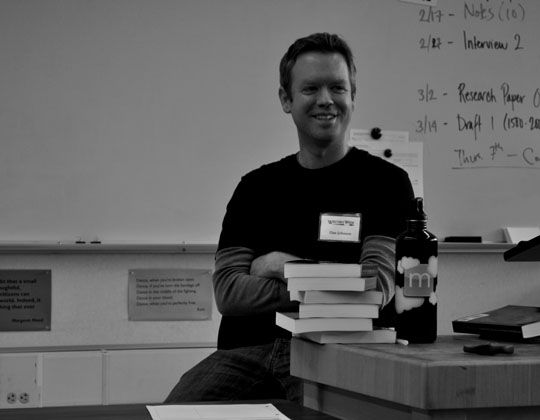 Students had the opportunity to listen and talk to various writers from February 27 to March 2 during the 27 annual Writers Week.
Writers Week is traditionally dedicated to engaging English students with novelists, poets, journalists and various other writers. Guest writers visit classes throughout the day and share their work and experiences.
The writers discuss their writing career paths, lead writing workshops and give presentations. In addition to the classroom presentations, there are also evening presentations and the annual poetry slam, where students are able to showcase their own talents.
Freshman Borna Barzin, who experienced Writers Week for the first time this year, enjoyed being able to hear writers speak to him and his classmates.
"I liked getting advice from successful writers," Borna said. "I think [they] gave us all some good advice for writing our own English assignments."
With writers ranging from acclaimed author Mary Roach to award-winning journalist Jose Antonio Vargas, students were exposed to different avenues of writing along with all of the speakers' life stories.
"Vargas was very genuine and down-to-earth about everything he said," sophomore Salim Damerdji said. "He was such an easy person to relate to, and the English Department should be applauded for the hard work that goes behind a program that takes advantage of these opportunities."
Similarly, senior Laurel Saldinger found that writers were easy to relate to when they talked about their life experiences.
"One writer I had this year talked a lot about the job process and being rejected," Laurel said. "He was definitely the best writer I've heard so far. He wasn't set out to be a writer, but he came up with a great idea and the opportunity to write his book just arose."
Even students who aren't avid English enthusiasts still enjoy hearing the stories of the writers and actually understanding the practical applications of what they're learning in school.
"Our teachers are always telling us that we're going to use [writing] skills someday, but we don't ever get to see them out there in the professional world," Laurel said. "It's really interesting to see writing and the things we do—or don't do—in class out there in the professional world. But what I got most from the writers was learning about the real world we work in, the importance of persistence and living through rejection to keep being able to do what we love."
On top of the traditional set of authors and journalists that students expect to see, this year the school also welcomed writers with less traditional professions such as Dan Archer, a comic journalist, and Hollywood movie tagline writer Jay Dyckman.
"[Archer] had to cover very serious issues in a serious way, except instead of in writing in comics," senior Yasmeen Serhan said. "It was out-of-the-box writing that I thought was an interesting way to captivate readers. It's a type of journalism I've never thought of before … It's like a medium between journalism and art. It's people like [Archer and Dyckman] who are taking writing and journalism to a whole new level."
With writers coming to talk to students about their experiences along the path of writing, students connected with professionals and created their own experiences via activities such as the poetry competition. Students also learned about the real-world and life applications of the material they are covering in school.
"Normally, most students aren't motivated to improve themselves in a field, especially if they don't know whether they're sticking with it in the future," sophomore Alex Barreira said. "But with Writers Week, there was more of a relation between what we do now in school to the rest of the world. It lets us see a little more outside of just getting a good grade in school. It lets us see more of what we can do later in our lives."
Leave a Comment