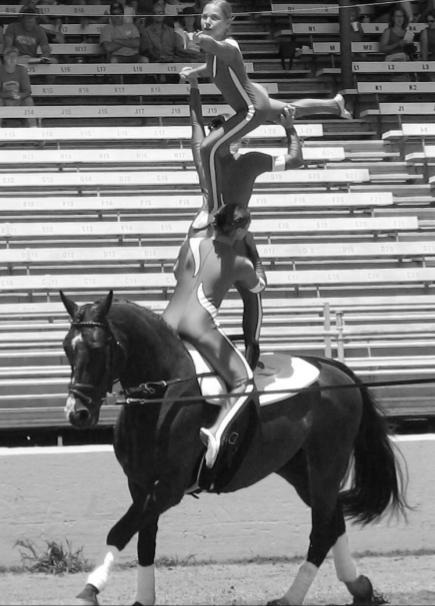 Freshman Yvonne Greenen (left)
competes in horse vaulting.
Many students participate in sports outside typical high school sports teams and interests.
Yvonne Greenen
Not only can freshman Yvonne Greenen do handstands and cartwheels, she can do them on a cantering horse.
For seven years, Yvonne has practiced equestrian vaulting, a sport which she describes simply as "gymnastics on a horse."
Story continues below advertisement
Up to three people can perform on a horse at a time and the horse canters in a circle while the vaulters execute tricks. Contrary to popular belief, the horse does not jump over anything.
Yvonne did gymnastics at Gold Star Gym for two years before she started vaulting. She became interested after attending a vaulting demonstration at Stanford.
For six years, Yvonne has competed in nationals. Her team won an international competition in 2007. Last year, it earned second place in CVI, another international vaulting competition.
Vaulting is both a team and an individual sport. For the team, which consists of six vaulters, there is a set of compulsory moves that everyone must complete under a time limit. Individual vaulters may freestyle for a minute. Yvonne designs her own moves for the freestyle portion of the competition.
"There are some exercises that are very common but you can combine them in different ways, put them in different locations on the horse," Yvonne said. "There are a lot of just acrobatically demanding things."
To train for such maneuvers, Yvonne practices first on a barrel or stationary horse. She then attempts the tricks while the horse walks, and finally at a full canter speed.
According to Yvonne, horse vaulters do not wear helmets because they would get in the way of the tricks. Still, Yvonne said that horse vaulting is a safe equestrian sport.
"You do fall off sometimes, but it's safe because you learn how [to] control things," Yvonne said. "If you ever do fall off, you have a long way to fall, but you usually land on your feet because you're not attached to the horse like you are in riding."
Mack Johnston
Junior Mack Johnston played his first game of rugby when he was five years old and living with his cousins in New Zealand. Rugby, Mack said, is "a cross between soccer and football."
Mack began playing for clubs in the United States when he was 10 years old on Stanford's U-11 team. He currently plays for a U-19 club called Peninsula Green Rugby Football club. His goal is to make the USA team.
When he was scouted by the USA team, however, injuries prevented him from joining.
In addition to practicing rugby daily, he trains at Sparta Performance Science in Menlo Park, a gym for elite athletes.
During his freshman year, his team won the West Coast Invitational.
"Rugby is a full-time [commitment] now," Mack said.
Mack plays back and center positions on a rugby field because he said he is not one of the "big guys" who plays forward and does "the brunt work."
Between football and rugby, Mack considers football to be a more dangerous sport because "you take way bigger hits." Since the game of rugby involves nonstop running for 80 minutes, it is not possible for the players to be as bulky as they often are in football.
Although Mack had to stop playing football during his sophomore year because of a concussion that took him to the emergency room, rugby has remained a part of his life.
"I thought about [quitting], but then I went over the summer to Oxford and England, and it was just amazing to play with the boys," Mack said. "It was so fun that I didn't want to quit. So I was kind of reigniting the dream, I guess."
Mack hopes to play college rugby at UC Berkeley, which is home to a top-ranked rugby team.