Student Government
November 14, 2017
Reform and Representation: How ASB Contends With its Two Different Roles
In some ways, there aren't many differences between the white marble halls of Washington D.C. and the blue-carpeted homebase of Los Altos ASB's room 408. Both, led by a President, represent the values of the people they serve. Both are actors of change, in the bills written and the school policies altered.
Sometimes, the roles of representing and of leading a community stand independent of each other. But the issue rests in the conflict between these purposes: what should ASB do when the school body it reflects disagrees with its changes?
Before policies are created, choosing the students in ASB is the starting point of representation.   
"ASB is diverse [to] provide an array of perspectives on school-wide issues and decisions," ASB Vice President senior Hannah Phelps said. "The role of ASB in the school is to promote inclusivity, and we host numerous large-scale events such as Diversity Week as well as smaller scale activities such as the lunch activities that are open to everyone."
To sophomore class president Divya Jakatdar, diversity doesn't only come from race, gender and sexual orientation, it also comes in terms of school community — in terms of "friend groups" and the "sports you play."
Utilizing that diversity of opinions, ASB gets to work on planning the activities for the year. Each class starts with an overview, which consists of completing tasks such as purchase orders and club requests. From there, long-term tasks including the current food drive are picked up to complete.
Occasionally, though, this daily routine is interrupted. A "big issue" surfaces, and a discussion ensues for days in an effort to understand the entire class' opinion.
The endpoint of one of these "big issues" can go a long way in moving Los Altos into a new type of culture. ASB is a reflection of not only the demographics, but also the school culture as a whole. The activities hosted, the subcommittees created and even the names given to certain activities mirror what the school prioritizes.
A lot of the time, these changes can be clean-cut and non-controversial.
"[Los Altos] has a very distinct, 'Silicon Valley-esque' culture, and I think it's great that our school is so high achieving," ASB President senior Zach Murphy said. "But at the same time, students can get too achievement-oriented. It's going to take a lot more than a few events to get rid of stress, but I do hope that ASB can create inclusive events that excite the student body or just give them a chance to relax."
By hosting a Wellness Week, Los Altos ASB does more than help students physically de-stress. As leaders of the campus, they signal that Los Altos as a whole is moving past a culture of competition to a culture that understands the need to take a break.
But similar to America's government, controversy cannot be avoided. Eventually the role of reflecting a campus built on years of tradition comes in conflict with a new change, no matter how minor.
Take the case of Homecoming this year: ASB looked to change traditions of Homecoming completely by making the entire court ungendered, but not the top two seniors themselves. Debate over whether ASB went far enough ensued. If the school disagreed with a policy ASB thought was right, what should ASB do?
Certainly, some ASB members believed that the Homecoming decision was right, and some believed it promoted greater inclusivity.
"If two girls were voted, that would be great [for feminism]," junior class president Katie Moussavian said. "But if two boys were voted winners— we wanted to see the diversity between boys and girls at our school."
But, others were not so sure. While Zach personally believed in keeping the two top seniors ungendered, he felt that it was more important to default to Los Altos opinion.
"Since we are trying to serve all students' voices, it goes down to finding the line where we please the majority and yet still are not be defined by certain traditions," Zach said. 
"
Since we are trying to serve all students' voices, it goes down to finding the line where we please the majority and yet still are not be defined by certain traditions"
— ASB President senior Zach Murphy
So, where is that line? Does it even exist? ASB must make decisions on not only what to change, but how far that change should go, with issues ranging from altering homecoming traditions to re-naming Powderpuff.
ASB's first step is to make sure that all voices are heard: the easiest solution to a dissonance between what the student body wants and what ASB wants is to check if thesetwo are actually in-line. This can occur through polling, although Zach first encourages ASB members to keep in mind the multiple perspectives of the school.
"One of the biggest things ASB can do a better job of is [making sure everyone's voices are heard]," Zach said. "It's extremely hard to make the class a direct reflection of how our student body is composed, and [maybe] it's more outreach during the application process. In class though, I encourage people go out and ask and so we do try and keep in mind multiple perspectives."
But, in a scenario where the people ASB reflects comes in conflict with what they believe is right, differences in approach form.
For Divya, ASB ultimately must lead the way for change.
"We would still go with the policy [we wanted]," Divya said. "If you look at something like trans rights, even if a lot of people vote against it, we still believe rights come [first]. It will always be down to what we think is best for the school because not everyone has the information we do."
On the other hand, ASB member senior Charlie Tsunoda finds that most often ASB works "purely for student interest," and thus would take the majority opinion.
For others, though, controversies that are split down the middle warrant case-by-case decisions.
"With a [close split in opinion] by the student body specifically, I think it would take larger discussion to figure out a response," Zach said. "If this a proposal to make a new program, I don't think ASB would vote to make it happen since so many people are against it. If it's preserving a program, then ASB might keep it and then look to change some aspects of it."
With issues like this, Washington D.c. and room 408 seem increasingly similar, and one day, members of the latter may become members of the former. ASB has a great burden: the actions ASB takes now, like those taken by Congress, will affect the generations in Los Altos to come. It's no wonder that each decision they make must require careful thought. 
"
ASB has a great burden: the actions ASB takes now, like those taken by Congress, will affect the generations in Los Altos to come. It's no wonder that each decision they make must require careful thought."
"We're the baby leaders that are going to be the leaders of the next generation so it's important for us to get involved now," ASB sophomore Mahita Bobba said. "If you have an idea, we won't shut it down, so anything goes. Sometimes we're brainstorming spirit ideas and sometimes we're brainstorming how we can change something that should be changed on campus. ASB is not just [about] spirit days; we're also making executive decisions and changing our campus now."
ASB Around the World: How Does Los Altos Compare to Other Schools?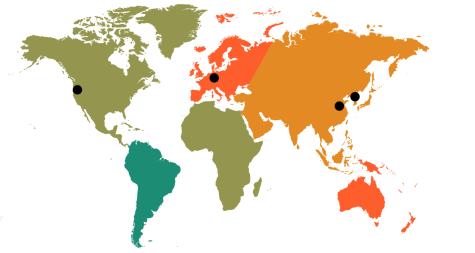 Seoul Foreign School, South Korea
At Seoul Foreign School, students must go through an extensive application process that consists of a one minute video introduction and a three to five minute speech. Both components are presented to the class and are voted on by students. However, students must have high grades and a teacher's approval before they can even hope to run. Past that, strict rules on what can be in the campaign videos and speeches exist to further put the campaigning process under administration control. For example, because the school is religious, lyrics and references to "Jesus Christ" are expressly prohibited. Once voted in, student council is meant to be the voice of the student body and plan student activities such as Homecoming, however, as a private, religious school, most decisions are made top-down through administrators.
Yao Guang Secondary School, China
At Yao Guang Secondary School, teachers are often strict and meticulous about student work due to the school system's highly competitive environment. Yao Guang has no leadership group or activities, andmost kids aren't interested in maintaining one because they're too preoccupied with the immense amount of homework. Without a student government to bring kids together through group activities, Yao Guang students are encouraged to forgo social interactions with their peers for the sake of education.
Gymnasium Hochrad, Germany
Instead of holding individual elections, Gymnasium Hochrad in Hamburg allows students to campaign in groups of seven to become the school's next student government. Individuals can vote for their favorite group based on the yearly plan of events that each group presents to the student body, but more often than not, the winning group is often inactive for most of the year. Diversity is a prominent issue since students often choose to run with their friends, and the goals that they set during the election either have a very limited impact or are left unfulfilled. As a result, most of the student body is uninterested in the efforts of the student government.
McMinnville High School, Oregon
The McMinnville ASB class, which tries to unify the student body, fails to translate their school's diversity in their own headquarters said McMinnville ASB member Emily Smith. With a small class of about 30 students, friend groups are seemingly clear as it is noticeable what cliques are within their ASB. By having this division in the class, they falter in standing by the organization's motto "to unify the student body." Moreover, in the past, while many students often wanted to help with events, ASB was reluctant to accept an outside perspective. The organization hopes to make a change to reflect their goal to promote inclusivity all throughout the school into their own classroom.
A Brief History: ASB in the US
Students in the United States were not always given much independence. Before the introduction of public high schools, American colleges were small, strict and religious, limiting students' freedom to choose activities or have an impact on school culture. The idea of a student government to reflect and lead a school had yet to be born. Traditionally, college institutions were unilaterally run by paid administrators who didn't have the same perspective as those attending classes. But as college enrollment increased, so did the concept and popularity of student governance. As the country itself got more democratic, so did the education system. The concept of self-governance created a perfect teaching opportunity. It allowed students to personally participate in democracy and understand the structure of government on a more tactile level than ever before. Students quickly became interested in changing school policies and having a more prominent voice in administration. By the 1950's, it was rare for colleges to not have a student government. As colleges adapted to this new way of thinking, high schools followed suit, leading to the current forms of student government. The way these governments are set up, however, vary distinctly and reflect the cultural values in and surrounding the school.