Student environmentalists stay green in quarantine
March 27, 2021
After a full year of quarantine, many may think the lack of social and economic activity during the pandemic has finally curbed carbon emissions, but student environmentalists can assure you that the fight against climate change is far from over. Throughout the Bay Area, student-led environmental groups have continued to create new opportunities to better the environment even while at home. The Talon interviewed several of these local organizations and clubs to dig deeper into their innovative pandemic-era initiatives.
The Los Altos High School Green Team
In years past, students may remember seeing LAHS Green Team members working on sustainability education or advocating against idling engines in the hopes of improving environmental initiatives.
Amid the pandemic, the Green Team turned its attention to the low-income families in the community which have been disproportionately affected by both COVID-19 and the California wildfires caused by climate change. To combat the growing disparities in wildfire prevention, the club initiated the Fire Safety project, an effort to better equip low-income households for environmental disasters.
The Green Team is currently in the process of providing 300 fire safety kits to the Second Harvest Food Bank and the Ecumenical Hunger Program in East Palo Alto, two organizations that provide resources to low-income individuals in the Bay Area. Another facet of the initiative is to implement emergency preparedness education in over 35 Bay Area schools through pre-recorded presentations and virtual games that will be sent out to students and staff.
"Working hands-on with the over 300 families my team and I have been able to provide fire safety kits and emergency preparedness education for has been so rewarding," club Secretary Diya Gupta said. "Talking to the families we came into contact with has really opened my eyes as to how a seemingly simple club project was able to implement such a crucial change within our community."
Beyond this project, the Green Team has additional club subdivisions that focus on addressing a wide range of local and statewide environmental issues including Lobbying for Representative Anna Eshoo, Environmental Education (E2), ClimatEdu, MVLA Middle Schools and Sustainable Eating.
Even though the Green Team is unable to collaborate in person, members continue to bond over their advocacy for environmental education and report feeling more connected to the cause than ever before.
"The Green Team has really flourished with this virtual pandemic," Diya said. "People have really stepped up to the plate and continue to follow through with what they're passionate about. Club members are able to take on what they want to take on, and everyone who's involved in the Green Team has left such a positive impact on the community during this time."
---
Students for Green High Schools Conference
For the past seven years, the Green Team has held the annual Students For Green High Schools (SFGHS) conference as part of their E2 initiative, an event where students passionate about transforming their schools and communities into greener spaces can come together and exchange ideas and aspirations.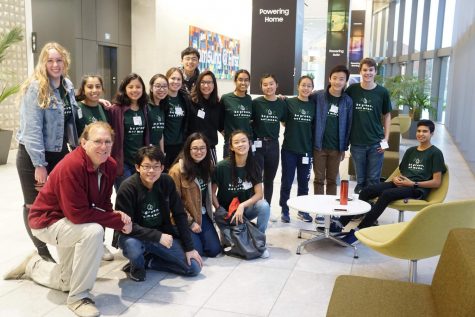 This year, the conference took place virtually and welcomed over 44 organizations and clubs from across the nation to inspire, learn about others' initiatives and strengthen environmental responsibility as a whole. Despite being held virtually for the first time, the conference maintained the same collaborative environment among participants and even succeeded in reaching students beyond the Bay Area.
Among the many SFGHS conference attendees from the United States, Canada and Colombia, two local groups, the Bay Area Youth Lobbying Initiative (BAYLI) and Sunrise Silicon Valley, shared their own approaches to helping create an eco-friendly society during the pandemic.
"SFGHS is always a great experience for youth environmentalists," founder of BAYLI and Gunn High School junior Saman de Silva said. "My takeaway this year revolved around the fact that when there's a will, there's a way. I can share a similar sentiment to what I felt last year, in that the conference is the big amalgam of environmentalists across the Bay Area, and it's just so heartening to see that everyone in that call is making a conscious effort within their spheres — regardless of size."
Bay Area Youth Lobbying Initiative
As an engaged youth activist, Saman strives to remain involved in the movement to reform and enact environmental policies, both on a state and federal level. Toward the end of last year, he created BAYLI, an organization that empowers youth to advocate for long-term changes to climate policies.
"Although there are so many powerful organizations in the area that already work on activism and mobilization, I realized that there was this glaring hole for students directly interacting with federal and state politicians," Saman said. "Because student-run organizations are so powerful in unifying their [members'] voices, I figured we had an opportunity to make a direct impact."
The organization's small team based in the South Bay Area focuses on combating five key issues: reducing greenhouse gases, environmental justice, public lands water conservation, climate change, and public policies.
"At BAYLI we understand that the environment isn't specifically localized to climate change," Saman said. "Although climate change is at the forefront of everyone's minds, there are other strides that need to be taken such as environmental justice. Issues that have been brought to light since the Black Lives Matter movement need to be addressed rapidly, so each of our subcommittees needs urgent action."
Currently, members are reaching out to California politicians such as Eshoo and Representative Jackie Speier to discuss climate policies, while also urging senators to schedule town hall meetings, which are now much more accessible virtually to the public. Through these meetings, BAYLI hopes to facilitate a space where youths can voice their opinions, converse with politicians and push them to advocate for instrumental environmental policy.
To enable reform across the political spectrum, the group also emphasizes the impact of lobbying for policy enactment from the politicians who demonstrate less enthusiasm toward environmental causes in their platforms.
"We want to be talking to the legislators who aren't doing that much [to further environmental policies] so that we can have a bigger calculated impact and facilitate more meaningful lobbying meetings to push these senators in the right direction," Saman said.
In the near future, BAYLI aims to increase the number of conversations they hold with Bay Area politicians and to further illuminate the need for immediate environmental action on a government level.
"My hope is that BAYLI becomes a beacon for centralizing youth environmentalists around state and federal policy," Saman said. "I look forward to the day when BAYLI has five or six federal politicians in the area who are willing to listen to our advocacy and ensure our voices are heard in the legislative process."
Sunrise Silicon Valley
Fighting for climate action is an all-encompassing effort for the over 200 students in Sunrise Silicon Valley, a youth-led Bay Area hub of the national Sunrise Movement. Refusing to stay idle, members have organized and continued to push for reform by striking, writing op-eds and advocating for progressive environmental legislation.
During the 2020 election season, the group of young individuals collectively made over 35,000 phone banking calls to voters nationally to help elect officials who presented progressive climate change platforms.
"I was so proud of our hub after the election season," Co-Leader of the Committee of Justice Aditi Anand said. "It's not a stretch to say we played a huge part in some of those legislative campaigns. Those are the moments which made me feel so proud that we are making a difference."
On top of electoral efforts, Sunrise Silicon Valley regularly organizes socially-distant protests against the construction of pipelines and other environmental issues while rallying the support of local youth. In pursuit of unifying young leaders, the hub merged with other local Sunrise groups to organize the Wide Awake Protest in September 2020. The demonstration, located outside San Jose Mayor Sam Liccardo's home, pushed Bay Area politicians to take direct action such as passing progressive legislation for the November 2020 election, sending a "wake-up" call to politicians.
Currently, the hub continues to virtually advocate against the Mountain Valley Pipeline project, while supporting the national Sunrise Movement's sit-ins on the land in opposition of its implementation. The project plans to construct a natural gas pipeline system from northwestern West Virginia to southern Virginia. It is said to disturb approximately 4,189 acres of severe water erosion soils, destroying 2,353 acres of statewide farmland, according to Sunrise Silicon Valley.
Through each of its initiatives, the hub's main mission is to equip members with the communication skills necessary to create an individual impact within the movement. Their regularly held public speaking and anti-oppression storytelling workshops help members learn how to effectively advocate for environmental issues when working with others.
"It means a lot to me that we are all still here spending time together and working on this cause because we care about having a liberal future," Hub Coordinator Helen Deng said. "We all want to make a difference, even if it's small and not tangible yet. It's very inspiring that we're in this fight together and that we're still here [making an impact] no matter how tired we get and how daunting everything can be."