Staying fit while staying home
The COVID-19 pandemic has rattled communities across the globe in a multitude of ways, affecting everything from food availability to sports programs. Read about how three different members of the Los Altos community have been staying in shape during quarantine.
Eric Carlson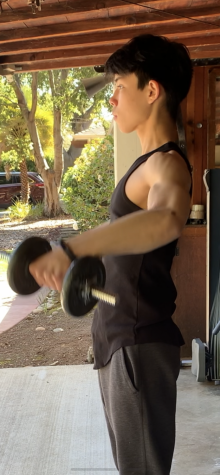 Some of senior Eric Carlson's friends have been disregarding the quarantine guidelines, but he can't afford to do the same. Eric's dad has a compromised immune system as a result of past eye surgeries, so Eric has been doing his best to self-isolate—even when it comes to his usual high intensity workouts.
Eric has been strength training and bodybuilding for the past three years, but the COVID-19 outbreak has forced all local gyms to close. While Eric and his friends were initially disappointed, he acknowledges that the closures are for the best.
"I think it's almost a good thing to have the gym shut down, not only for the sake for the virus, but so that we can take a step back and appreciate what we have," Eric said. "The strategy my friends and I are taking is to be open minded and explore different aspects of fitness." 
At home, Eric has been doing bodyweight exercises and calisthenics-based movements with the bench, dumbbells, plates, Olympic bar and pull-up bar that he has in his garage. Eric does a rotation of one "pull" day, one "push" day, one leg day and one rest day, as shown in the workout plan. For cardio, he jogs outside, but minimizes his contact with other people.
"I cross the street whenever I see somebody who's walking towards me and whatnot, just because I want to minimize the chance [of spreading COVID-19] as much as possible," Eric said.
Clearly, Eric has been taking the quarantine guidelines very seriously, but he hasn't allowed the restrictions to keep him from staying active and positive through it all.
"I'm trying to move around a lot, get a lot of steps in and make sure that I'm training to the best of my abilities," Eric said. "This quarantine will hopefully lead to a greater appreciation of what tools are at our disposal and force us to get more creative with the way we train."
Pam Harris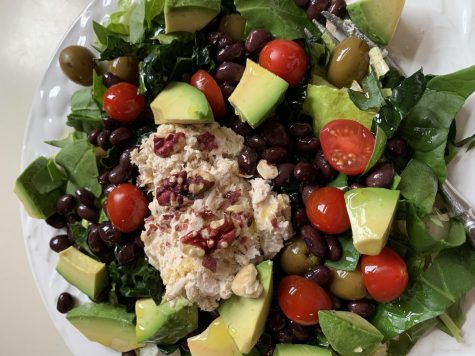 I'm calm, I'm happy and I'm stress free.
These are the phrases that track coach Pam Harris recites to herself each morning as a part of her daily fitness and wellness routine while in quarantine.
"First thing in the morning, I go to my phone and turn on the Calm app," Harris said, explaining how the app's guided meditation sessions help her relieve stress. "Then after my affirmations, I go for a run with my dog."
Harris's energetic 10-month-old puppy, named Hunter Pence, has kept her motivated, and the pair often goes on long runs in the hills. After a run, Harris usually does core and light hand-weight exercises back at home. 
Spending this much time at home during the spring isn't in line with Harris' usual routine. Usually, she'd be at the high school for at least 12 hours per week coaching track athletes, but all school sports have been canceled under COVID-19 guidelines. Yet this setback hasn't stopped Harris from motivating her athletes, even from afar.
"Unfortunately, we can't really advise them to work out together right now, but they can definitely challenge each other online," Harris said. "Make goals for each other or set up a workout schedule and just do it virtually."
One of Harris's suggestions was to challenge friends to run a mile and see who is the fastest. In fact, she is doing a 30-day challenge with eight friends that consists of different numbers of squats, push-ups, planks and crunches each day.
In addition to fitness, Harris has been maintaining a healthy diet. Most days, she makes her "Fab Four Smoothie," which contains four key nutritional groups: protein from the protein powder, healthy fat from almond butter, fiber from the chia seeds, and greens in the form of spinach and kale. In a conscious attempt to protect herself against the virus, Harris also tries to incorporate immunity-boosting produce, like red bell peppers, strawberries, mangoes and mushrooms, into her meals.
Sticking to her routine of exercise and healthy eating has allowed Harris to maintain both her physical and mental health while in quarantine. She has encouraged others to do the same. 
"If you can do something for your body, it's like you're giving it a gift," Harris said. "Energy creates more energy and allows you to do something else productive."
Logan Kim
A pull-up bar hides behind trees and planters. Plates of varying weights are stacked neatly beside a wooden fence, and old dumbbells lie half-buried in the gravel. The makeshift gym in freshman Logan Kim's backyard wasn't meant to be a place to work out during the pandemic, but that's what it has become.
While preparing to play the role of Chad Danforth in the school's February production of  "High School Musical," Logan attended long, grueling rehearsals almost daily. Because of this busy schedule, he struggled to find time for conventional gym workouts throughout the week. 
"I remembered that my dad still had some of his old gym stuff, so I pulled it out," Logan said. "It was only a couple of plates and a couple of bars that were really rusty, but it was convenient for me to go out to my backyard and do some weightlifting." 
Using this pull-up bar, along with a barbell and a few dumbbells, Logan began working out in his backyard after rehearsals ended in the evening. He enjoyed it so much that he asked for new exercise equipment when his birthday rolled around.
A few weeks later, Logan's martial arts classes were canceled due to the COVID-19 outbreak, and he realized that his backyard setup was perfect for staying in shape while in quarantine. 
"All my equipment is outside, so it has given me a good chance to get some fresh air while social distancing," Logan said. "Having equipment is really nice because, although the fitness community is coming up with different home workouts to compensate, it's better to keep everything consistent." 
Although the current COVID-19 situation can be frustrating and isolating, Logan has found that, in addition to fostering his physical health and fitness, his backyard space has boosted his mental health as well. Logan is also committed to maintaining his exercise philosophy during this time of uncertainty and instability.
"Exercise when you want to. If you don't want to exercise, then it won't be enjoyable and will feel forced," Logan said. "Doing these workouts has definitely helped me stay mentally sane."
View Comments (1)