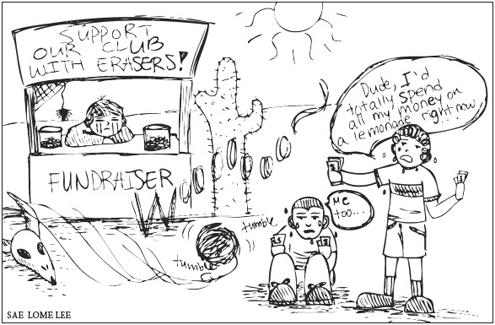 It's a well known fact that teenagers have the metabolism of a thermo-nuclear reactor, and as a result, clubs use food sales to tap into their voracious appetites. But clubs are finding it harder and harder to generate the funds they need because of burdensome state laws. These laws attack the cornerstone of student fundraisers— the food sale— and are in need of dire revision.
Bake sales are great fundraisers because they're straightforward, popular and generate a buck quickly and easily. For example, the Senior Breakfast made around $600 in profit according to Senior Class President Anjali Mehta.
Campus clubs could easily turn the money they earn into positive change. For example, Interact's international project is "Stop Polio Now," and with every 60 cents they raise they can buy a polio vaccine, according to junior Ben Malenka, Interact Media Coordinator.
Story continues below advertisement
However, activities and awareness are limited by the fact that it is so difficult to get funding. Because of new state health codes, students are no longer able to sell homemade foods during school hours.
Last year on Saturday, March 14, for example, Interact members raised money with a pie fundraiser. However, rather than selling during lunch and brunch when they could make the most money, they had to sell after school.
"We could probably get double the money [during school hours]," Ben said. "Kids are hungry at lunch and brunch, not always after school. … It's a lot easier to market during school hours."
The money lost was money that is no longer going toward purifying unsanitary water in Third World countries.
State law bans the sale of food during school hours for two reasons. The first is that nothing can compete with the cafeteria in food sales. There are some exceptions to the rule; clubs may sell foods "occasionally" and as long as it is not in "direct competition with the cafeteria" according to Principal Wynne Satterwhite.
However, "occasionally" is defined as during a few allotted days in the year such as the Holiday Faire, turning "occasionally" into never.
Second, because of rising concerns about health and liability, the school does not allow students to sell food. But the state's reasons of competition and health do not justify cutting students off from such a profitable fundraiser. Students don't pose a significant threat to the cafeteria because fundraisers happen too sporadically to make an impact.
"I understand not having competition with the cafeteria," Anjali said. "But [fundraising] happens so rarely it's not a big deal."
Such dietary babying is ultimately detrimental to the development of students. Students need to learn to make their own choices.
"I can see why they have the law in elementary school, but you guys are going to be in the real world soon," Satterwhite said. "By saying, 'We're not going to have that,' I find [the law] weird."
Students are already going out and fixing the problems of the world, but without substantial funding they can only do so much. The amount of positive change student clubs can have far outweighs the misplaced health concerns of the state and its fear of competition.
The state cannot send students the mixed message of encouraging them to be proactive and then take away a key component of their finances.