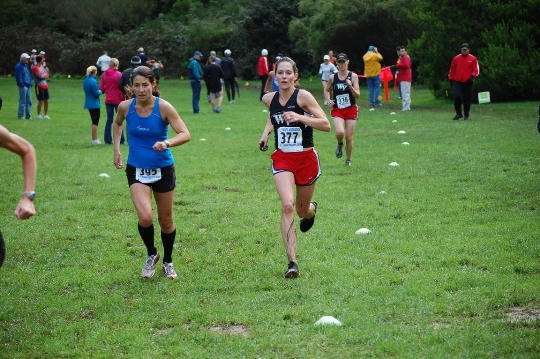 Dealing with years of rowdy teenagers can be an exhausting marathon, a test of patience and perseverance. Luckily, these faculty members have the upper hand; both history teacher and AVID adviser Stephanie Davey and counselor Ryan Carter are elite long distance runners, sharing a common link as past and future competitors in the prestigious Boston Marathon.

Ryan Carter

Though it may seem counterintuitive, for Carter, running long distances provides the burst of energy he needs to successfully cross the finish line of each day.
"I can leave [the school] feeling tired and drive home and I'll feel really tired," Carter said. "[But if] I go for a run immediately afterwards, I'll feel 10 times better. It's how I stay mentally healthy."
The enjoyment running provides enables Carter to exert himself to far higher levels than required to stay "mentally healthy." He will be running in the Boston Marathon this upcoming April, the longest "running" marathon in the world for which participants must be invited.
Story continues below advertisement
"It's kind of like the Holy Grail of marathons; it's such a historical race," Carter said. "It's an experience I've always wanted to have."
Carter qualified for the Boston Marathon with a time of 2 hours and 55 minutes at the Sacramento Marathon in December of 2009, an average of about 6 hours and 40 minutes for each of race's 26.2 miles.
Though one wouldn't know it by Carter's athletic, lean physique today, these running accomplishments seem remarkable for someone who grew up swimming. Carter began running recreationally at Central Michigan University, but began engaging in intense competition upon moving to San Francisco, due to the
abundance of endurance competitions in the area. His first race was the Treasure Island triathlon in 2006, and he has ratcheted up the level of his competitions, running 20 events in the past four years, some for charity.
The pinnacle of his athletic achievements came in 2008, when he completed an Ironman Triathlon in Idaho. He completed the race, which consists of a 2.5-mile swim, 112-mile bike ride and finally a marathon-distance run in 10 hours and 52 minutes.
Training for these competitions requires regular, intense workouts which put most athletes' regiments to shame. Carter runs 8 to 20 miles each day, 6 times a week, and goes for longer runs on weekends.
"I noticed that the longer I was out there, the happier I was," Carter said. "Some people count the minutes until they're done [and] get burn-out … but then there's this 'runner's high.'"
Other than the enjoyment racing provides, the other inspiration for Carter's determination in athletics is how "lucky" he is to be able to run, bike and swim.

Stephanie Davey

Davey completed the Boston Marathon in 2007, battling harsh conditions to finally cross the finish line.
"I ran it during a hurricane," said Davey, who described her final time of 3 hours and 32 minutes in difficult conditions as "really bad."
Davey participated in track throughout her 4 years as an Eagle athlete, and as 1 of only 12 girls on the team at the time, she participated in a myriad of events.
Recruited to the track team at Brown University, Davey continued to compete in multiple events by starring in the heptathlon. A heptathlon consists of 100-meter hurdles, high jump, javelin throw, shot put, long jump, and 200- and 800-meter races.
After graduating, she moved back to the Bay Area where there was nothing close to an active heptathlon club. However, she did join the Palo Alto and West Valley Running Clubs, and even started a running club at school with other faculty and students' mothers two years ago.
Despite qualifying for and completing the prestigious Boston Marathon, Davey does not seem to feel the same "runner's high" that Carter does. Even during high school, her participation in track was "definitely more about the jumping than the running." Instead, Davey has grown to love running due to the social opportunities the sport provides.
"It's all about the friendships," Davey said. "You really get to know someone when you're running next to them for 12, 14, 18 miles. It's a great way to develop a friendship, and I've found that those friendships have really endured for me, and my closest friends are all from running. It's kind of a way of life."