SROs and ethnic studies — a closer look
A handful of Mountain View and Los Altos community members presented a petition to the district board asking to eliminate the presence of student resource officers (SROs) on campus and adopt a mandatory ethnic studies curriculum. 
The two groups — Los Altos Students, Alumni and Educators (LA SAE) and Campus Change Mountain View High School (CCMVHS) — submitted the petition during public comment of the board meeting on Monday, August 24. These demands come following increased conversation around the topics of racism, police brutality and inequality as part of a larger national trend. 
SROs
SROs are police officers stationed on campus who are trained to respond to school-related issues.
"The benefit of SROs is that students get to know local police officers from the Los Altos and Mountain View forces and can build positive relationships with them," Principal Wynne Satterwhite said. 
However, while the school's goal might have been to foster positive relationships, many students have felt unsafe around SROs on campus. 
"If building positive relationships was ever the goal of the program, it's a failure," LA SAE member Maya Acharya, '15, said.
Kiyoshi Taylor, '15, said he was unnecessarily stopped by SROs multiple times while commuting to school. In one incident, Taylor was walking his bike to school alongside his friends when an SRO pulled him over. 
"He saw me put on my helmet even though I didn't have it on the whole time, and then he just went on this whole rant on different ways he could give me a ticket right there," Taylor said.
According to Taylor, the officer said that he could cite him for lying to an officer, obstruction of justice and several other charges. While the officer listed out these charges, many of Taylor's white and Asian peers "flew past him on their bikes," some not wearing helmets at all, Taylor said. He was never charged. 
Taylor recalled another negative experience with SROs when he was at Mountain View High School for the Freestyle Academy program — an arts-based alternative to traditional education offered by the district at MVHS. While Taylor was walking from his car onto campus, he was stopped by an SRO. 
At the time, the administration, security guards and SROs were on guard because they had heard rumors of a planned fight between students from Alta Vista High School and MVHS. 
Taylor said he identified himself as an LAHS student attending the Freestyle program, but the administration didn't believe him and questioned Taylor for three hours, assuming he was a student from AVHS. Once they realized that Taylor really was a student from LAHS and was attending Freestyle Academy, the administration changed their tone from hostile to friendly. 
"It was really some sort of Jekyll-Hyde switch," Taylor said. "Any time an officer talks to you, you get this adrenaline rush — you get this high because you know that the cop has got a weapon on you. And when you're Black, you are very aware that there is a higher chance of them using it on you."
Board President Sanjay Dave also believes that SROs do not have a place on MVLA campuses.  
"There was a student who called me a couple months ago," Dave said. "She said that the white students would hang out at one end of the parking lot, but the SROs never came to them. They'd always go to another location where the brown students were hanging out. SROs create systemic bias, and we need to rethink our relationship with police departments."
There is one SRO for 16 campuses in the Los Altos area, according to Police Chief Andy Galea, so the officer isn't on campus for long periods of time.
"There seems to be an impression that the SRO is patrolling every campus," Galea said. "That is not correct; the SRO is specially trained to respond to school and juvenile related incidents. The SRO does not go on campus unless there is a request from the school or a reported crime.
The Los Altos Police Department has not received any specific complaints about SROs, he added.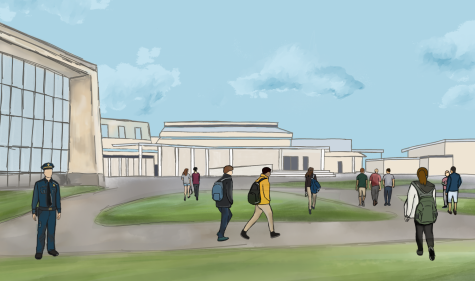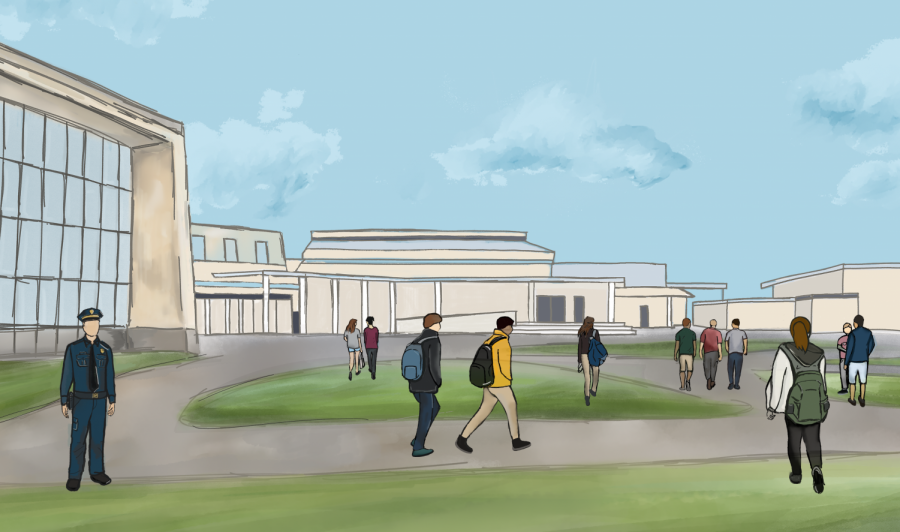 Some students and staff at LAHS also think that SROs are beneficial to the campus environment.
"SROs are necessary because their purpose is to protect students from violence and harm," former Asian Student Union President Rebecca Pan, '20, said. "If SROs weren't on campus, then who would stop those fights; would we just let students punch it out?"
Satterwhite said there have been many times when SROs were necessary to de-escalate an incident on campus.  
However, some teachers have spoken up about their negative experiences with SROs on the LAHS campus. 
In a testimonial for The Black Hub, an organization aiming to raise awareness about racism in the Los Altos community, special education teacher Kalinda Price described an experience where she was escorting a Black student back to his parent's car. The student's parents were already being questioned by an SRO and additional LAPD officers; the officers assumed Price, who is Black, was involved in an ongoing altercation involving Black students. Price said that even though she had explained to the officers who she was and the student's circumstances, the officer in charge wouldn't listen; the principal, a few minutes later, intervened and tried to explain the situation, but the officer still didn't listen. 
"The officers told me, if you move, we're going to arrest you," Price said. "It made me feel very upset, disrespected and helpless at the time. I felt like as a teacher I failed because students look to you as a place of refuge, but there was nothing I could do at that particular time. All the respect and power I had as a person who worked on campus just went out the door." 
Taylor said he felt uncomfortable bringing any of these incidents to the administration, as he felt that it was his word against the administration, SROs and school officials.
"Who the heck was I going to turn to without putting a giant target on my back?" Taylor said. 
"I didn't want to complain about a teacher or an SRO because you've got to pass those people every day. I just wanted to get through the day, keep my head down and just go on with my life."
Board Trustee Dr. Phil Faillace believes that while there are problems with having SROs on campus, they ultimately are a necessary security measure to keep students safe. 
"It was distressing to hear several MVLA students, alumni and teachers describe their interactions with SROs," Faillace said. "Their accounts of what happened included behaviors that ranged from disrespectful, to intimidating to, in one instance, terrifying."
Such behaviors are inconsistent with MVLA's values, Faillace said. 
"The only solace I found was that these negative interactions with SROs seem to have occurred before the tenures of the current SROs," Faillace said. "That was when training for SROs did not address issues of unconscious bias, racial insensitivity and a shortfall of minority representation among officers." 
Faillace believes that the first step in amending relationships between SROs and students is for them to get to know one another outside of campus, under the supervision of a "skilled facilitator."
"They could get to know each other as human beings with many problems, likes and dislikes in common," Faillace said. 
Satterwhite said that the SROs on campus try to build relationships with students while doing their jobs. 
"I feel that our relationships with our SROs and our police departments have been positive and they work with us to help create a safe learning environment." Satterwhite said. "I know that not everyone feels the same way. It is an issue that needs to be discussed so that everyone can feel safe and welcome on our campus." 
Faillace proposed inviting speakers to talk to SROs and students about racial issues. Specifically, he mentioned Stanford professor Dr. Jennifer Eberhardt, who developed artificial intelligence training programs for teaching police how to conduct traffic stops free of racist overtones, and professor emeritus Dr. Phil Zimbardo, who conducted the infamous "Prison Experiment," where he studied whether wearing police uniforms alters the officers' personalities. 
"In any case, we have a teachable moment." Faillace said. "Time to do what we do best — teach."
As an alternative to SROs, LA SAE is strongly pushing for the Board to implement a "restorative justice council." The council would act as an arbiter and disciplinary entity for conflicts at school and would be composed of students and staff who are "most affected by the harms of policing."
"The council would brainstorm ways to support a student in trouble so that they don't feel the need to act up again," Acharya said. "Police on campus usually escalate the situation, but we're here to de-escalate." 
LA SAE is still working on figuring out the details of the restorative justice council and is not sure yet as to how members will be selected. 
ETHNIC STUDIES 
LA SAE member Sreoshi Sarkar, '20, has also been working with history teacher Seth Donnelly to develop a freshman-year ethnic studies program at LAHS. The course would not have an honors option, as LA SAE members said that such "tracking" causes segregation in the district. AP history courses normally taken in sophomore year — Human Geography AP and European History AP — would be categorized instead as electives because World Studies would be the required sophomore year history class, although members said they are open to discussion about what the history track would actually look like. 
The ethnic studies course would teach students about the history and perspectives of different minority groups in the United States and how that affects society today.
"A good ethnic studies class will lead to people making connections within their 'people' and United States history," Acharya said. "Students will be able to see how 'their people' made a difference, which can inspire them."
"We never really delve into the stories that highlight the beauty and the agency of these underrepresented groups," Sarkar said. "Instead, we focus on the stories of pain and struggling, which needs to change."
Members of the Board also expressed support of the implementation of an ethnic studies course into curriculum. 
"It's an important conversation to have," Dave said. "We're realizing that we need to have an accurate view of other cultures that isn't the stereotypical view a lot of people grew up with."
Acharya sees ethnic studies in a similar light. 
"Ethnic studies isn't trying to solve issues of racial injustice," Acharya said. "In this class, we're just hoping to empower students to ask questions in a particular way so that they're able to see all perspectives on an issue." 
LA SAE plans on attending more board meetings and continuing to work with the community toward action. 
At the time of publication, neither the Black Student Union nor the current and former SROs have replied to The Talon's requests for comment. The Latino Student Union declined to comment.
Olivia Hewang contributed to the reporting on this story. 
Leave a Comment