Spring Sports: CCS Wrap up
Boys Baseball
The varsity boys baseball team, last year's Division 1 CCS champions, has been eliminated from the Division 1 CCS tournament after being ranked at the top of the De Anza League for most of the season.
In late April, Los Altos held a 21-1 overall record and appeared to have a chance of making the Open Division playoff—the most competitive CCS tournament—for the first time in Los Altos history. However, a four game losing streak at the end of their regular season dropped them to Division 1, and, last Saturday, May 18, they were eliminated by Mountain View in the second game of the Division 1 playoff.
Though disappointed in not making the Open tournament, senior Ryan Baum feels that even making the Division 1 tournament is an achievement to be proud of. The teams that Los Altos plays during league are not all guaranteed to make the sixteen-team Division 1 bracket, so despite being a "safety" bracket for Los Altos, the Division 1 bracket was not handed to them.
"I had no problem being in Division 1 for CCS," Ryan said. "Any CCS tournament is an honor and it was nice that we were considered for Open."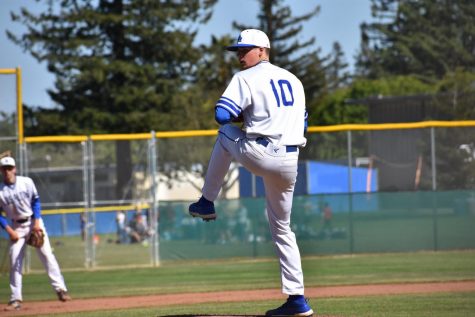 Coach Gabriel Stewart agrees. 
"I think it's really easy to fall in the trap of saying, 'We didn't get to the CCS championship game, we got beat by Mountain View, what a failure,'" Stewart said. "That's just ridiculous. I am extremely grateful for all the effort these guys put in, and I think they should be extremely proud of what they did."
In the back-and-forth game that eliminated Los Altos, the team had multiple opportunities to take the lead, but failed to capitalize on them. During the fifth inning, the Eagles had the bases loaded and one out, but hit two pop-ups in a row. According to Stewart, these were moments where the team was able to execute during the regular season—where they succeed in key moments, under pressure.
"In the playoffs, you don't have any margin for error, and that's a situation where all year, we had come through," Steward said. "But when it all adds up, we could go back and go over these plays, we had opportunities, we didn't take advantage of them."
This year, the team focused a majority of their practices on hitting, which was reflected in the game scores: they averaged eight runs per game this year, compared to an average of five in the past two years. However, their focus on hitting may have left weaknesses in their defense. The team averaged two errors per game—that is, two plays that could have been reasonably made for an out, that weren't. Against Mountain View, the Eagles committed two errors that allowed Mountain View to score two runs. And, with a final score of 6-5, those errors could have been the difference in the game's outcome.
This year, coach Stewart felt the team proved themselves by making the Division 1 playoff without players such as Alex Reelfs, who carried them to their team to the championship last year. He hopes the team will come back even hungrier next year, with the attitude that no championship is handed to them.
"We need someone to step up and pitch, we need someone to be a horse—where—when you're on the mound, the team is confident," Stewart said. "Again, this is not effort. These guys are trying as hard as they can. I think they're starting to realize, man, this is hard. Reelfs and Baum made it look easy. This is hard."
Track and Field
This week, track and field is working hard to continue their victories as they move into CCS. In SCVAL, for the first time since 2002, varsity girls won first place. Despite a few injuries, varsity boys finished second.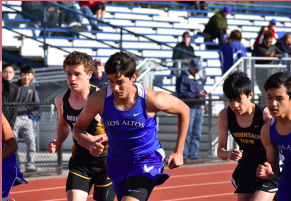 As the team continued their season, 24 players of the 44 who participated in SCVAL qualified to compete in CCS, an extremely large number compared to previous years.
In CCS, senior Thea Mollerstedt finished 2nd in the 300 meter hurdles, senior Weston Fairey finished 3rd in the 200 meter, and junior Anna Zaeske finished 5th in the 400 meter. This means all of them will be moving onto the CIF state championships, which are being held on Friday 4/24 at Buchanan High School.
As the unusually large amount of CCS athletes moved through the championships, they worked hard to stay united as a team, which can be difficult with the large amount of events and athletes.
"One way we try to unify the team is pasta feeds, [which] gives a chance for everyone to come together to bond," head coach Dave Barth said. "At track meets, no matter what the track meet is, they're all supporting each other cheering each other on."
One strength of this year's team is the large number of seniors, who are able to lead the team and set an example. Weston believes this is one of the most talented teams he's seen in his four years as a track and field athlete.
This large amount of senior talent is a large part of why the team ranked highly in SCVAL along with pushing them through CCS with three players continuing onto states.
However, having such a senior-heavy team means when they graduate, there will be many tennis shoes left to fill.
"I think with the seniors graduating we are definitely losing a lot of talent, but I feel like there [are] definitely a lot of newer people who can get the chance to step up to a more competitive environment," sophomore Eliza Morgan said. "I think it's really good for the team."
Boys Golf
The varsity boys golf team ended their season by making it to SCVAL finals for the first time in four years, and even worked their way up to CCS. According to Coach Richard Fujii, the team's desire to compete and improve allowed them to perform well this season.
"I can go down the line and talk about each guy and how infectious competition is," Fujii said. "It's been one of the secret ingredients to our success this year."
At the beginning of the season, Fujii wasn't sure how skilled the team would be after graduating four seniors and the having the team's star golfer move out of state. Even so, he put his trust in each athlete, and in the end, he believes it paid off. He said that many players from last year improved drastically and the new golfers this year, specifically underclassmen, managed to fill four empty spots on varsity.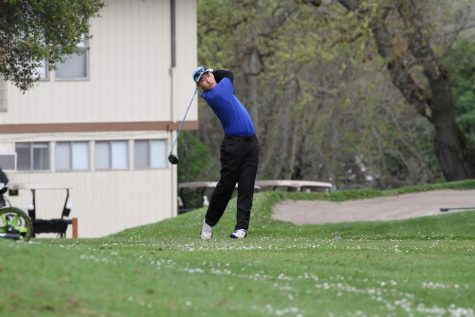 "Since the beginning of the season, ball striking has improved and short game has gotten a lot better," freshman Connor Song said, "Everything's got a lot better because of the the team practicing."
Although the team as a whole didn't make CCS, freshmen Jamison Tan and Connor Song qualified for CCS. Playing against an extremely competitive group of 84 golfers, Jamison placed 39th overall with a score of 81, and Connor placed 58th overall with a score of 86. CCS gave both freshmen experience in competing at a higher level and helped them figure out what they needed to improve upon for the upcoming season.
"It taught me that I had what it took to make it to CCS and go beyond just playing as a school," Connor said. "CCS]showed me the score I need to be able to shoot, and how I need to play in future years."