Spring Sports Brief
Track and Field
Last year, the varsity track and field team went nearly undefeated in league; after the league championship, the girls team ended with a 6-0 record and the boys team ended with a 5-1 record. Now, the team is carrying last year's success into the current season with undefeated 6-0 records for both the boys and girls divisions, and they were able to beat Los Gatos by, the only team they lost to last year.
Coach David Barth attributes their stellar record to the team's work ethic and the unusually large number of seniors on the team.
"Overall, it's just an incredibly hard- -working group of athletes who are really dedicated," Barth said. "[Also], having 28 seniors makes a big difference in being really competitive. In past seasons, we've had half that amount of seniors. Having such awesome senior leadership to set the example for everyone helps make it a really strong season for us."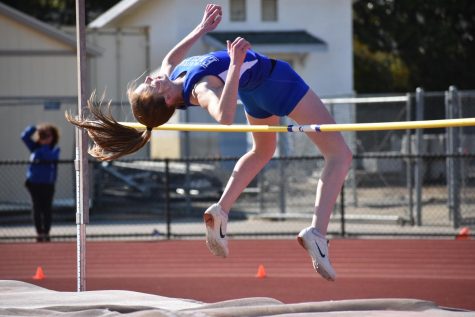 The strong relationship between the coaches and the team has also played a major role in the team's success. Almost all of the track and field coaches are alumni of Los Altos and some have been with the team for more than 20twenty20 years, allowing for the coaches to understand the team dynamics better and how to train individual athletes to excel.
"We've worked really hard as a coaching staff to tweak our training plans and try and put athletes in a position where they can be super successful," Barth said.
Despite the team's current undefeated record, Barth acknowledges that winning CCS is a difficult task, but a goal that is within reach of the team.
"Winning [SCVALS] would be super awesome, and any time we can take that banner down from the gym and put a new number up there is super exciting," Barth said. "As a coaching staff, we're [always] trying to get as many athletes as we can to CCS finals and states, but it's really hard. There's only one division for track and field."
Girls Lacrosse
Finishing with a score of 12-11, the  varsity girls lacrosse team defeated Mountain View for the first time in the program's history on Friday, April 12. With this win, the Eagles now have a 2-3 record and are ranked seventh out of ten teams in the upper De Anza league.
"It was a super close game, so it was really exciting and we were all just really happy and proud," team captain senior Lisa Larsson said.
Lisa stated that this win was a result of the team working cohesively and keeping their composure throughout the game.
This victory follows another unprecedented victory against Gunn. These two wins are a rebound from the team's initial rough beginning in which they lost their first two games. Lisa believes that the girls improved their team chemistry, allowing them to become a stronger and closer team. Now that the team has hit their stride, they hope to continue their success and compete in CCS.
"It was fun and made the hard work we've been putting in feel worth it," Lisa said. "We have a few games left and we're going to try to finish as best we can. I think our biggest goals are to beat Mountain View again and to try and beat Palo Alto."
Baseball
Coming into the season, this year's varsity baseball team was expecting a tough battle. The team started with many underclassmen in critical positions, with a sophomore catcher and a freshman and sophomore in the infield. Despite this, the team is holding a record of 11-1 in league.
"Some underclassmen have really stepped up this year and have kind of been what we were missing coming into the year," team captain senior Ryan Baum said.
As the season progresses into its second half, the team's main goal is to qualify for CCS, which they won last year. Currently three games ahead of the their toughest competition, Los Gatos, the team hopes to keep their wins coming and push into CCS.
Currently, the team is placed number one in league, beating Los Gatos and Wilcox at 2nd and 3rd.
"We've faced very tough competition," coach Gabriel Stewart said. "Our league is one of the toughest public school leagues, [but] we are playing our best baseball, and we can keep the momentum going."
Boys tennis
This spring, the varsity boys tennis team started off with a bang; in the first half of the season, the team was ranked first in the lower El Camino League and were nearly undefeated with one loss to Wilcox. The team beat Santa Clara and Milpitas twice and won a close game against Palo Alto with a score of 4-3.
However, the team's ranking began to fall in the second half of the season. Many unexpected weather conditions later on in the season resulted in the cancellation of practices and games, and many new underclassmen did not have the chance to develop their skills, resulting in close losses later on in the season.
"We were best in the league and were doing really well," coach Thor Holt said. "Then, in one week it was over [because of Palo Alto and Cupertino]. Everybody was very positive, but it's never very easy to lose that many tiebreakers."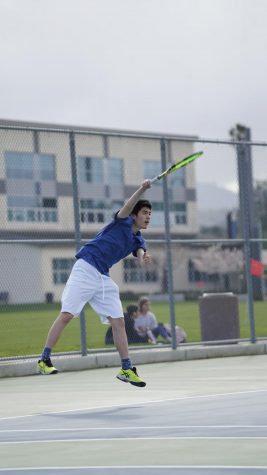 Although the team faced multiple near losses in a row, their enthusiasm and efforts have not stopped. On Thursday, April 23, the top players of the tennis team played in SCVAL finals at Los Altos. If they succeed, they will move up to CCS finals.
Boys Golf
The boys golf team is currently undefeated this season with a 10-0 record and a first place standing in the El Camino Division. On Wednesday, April 10, the team beat Mountain View, the team's toughest opponent, with a close score of 211-209.
Although competitions are individual, the team's success has come from working hard and  running drills both during and after practice. Practices only take place three days a week from Monday to Wednesday at Shoreline Golf Links, but many players are committed to practicing during their free time as well.
For the remainder of the season, the team hopes to carry their winning streak to win leagues and make CCS, as well as continuously improve each player individually throughout the season.
"I always have several goals for our season," Coach Richard Fujii said. "[The players] have fun and enjoy being part of the team and are committed to getting better."
The team will play at leagues on Tuesday, April 30 and hopefully attend CCS on Tuesday, May 7.
Swimming and Diving
Both the varsity swimming and diving teams have been struggling in their SCVAL league, currently holding a record of 0-5. While many athletes on both teams are winning their specific events, injuries and tough competition have negatively affected the team's performance. However, the team is still persevering daily to improve.
While the team as a whole is struggling, individual athletes are performing well and many have already qualified for CCS. Many of the swimmers have been improving their times, even through the harsh weather during the meets.
"We push each other in practice everyday, and I'm really happy with how hard all of [them] have been working this swim season," varsity boys coach Seth Tasman said.
Despite many injuries and the loss of several seniors, both the varsity diving teams are still working hard to improve their diving skills. Several athletes from both boys and girls varsity will be moving onto CCS as well.
"It is more of a rebuilding year this year, but I think overall it has been really positive," diving coach Alexandra Wilson said.
Gymnastics
The varsity gymnastics team placed fifth out of eight teams in their most recent meet this season on Wednesday, April 10. Head coach Sarah Wallace is proud of the team's accomplishment, but also sees the season progressing from here. She believes that their performance can be elevated once athletes start finding the event that is right for them.
Wallace also finds that the dynamic of the team is unique, since Mountain View and Los Altos practice together in the Los Altos gym. She says this creates a light, competitive atmosphere.
"With club, it's very individual and then the team score is the result," Wallace said. "Where when you get to high school, the judges are a little bit easier. The gymnasts all want to do well individually but the goal is the team, so it's kind of a different energy."
The team-oriented atmosphere also creates an opportunity for varsity gymnasts to help mentor some of the younger gymnasts, which adds to their strong team dynamic. Wallace appreciates that if she is working with a varsity athlete, there are other gymnasts that can give some guidance to JV members.
Wallace hopes the team can win CCS this year, especially with five gymnasts who will come to the later meets after finishing with their club seasons.
Boys Volleyball
Boys volleyball is 2-10 in their league this season, with their most recent loss against Homestead on Friday, April 12th. Though the boys volleyball team has not had a winning record for the past two seasons, this year has been especially challenging. Two of their starters have not been able to play; their outside hitter was lost to injury, and the setter was unable to fulfill the grade requirement to compete for the team. Despite their losing season, Junior Peter Sage says the team still doesn't roll over easily, and tries to make the best of every situation by just having fun.
"We're just trying to go back to the basics," said junior Max Silver. "I think we can improve if we learn to to capitalize on our strengths."
Badminton
The badminton team survived a rocky season and now has a 3-6 record in the El Camino Division. This has been a rebuilding year, with the team primarily comprised of underclassmen due to last year's roster turnover when many of the experienced senior players graduated. Team captains Emily Cheng, Larry Ma, Zain Merchant, Jimmy Gao, David Gong and manager Kendall Goto, who were chosen by their peers based on their skill and dedication, have helped in coaching new players and helping the team feel more united.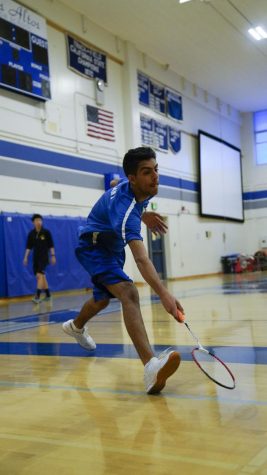 "The team captains and manager have displayed great leadership in organizing practices for skill development and mentoring and coaching up the less experienced players," JV badminton coach and teacher James Mok said. "We've also had some practice times set aside for team-bonding activities to strengthen our team spirit."
The team shows its spirit by encouraging all players during each game and setting aside time for activities like team bonding scavenger hunts. Badminton players will be able to show off their improved skills and unity as a team during their SCVALS on Friday May 3rd and Saturday May 4th against Lynbrook.
Boys Lacrosse
Varsity boys lacrosse initially faced struggles in preparing for the season because of difficulties finding a new coach, but the team managed to recover by the second half of the season. This resulted in a five game losing streak followed by a three game winning streak, placing them fourth in the league with a 3-5 record.
Thanks to team dads and experienced players who stepped in to teach the novice players, the relatively new team has stabilized. The game against Burlingame on Saturday, March 28 was a major turning point for the team as it was when they first started seeing the results of their hard work in their first win.
"Our intensity was higher this game because we were tired of losing and we [implemented our] plays this game, when the last game we were going with the flow," senior William Sosa said.
A dry first half of the season also led to an increase in commitment among players. With a higher attendance rate to practices and more commitment in general, the team's skill level advanced to compete with the De Anza League—one they were moved up to this year thanks to their success in the previous season.