Sports wrap up, prepare for CCS
Cross country
Both the boys and girls varsity cross country teams will be competing in CCS. Cross country had in its final meet on Tuesday, November 3, with senior Erin Hicks winning the league finals.
This season, the team ran into an issue with a league rule. Senior boys had been running in JV races because only seven runners can compete in varsity. However, this was prohibited by league regulations. Recently, a group of coaches from the district appealed the rule to give all runners a chance to run in varsity races.
Some athletes believe that the amendment forces some runners to compete out of their comfort zones.
"I got my hopes up because seniors can't run JV, which is my expertise," runner senior Sherwin Tavana said. "But since there is a change in the rules, I have to run in [varsity] league finals."
Field hockey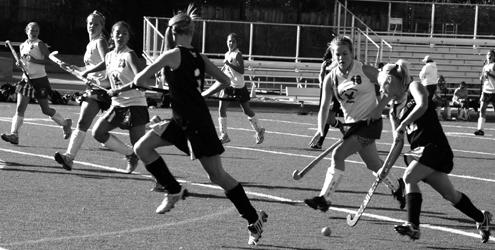 Sweeper junior Lauren Peterson recovers to stop a Mitty breakaway. The team is no longer a CCS contender. (Below) Junior Marika Lee gets ready.
Suffering the loss of 13 seniors from last year's team, field hockey ended its season with a 3-9-1 record. This year, the team played in the El Camino Division, with tough competition against the stronger teams of the Blossom Valley Athletic League. After their loss against Los Gatos on Tuesday, November 3, field hockey will not play in CCS.
However, Coach Mary Donahue was impressed with improvement late in the season.
"I'm most proud of the fact that although we did get off to a slow start in league play and have had some truly heartbreaking losses, our players continued to work really hard in practice and games to turn themselves into a good, solid team," Donahue said.
Volleyball
The girls volleyball team has seen ups and downs during the season, besting teams like Homestead but falling victim to the kills of Mountain View and Los Gatos.
As of press time, the team has a 19-15 record, making volleyball on the cusp of making CCS playoffs. The team officially found out Saturday, November 7. Even if the team does make it to CCS, it would be facing stiff competition against tough Division II teams.
"If we are able to get in, I really just expect the girls to compete," Head Coach Jason Kennedy said. "Division II is the strongest in all of CCS, so saying that we expect to win that bracket would be a bit of a stretch."
Despite losing five of seven starters last year to graduation, the team secured a better record than last year's team.
Girls tennis
The varsity girls tennis team will be competing in CCS two weeks from now if they qualify.
According to Coach Hung Nguyen, the team hasn't qualified in two to three years but it has come really close.
This year, he believes that the team has a 40 to 50 percent chance of making CCS based on the number of Division I teams they have played.
"Because the De Anza League is much better than other leagues, it magnifies the losses," Nguyen said. "In tennis, it doesn't matter who you play, it just matters how many times you win. Some teams put themselves in lower divisions for easy wins and to accumulate points."
Although Nguyen feels that this is "pretty unfair," he feels that the team has "good standards and should earn [qualifying for CCS]."
The team's overall record is 12-10.
According to Nguyen, because the team is arguably in the toughest league in Northern California, the girls "mainly need to work on consistency."
The team is fourth place in the De Anza League and found out if it qualified for CCS on Saturday, November 7.
Leave a Comment