Coronavirus Updates — Sports
Follow @lahstalon on Instagram for more updates. 
Sunday, May 23 — SCVAL reverses decision regarding CCS playoffs
In a meeting on Friday, May 14, the SCVAL Board of Managers reversed that decision, opening up a window of opportunity for college recruitment.
The CCS playoffs have already begun for several sports, including soccer and tennis. The Eagles' boys soccer and tennis teams were eliminated from the quarterfinals bracket after tough losses last week against Monta Vista High School and Menlo-Atherton High School, respectively. More sports are to be seeded in the coming weeks.
Click here to read the full update.
Allan Feldman
---
Friday, March 5 — SCVAL Board of Managers comes to a decision on playoffs, cohorts and spectators
The Santa Clara Valley Athletic League (SCVAL) held a webinar yesterday at 9 a.m. to address public inquiry over athlete participation in the Central Coast Section (CCS) playoffs, protocols related to cohort sizes, spectators at competitions and guidelines for COVID-19 testing. Ultimately, the Board voted to hold off on any decision regarding postseason competition, updated cohort guidelines and agreed to allow spectators at Season 2 and 3 competitions at a limited capacity.
Click here to read the full update and guidelines.
Mira Sundar
---
Friday, February 26 — SCVAL releases additional athletic cohort regulations
Los Altos High School Athletic Director Michelle Noeth released new sports updates yesterday from the Santa Clara Valley Athletic League, including an announcement that specific Season 2 sports can start earlier than originally stated. 
Football and field hockey are set to begin official season practices today, while boys and girls soccer are slated to start practices on Wednesday, March 3. Badminton and girls volleyball must wait until the County is in the orange tier. Some Season 3 sports conditioning dates will be adjusted due to the earlier start dates for Season 2 sports. However, those start dates have not yet been released. 
The mask policy has not changed — masks still must be worn at all times on campus. According to Noeth, modifications will only be made to the mask policy if it inhibits proper breathing during sports activity.
Starting today, six-foot social distancing rules will not be enforced during games for in-season sports. However, during practices and on the sidelines, athletes are required to socially distance. 
COVID-19 tests are not currently required for athletes or coaches. If the number of cases in the County exceeds seven per 100,000 individuals, athletes participating in contact sports will be required to test at least once a week. The County has not yet determined how testing will be enforced.
The single-cohort rule, which states that athletes may not participate in any other sports — including other LAHS season sports and out of school sports clubs — is still in place.
The County asks that spectators not attend sporting events or competitions for the time being. This request concurs with both the state and county guidelines, which outlines that spectators are not allowed at sporting events unless they are cleared for safety reasons. This rule still firmly stands for Season 1 competitions, but LAHS has not yet released any updates on spectator attendance for Season 2 sports competitions.
Marie Godderis and Mira Sundar
---
Thursday, February 11 — CIF reverses single-cohort rule for high school athletes
On Wednesday, February 10, the California Interscholastic Federation (CIF) received permission from the California Department of Health to change guidelines surrounding cohorts in all high school sports except football. Previous restrictions that required athletes to stay in a single cohort are now recommendations instead of rules. This means that athletes may now be able to participate in a club and school sport simultaneously and in multiple school sports.
This update does not yet apply to LAHS students, as it must be approved by the district and school. To stay updated as guidelines change, follow @CIFState on Twitter.
Allison Bricca
---
Wednesday, January 27 — Santa Clara County Public Health Department reverses 25-foot cohort rule ahead of Season 1 start date
On Wednesday, January 27, the Santa Clara County Public Health Department reversed the rule instructing different athletic cohorts to maintain a 25-foot distance from one another in an update to its guidelines on athletic activities. Previously, this rule may have prevented schools from competing against one another, despite the state's recent announcements to allow Season 1 competitions to begin. The county also implemented new restrictions requiring athletes to wear masks at all times, with the exception of aquatic sports. 
The new update allows for inter-cohort competition — including competitions between schools — with some caveats: Only two cohorts from either Santa Clara County or an adjacent county are allowed to compete with each other, but sports such as track and field, cross country, swimming and diving, golf and tennis are allowed to compete with three or more cohorts. 
The update also mandates travel restrictions, which state that no athletic group can travel outside of the county to participate in athletic activities that do not follow Santa Clara County's specific COVID-19 sports guidelines or that take place more than 150 miles from the county. 
Click here to read the full update and guidelines.
Anika Sikka
---
Thursday, January 21 — SCVAL Board of Managers approves three-season sports schedule
After delaying the start dates of Season 1 sports multiple times, the Santa Clara Valley Athletic League (SCVAL) Board of Managers has approved a three-season SCVAL sports schedule, with the first league competitions scheduled to begin on Monday, February 15. In addition to having shortened seasons, 16 sports have been moved to different seasons based on the COVID-19 tier under which they fall.
Each sport will be cleared to begin league games once Santa Clara County enters its specified COVID-19 tier and will be canceled upon its specified cancellation date if the county is not yet in an appropriate tier. Certain sports may have their seasons extended or may be delayed to a later season if they are not cleared by this date. 
All sports may begin voluntary conditioning immediately, with the caveat that athletes may only participate in one sport at a time. The practice start dates and scheduled competition windows for each season can be found on the SCVAL website. SCVAL is currently working on creating finalized competition schedules for Season 1.
Season 1 sports are cross country, girls golf, girls tennis and swimming and diving. Season 2 sports are field hockey, gymnastics, football, soccer, badminton, girls volleyball and competitive cheer. Season 3 sports are track & field, boys tennis, boys golf,  baseball, softball, girls lacrosse, boys lacrosse, boys volleyball, water polo, basketball and wrestling.
Los Altos High School will be following the SCVAL three-season sports schedule. For additional scheduling information, refer to this document.
SCVAL 3 Season Schedule officially adopted on 1 21 2021

Elana Eisenberg and Anika Sikka
---
Wednesday, January 20 — Season 1 sports to resume practices following CDPH guidelines
Following California Interscholastic Federation (CIF) and Central Coast Selection (CCS) decisions on Tuesday, January 12, and Thursday, January 14, Season 1 sports at Los Altos High School will be allowed to practice while following COVID-19 guidelines until further notice from the California Department of Public Health (CDPH). Athletes must wear masks whenever possible and abide by social distancing rules.
Because of California's entrance into the purple tier, all LAHS sports transitioned to an online workout format, and this recent decision allowed teams to practice despite the purple tier.  
However, to ensure safety, teams are also expected to practice in cohorts to minimize outside exposure to the virus. Indoor practices will be permissible once the County, currently in the purple tier, enters the orange or yellow tier. 
Santa Clara Valley Athletic League (SCVAL) is also trying to have later season no contact sports start in a potential season in February if Santa Clara County exits the purple tier. 
The CDPH will work with the CIF and CCS to establish a competition schedule for teams. There will be no competitions among teams in California until Monday, January 25, at the earliest.
The MVLA District is allowing Season 1 sports to practice per the guidelines outlined and is encouraging Season 1 athletes to go through the athletic clearance process.
Anika Sikka
---
Tuesday, December 1 — CIF postpones practice and competition start dates
Due to a surge in COVID-19 cases in the state, the California Interscholastic Federation (CIF) will be halting practices and competitions until Friday, January 1, at the earliest. This decision was made after the California Department of Public Health postponed the issuance of its updated youth sports guidance. No official start dates for practice and competition will be announced until this updated guidance is issued.
In addition, the CIF will be canceling Regional and State Championship events for all Season 1 sports. With this decision the Federation aims to give athletes longer seasons rather than shortened seasons with a limited number of schools participating in regional or state events. 
To avoid the loss of another full season, boys volleyball, formerly in Season 1, will be moved to Season 2. An updated calendar will be posted in January to accommodate this change."The CIF is confident this decision is a necessary and reasonable action for our member schools, student-athletes and school communities in light of the current statewide crisis," the CIF wrote in their statement. Read the full statement here.
Emily McNally
---
Sunday, November 29 — MVLA postpones sports cohorts until further notice
With the recent surge in the number of COVID-19 cases and hospitalizations in Santa Clara County over the last several weeks, the MVLA school administration has decided not to resume Los Altos Athletic Cohorts after Thanksgiving Break. Sports practices will be postponed until further guidance is provided from the County.
"While we realize that these cohorts have been a great support to our students, at this time we feel we need to be cautious when we return from Thanksgiving," Athletic Director Michelle Noeth said.
In an effort to increase safety, new sports modifications will take effect on Monday, November 30. As mandated by the health officer, outdoor athletics and recreation may not involve close contact with those outside of an individual's immediate household and social distancing is required at all times.
Restrictions will be re-assessed by the County after Monday, December 21.
Parisa Larson
---
Thursday, September 3 — Season 1 sports will be allowed to hold open conditioning practices starting on Tuesday, September 8.
At 4:30 p.m. on Thursday, September 3, Los Altos Athletics hosted an Athlete Webinar Meeting to discuss updates on the upcoming sports seasons. Season 1 sports — cross country, football, field hockey, gymnastics, boys and girls volleyball, and boys and girls water polo — will be allowed to hold open conditioning practices starting on Tuesday, September 8. In the 2020–2021 school year, athletes may participate in multiple sports and will now be required to attend games on Saturdays and during breaks.
Open conditioning will include a number of safety precautions, such as wearing masks to and from practice, taking athletes' temperature and checking for COVID-19 symptoms before attending. Additionally, teams must practice in cohorts with a maximum of 14 athletes. 
Eligibility for Season 1 tryouts will be determined by grades at the end of the first quarter, which falls on Friday, October 9. As in past years, athletes must have a grade point average of 2.0 or higher in order to be considered eligible, and continued eligibility will be checked at the end of the first semester on Friday, December 18. Tryouts will begin the week of Monday, December 14. 
Season 2 eligibility for tryouts will be set at the end of the third quarter on Friday, March 12. Continued eligibility will be determined at the end of the second semester on Wednesday, June 9. Starting dates for season two sports vary for each sport and can be found in the second table below. 
In order to attend open conditioning, an athlete's parents must fill out a permission form as well as update their physical. All athletes must be cleared through AthleticClearance.com. For more information about season dates and policies, visit the Los Altos Athletics Page.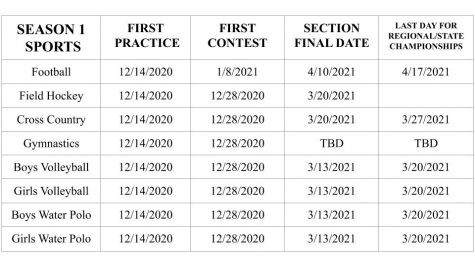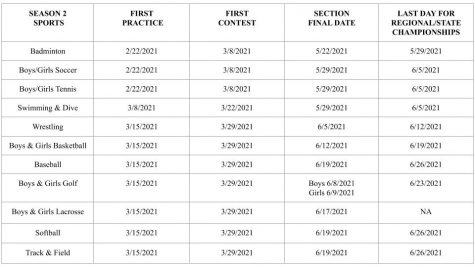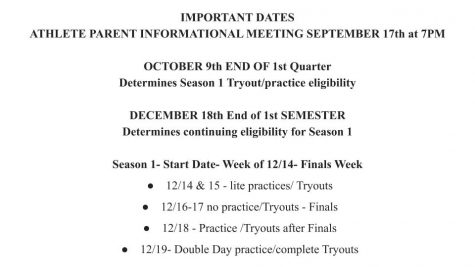 Cameron Cox
---
Tuesday, July 21 — CCS releases 2020-2021 sports calendar.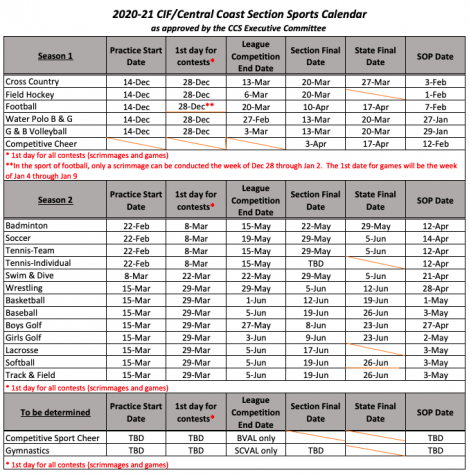 The Central Coast Section (CCS), which is one of ten sections that make up CIF and serves 152 schools from San Francisco to King City, released the CCS 2020–2021 Sports Calendar today. The calendar provides each CIF/CCS sport with a practice start date, first day of competition, league competition end date, section final date, state final date and sit out period (SOP) date.
The Central Coast Section Executive Committee also announced that it will be extending the CIF/CCS summer period through Saturday, December 12, 2020, and cancelling the scheduled "CCS Dead Period" from Sunday, July 26, to Thursday, August 6.
Read the official release here.
Elana Eisenberg
---
Monday, July 20 — CIF moves the start of traditional fall sports to December 2020. 
The California Interscholastic Federation (CIF), which makes decisions for all high school sports in California, announced this morning that the traditional fall season start date will be postponed. Most sections are expected to begin in December 2020 or January 2021. Following this announcement, each CIF section will release their own calendar with dates for the start and end of the season, as well as for Section playoffs.
As social distancing guidelines are updated, local sections may potentially resume practices under their summer period rules up until the start of the season. These rules, released by the CIF on Sunday, June 12, outline requirements for hygiene, sanitation and more for the return to on-campus training.
The CIF is also temporarily suspending certain bylaws due to modified sports seasons, allowing students to simultaneously play on school and outside (club) teams.
Read the official release here. Stay tuned for more updates as CCS and MVLA make more decisions on how the season will resume specifically at LAHS.
Naomi Schulze and Navya Singhai
---
Wednesday, June 17 — School athletes may return to campus starting next Monday. Students will receive letter grades next school year. 
School athletes may begin training on campus again starting next Monday. Athletes must train in groups of no more than 12 students with only one coach, according to Principal Wynne Satterwhite.
For now, students may only participate on one team, meaning they must choose between a club team and school team.
The school district also announced that students will receive letter grades for the 2020–21 school year. The district is expecting guidelines from the county in early July about whether students will be able to return campus in the fall.
Additionally, administrators discussed sanitation procedures and personal protective equipment (PPE) for in-person learning. The district will receive a 60-day supply of masks and face shields from the county.
Olivia Hewang
---
Thursday, March 12 — SCVAL cancels all spring sports. Practices will continue. 
The Santa Clara Valley Athletic League has decided to cancel all spring sports through the end of the season. All meets and competitions are canceled, although teams will still be allowed to practice. This is in accordance with Governor Gavin Newsom's state mandate to cancel all mass gatherings over 250 people through the end of March. Principal Wynne Satterwhite said that this would likely transfer over to Central Coast Section, but it is yet to be confirmed. Athletic Director Michelle Noeth has no say in this decision. Satterwhite says that any piece of this decision is subject to change in the coming days.
Cedric Chan, Tomoki Chien, Nina Crofts and Vaishu Sirkay
Leave a Comment