Social development
February 8, 2021
Considering how rapidly children grow — mentally, physically and emotionally — we have broken down the stages of social development in children by age to provide an in-depth understanding of how the behaviors, skills and thoughts of kids of all ages are affected by the pandemic. 
0–2 years
Due to their limited awareness of their surroundings, caregivers can fulfill the majority of social interaction required for the proper development of infants. To gain an insight into the experiences and takeaways of a "pandemic parent," we talked to AP Government teacher Sarah Carlson, a mother to 1-year-old twins who have been in quarantine for most of their lives. She's found this time to be simultaneously one of the most rewarding and isolating experiences to have had as a parent.
"The increased time spent at home means I have been there for most milestones and have had a huge opportunity to bond with my children in their first year of life," Carlson said. "I am deeply grateful for the additional time I have gotten to spend with my son and daughter."
On the other hand, she and her wife are unable to share these special moments with their extended family and loved ones, and also feel disconnected from other new parents going through the same experiences.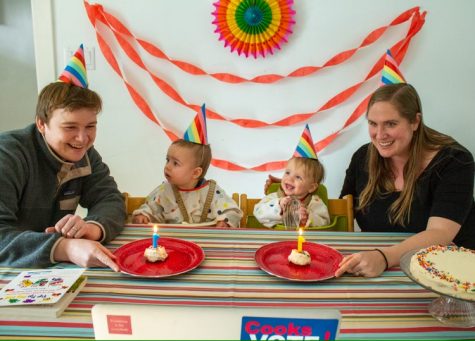 "It is also a somewhat lonely time to be a new parent," Carlson said. "It is a major transition to go through and while it is possible to have some conversations with fellow parents online or at a distance, I really look forward to the day when I can attend playgroups with my kids freely and bond with fellow parents in person."
Though their outings have been limited, her children have gotten used to seeing people wearing masks and will still smile and engage with them, rather than shy away. Though, with less exposure to seemingly everyday activities like going shopping, they haven't grasped the relationship between their toys and the objects they would see in the real world.
"They got a toy wallet with toy coins and credit cards, but they have no idea what it is because they have never seen us pay for anything in a store," Carlson said. "We don't take them to many places because they can't wear masks yet, so their world is pretty small."
Carlson isn't too worried about the pandemic's lasting effects on her children and predicts only small changes. One of her worries is that her twins might find being left with a babysitter difficult the first time because of their limited interactions with adults other than their caregivers.
"I hope that having the time to bond so intensively as a family this year will help them have a strong foundation in life and that the pandemic will mostly be over by the time they start forming lasting memories," Carlson said.
Ghaffari confirmed that newborns and children under the age of two can develop all the social skills expected of their age group from their immediate family, but once they get older, it becomes imperative to introduce them to other influences and peers.
"Before starting preschool, children focus on parallel play, meaning that they get excited when they get to see each other, but then proceed to do their own thing," Ghaffari said. "Preschool starts at two years and nine months exactly because that's right at the age when children start actually playing together for a little while."
---
3-4 years
After the egocentric mindset of infancy, toddlers progress and develop a new social awareness through peer-to-peer interactions. They learn how to effectively interact with other kids, make purposeful decisions and hone their language skills all through play.
"They're learning to take turns and share their toys with other peers," Ghaffari said. "Whether they're building something together or just showing interest in other people's activities, they learn by imitating each other."
Without their human peers, some isolated children have started mimicking the behavior of their pets, and parents have taken to TikTok to document these unusual experiences. One parent shared a video of her baby foregoing her hands and shoving her face into food like a dog. Another baby started shaking her head as a dog does when playing with a toy, and yet another showcases a baby's babble resembling barks more than human speech.
Although they will likely grow out of these "animalistic" traits, it's a testament to children's tendency to learn from their immediate surroundings, whether it be a parental figure or just their pet.
---
5–6 years
Entering kindergarten and leaving behind the comforts of home is a big step (metaphorically, of course. Their legs are still so tiny!) for any toddler, but if the child has had little to no peer exposure, that step requires some serious stretching.
"They might need a little confidence boost when they need to start kindergarten and form friendships all of a sudden," Dominguez said. "Friendship building skills can eventually be strengthened, but it might take more time than usual."
Kindergarten exposes 5- and 6-year-olds to longer, more sustained interactions with unfamiliar people for the first time — a step critical to their natural progression into elementary school. However, the development of social skills requires in-person interactions and already has a steep learning curve. This portion of young kids' growth is much more difficult to supplement in a virtual environment.
In distance learning, students are expected to maintain focus while staring into a two-dimensional screen, which gives teachers the Herculean task of keeping their students' attention long enough to educate them. Ghaffari expects there might be longer-term focus or attention issues as a result of distance learning, but said it's difficult to know for sure as of now because of the short cycle of experimentation.
"The students' attention spans aren't great while sitting in front of the screen, so teachers have modified the class schedule to include more breaks for them," Ghaffari said.
Dominguez acknowledges that kindergarten teachers are truly making an effort to be interactive and physical despite being online, but children learn by doing, touching and taking part in activities, which makes it difficult for them to sit for long periods or concentrate on their tasks.
"It breaks my heart every time I see a young child on their device because children are just so much more joyous when they are interacting with other children," she said.
It's pretty common to see attention deficits from children in this age range, but Ghaffari advises parents to incorporate physical and creative activities such as building projects and coloring books into their at-home learning. This change can help progressively boost the child's attention span outside of class and prevent a lack of focus in the future.
Other than that, Ghaffari hasn't noticed many budding long-term effects like a lack of empathy from the quarantine in her young patients. However, she takes that with a grain of salt considering she doesn't witness their daily interactions like parents and teachers do.
In general, alluding to the patterns she's seen at her clinic, Ghaffari is hopeful that young kids will come out of this pandemic relatively unscathed.
---
13–18 years
Although the effects of the pandemic may not be as immediately apparent on teenagers, young adults have also missed out on important milestones, like graduation and prom, that many have looked forward to throughout their childhood and high school years.
"It's so easy to keep the younger kids distracted and make them happy, but the bigger disappointments have been for the teenagers," Ghaffari said. "There's just so much disappointment that they have to deal with. Also, it has been hard to try to find routines to keep moving forward and not let the pandemic get them down."
On the bright side, the obstacles faced during the pandemic may make the transition into adulthood less dramatic, as teenagers develop a more realistic mindset. After going through a global lockdown and being forced to grow up a little faster, life changes hopefully won't faze them as much.
"As teenagers get older and things don't go their way, they may start thinking, 'At least it's not a pandemic,'" Dominguez said. "Instead of being affected by disappointment, they might change their mindset to 'All right, let's just move on. We got this!'"