Soccer – coach Roberto Magellan
May 7, 2020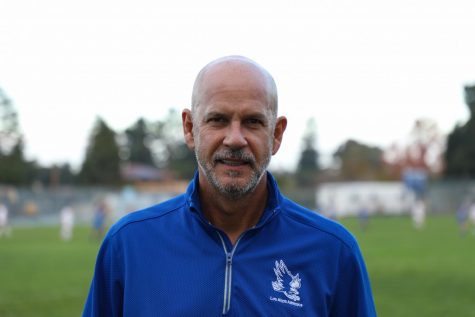 The boys varsity soccer team kicked off the new season with a new head coach, Roberto Magellan. Eager to bring fresh ideas for the team, Magellan looks forward to seeing growth in his players throughout his first season as the head coach.
After a demonstration of poor team sportsmanship last season, former head coach Vava Marques made a personal decision to step down. He said this was a difficult choice that he wasn't happy to make, and only hopes for the best for Los Altos in the future.
"I am very sad that I'm leaving after coaching here for 20 years," Marques said. "I coached for as long as I did because Los Altos and the soccer program are very dear to me."
Magellan, coincidentally a former teammate of Marques's, is coaching the boys varsity team after being encouraged to do so by a player on his club team who goes to Los Altos. Magellan is no newcomer, as he has been coaching for over 20 years. He even coached the varsity girls soccer team at Los Altos from 2005 to 2008 and they made CCS twice during this period. Magellan's success in the past was a factor in his decision to return to Los Altos this year.
"I looked at the banners [inside the gym] and five of the girls I coached were listed as athletes of the year," Magellan said. "Seeing their names up there gave me a feeling of pride that's rare these days."
According to Magellan, growing up in Brazil was what sparked his love for the game. At age 11, he was organizing teams and refereeing the older kids during their matches. Later on, Magellan began working as a manager for various soccer teams and was a player for the famous Brazilian soccer team, Flamengo. After immigrating to the US in 1982, Magellan insisted on incorporating soccer into his life.
"Loving soccer was a way of life for a lot of us Brazilians," Magellan said. "Once I moved here, I started coaching even before I knew how to speak English."
After years of coaching, playing and managing, Magellan said he has developed a burning passion for the game. Constantly immersing himself in the soccer culture encourages him to inspire that same passion in others.
"Similarly to how a teacher helps educate their students, I want to pour my passion for the game onto the players," Magellan said. "Whoever has the passion for something needs a canvas to paint a picture."
Magellan hopes that his dedication towards coaching will help the Eagles succeed in their upcoming season. One of his goals is to have the team place well enough within their league in order to advance to CCS. Last year, the varsity boys soccer team qualified to compete in CCS. However, after many altercations with referees and instances of poor sportsmanship, the administration pulled them from the tournament. After the disappointing ending to their previous season, Magellan knows this season will be crucial for the morale of all of the players.
"The boys will need this season to bounce back from whatever frustration took place last year," Magellan said. "It's a new beginning for them."
After the team won their first game 3-0 against Santa Teresa last Friday, December 6th, Magellan's coaching seemed to already have a positive impact on the individual players and the team dynamics.
"Coach Magellan looks at us individually and often give us positive criticism when we make mistakes," junior Alessandro Sisniegas said. "This, along with his game knowledge, has helped our overall team chemistry improve."
But more importantly than winning any title, Magellan wants the players to appreciate being a part of the team. He believes that playing for a community is something that many players may not experience every again, and he wants this to be what the players prioritize throughout this season.
"CCS and the league would be great, but more importantly I want to allow them to enjoy themselves," Magellan said. "The team doesn't just represent the 11 kids on the field and the kids on the bench, but rather the school itself."