Sip it or Skip it?
Over the past three decades, bubble tea has become an automatic association with Asian culture. First invented in Taiwan in the 1980s, bubble tea—named after the bubbles in the tea itself, not the tapioca pearls—has since found popularity in the west, particularly in the United States. Oolong, jasmine, and taro are some of the most popular — albeit tame — tea choices.  Today, the customizable, sugary beverage continues to evolve as tea shops add eccentric flavors and unfamiliar toppings to their menus.
The Talon tasted a few trendy teas and drink creations at several local Bay Area tea shops. Here are our thoughts about butterfly pea flower tea, roasted barley tea, milk foam tea and salted cheese tea.
BUTTERFLY PEA FLOWER TEA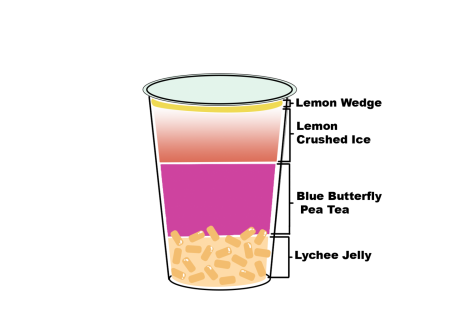 Order: blue butterfly lemon tea with lychee jelly, (100% sugar, 100% ice) from Tea Annie
Butterfly pea flower tea is a caffeine-free herbal tea made from dried butterfly pea flowers and lemongrass. Aside from being rich in antioxidants, this centuries-old tea has only recently become popular because of its unique color properties that allow it to change shades of blue and purple depending on the pH of the drink. Tea Annie's blue butterfly lemon tea did indeed showcase the multicolor abilities of butterfly pea flower tea, but their version tasted more like a lemonade slushie than a tea since the lemon in the top layer of crushed ice overpowered all other possible flavors. Despite that, it was a pleasant, summery drink, and the lemon flavor played well with the lychee jelly to create a light refreshing taste. Those who want to experience the actual butterfly pea flower tea are better off buying the raw tea from tea shop, but this drink is definitely worth a try, even if for no other reason than a good photo.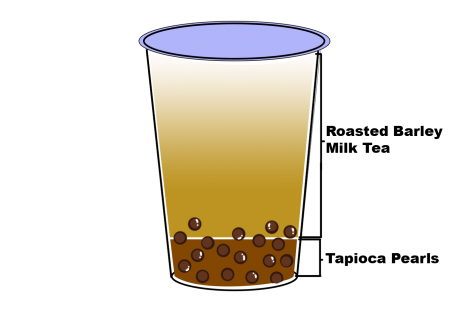 ROASTED BARLEY TEA
Order: roasted barley milk tea with tapioca pearls (100% sugar, 100% ice) from Tea Era
Amidst the mostly fruity variations of milk tea, roasted barley is an unconventional flavor. Tea Era's version was a strong black tea with chocolatey, earthy undertones that gave the drink a surprising depth and richness. The simplicity of this drink also allowed the subtle flavor of barley to shine through rather than be overpowered by other layers or toppings. Although the tapioca pearls added little to the actual flavor of the drink, they did give the mostly flat, smooth tea more texture and sweetness. While this wasn't our personal favorite, it had a unique flavor and offers a solid option for people looking to skip the sugar.
MILK FOAM TEA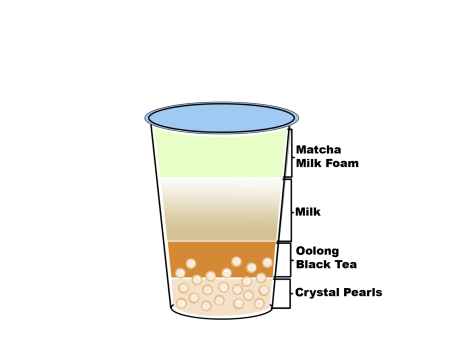 Order: matcha oolong milk foam with crystal agar pearls (50% sugar, 100% ice) from Gong Cha
Milk foam tea is any type of herbal iced tea served with a thick layer of whipped cream and milk floating on top. Although this is Gong Cha's specialty drink, their matcha oolong milk foam was underwhelming: when the tea and frothed topping were mixed together, the drink itself tasted no different than a traditional milk tea, except with a strong matcha flavor. Even at 50 percent sugar, the milk foam made the tea overwhelmingly sweet and, when combined with the "regular" amount of ice, watered down the tea so much that only the milk could be tasted. The translucent crystal agar pearls—which are normally soaked in different syrups and liquids after cooking to add extra flavor and color—were left plain and added a crunchy, off-putting texture to the already thick, creamy tea. Although we personally weren't big fans of this drink, it would probably be a good fit for those who want more of an aesthetic dessert beverage than a tea.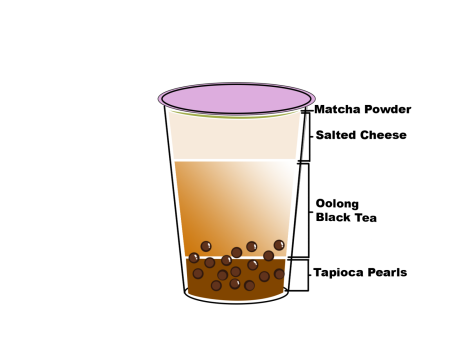 SALTED CHEESE TEA
Order: salted cheese green tea with tapioca pearls (100% sugar, 100% ice) from Happy Lemon
This tea's bark is definitely worse than its bite—while salted cheese on tea sounds both terrifying and intriguing, it was really just a slightly saltier version of green tea. Happy Lemon's salted cheese green tea was served with the toppings in separate, intact layers: the milk-based cheese foam floated on top of the green tea beneath it while the tapioca pearls settled at the bottom. By itself, the cheese foam layer had an overwhelming cheese taste, but when the tea and cheese were combined, the tea masked most of the cheese foam's flavor and left nothing but a slight salty aftertaste. Overall, it was a delicious, quirky take on green tea, but nothing incredibly out of the ordinary. Though it tasted better than we originally expected, with the cheese foam adding a pleasantly creamy texture to the drink and the tapioca pearls giving a nice chewy texture as well, it didn't turn out to be the uniquely savory bubble tea we were hoping for. If you crave adventure and wild flavors, this probably isn't the drink for you.