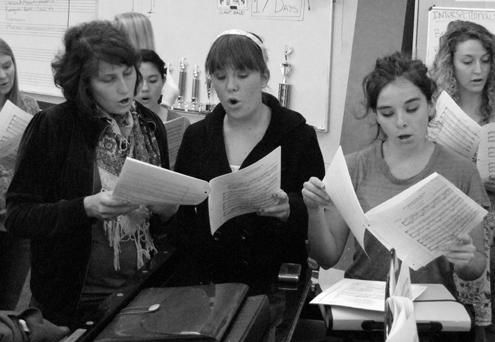 Sophomore Becca Wolber and seniors Jenny Bakos and Emma Carr (left to right) practice for the West Valley Choral Festival with Girls 21.
The Choral Department attended the annual West Valley Choral Invitational Festival on Friday, October 23. Concert Choir, Girls 21 and Main Street Singers performed along with other high school choirs. An adjudicator, a person who acts as a judge, listened to each choir and gave feedback.
The adjudicator this year was Dr. Amanda Quist, the Director of Choral Activities at San Jose State University. Last year, Quist worked as adjudicator with the LAHS Choral Department when the school held its own festival.
"[The choral festival is] a learning experience, and it's also a performance experience," Choral Music Director Mark Shaull said. "They come home with an idea of how far they've come so far and how they can go further."
Story continues below advertisement
The festival was also Concert Choir's and Girls 21's first performance this year.
According to Shaull, Quist worked hands-on with each high school choir, telling each what it did well and in what areas it could improve. This year, these areas were "technical." The adjudicator gave suggestions on ways singers could improve vocal production, nuance of line and expression of the music in not only an auditory but also in a visual direction.
Shaull said that the three groups did very well.
"[Quist] had a concert that night, and she said, 'I wish my singers were this prepared,'" Shaull said.
Main Street Singer senior Emma Carr, who went to the festival her sophomore year with Concert Choir, said that the feedback is usually information they have already received in class. Still, Emma said it is helpful to hear from someone outside of the school.
"It's like, 'Oh, we actually do need to work on this even though [Shaull] says it all the time,'" Emma said. "'Why don't we just step it up and actually do it this time?'"
One of the ways the adjudicators tried to improve the choirs in past years, said Main Street Singer senior Sean Armstrong, was to "unify their sound." Emma cited other suggestions the adjudicators have given such as singing with more open vowels and with the meaning of the piece in mind.
Adjudicators vary year by year and are chosen by availability.
Around 12 high schools participated in the festival, which lasted several hours. In the past, college choirs sometimes have sung at the end for all of the groups. The Choral Department did not go last year because the festival fell on the same day as the Homecoming Dance. It plans to attend in future years provided that the festival does not coincide with Homecoming again.