Silly Bandz Craze Stretches Across School Campus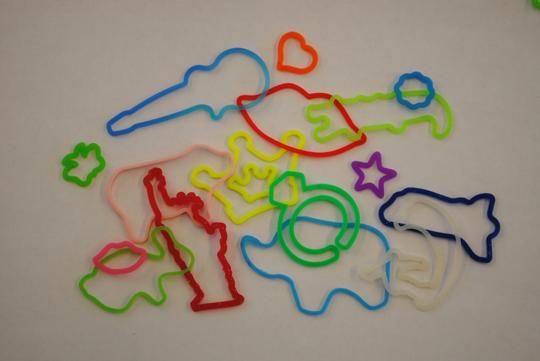 ---
What do Justin Bieber, princesses and Batman have in common?
They are on the wrists of thousands of students across the nation in the form of Silly Bandz, a phenomenon that is stretching from East to West.
Silly Bandz is a brand of silicone rubber bands formed into a variety of shapes such as animals and letters. The idea took off in November 2008 when Brain Child Products (BCP) Imports started selling the bracelets online. Since then, Silly Bandz have taken America by storm. Even though they hit stores for the first time in 2009, as of August 2010, Silly Bandz are already available in 8,000 stores in the United States.
America can't get enough of these Silly Bandz. Bandz fans show off their collections on Youtube and the Facebook fan page has gained a following of more than 400,000 fans. EBay even holds live auctions for the Bandz in 15 countries where they can be purchased for prices as low as 1 cent.
With themes ranging from sea creatures to fruit to Tom and Jerry to Spongebob to Hello Kitty to dinosaurs, it's clear that BCP Imports has gotten pretty silly with their accessory designs.
But it doesn't end there. Silly Bandz fans can send BCP a message and request designs they want to see. Some people have requested bands in typical shapes such as skateboards and Nintendo characters while others have requested more obscure designs such as a platypus.
With enough shapes and colors to satisfy nearly all customers and a cheap prices of only $5 for a 24-pack and $2.50 for a 12-pack, Silly Bandz have become collectibles that people just can't get enough of.
But with their raging popularity, they have become a distraction for some student collectors. In fact, some schools in North Carolina, Colorado, New York, Texas, Florida and Massachusetts have banned Silly Bandz from the classroom as the fiddling with and swapping of bands during class detract from the learning environment.
The Silly Bandz craze has turned into a serious addiction for some. Some of the testimonials on the official Silly Bandz website demonstrate peoples' tight bonds with the Bandz.
On the Silly Bandz website, Johnathan from Turlock, Calif. declared his obsession for Silly Bandz: "I love Silly Bandz! I have 1,253 and [am] getting more tomorrow!"
But kids aren't the only ones jumping on the Silly "Bandzwagon." Heidi from Las Vegas, Nev. said that her teacher gives them to her class to reward students for good grades.
Jane from Jefferson City, Miss. said, "My co-workers and I use these little animal rubber bands as currency around the office. It's fun! Can't wait to show my underwear-shaped Silly Bandz!"
Students from the school have also been joining the Silly Bandz craze.
"Pretty much after I started wearing hella bracelets every person I would meet saw them and ended up talking to me about how many bracelets I have and if they had Silly Bandz they would give it to me," junior Emily Nitzberg said. "I guess in a way each band has its own little story about someone else, and that's how they started being part of [my] collection."
There have also been some concerns regarding the safety of the bands. The fact that some children wear Silly Bandz extensively and in huge quantities has led to reports of injuries, primarily loss of blood circulation and wrist numbness.
However, school bans and health concerns have not been able to deter the surge in popularity of the colorful bands. Silly Bandz even has a blog and Twitter that you can follow to find out about the latest Silly Bandz events. Enthusiasts can show off their Silly Bandz in the Silly Bandz runway show, trade Silly Bandz with others, and get new Silly Bandz at these events.
Isn't it time you jumped on the Silly "Bandzwagon?"
Leave a Comment