Silicon for Society Fixes Laptop Computers, Guides Students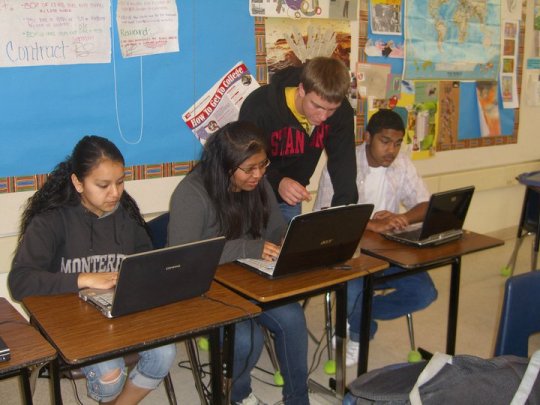 Imagine life without a computer. No Microsoft Word or Excel to help with schoolwork, no Internet to help with research. Not even Facebook or AIM to chat with friends.
This lifestyle is what the non-profit organization Silicon for Society is trying to alleviate through the computer donations they receive. They not only give these computers to underprivileged students, but also go to their schools and spend at least six to eight hours teaching them how to use the computers.
Silicon for Society has teachers and student tutors at Los Altos and Mountain View High Schools, Almond Elementary School and Foothill College where they spend five to six sessions to teach other students recommended by teachers in AVID classrooms and the English Department everything they need to know about how to use a computer.
"We take computer donations, fix them up, install Microsoft Word, Excel and other software on them, then give them to students in the Bay Area who can't afford to buy a computer," co-founder senior Jack Montgomery said. "After we fix the computers, we teach students how to use them, and then we give the them to the students."
Jack, along with senior Tyler Stout, came up with the idea near the end of their freshman year, and spent the summer planning for the launch of the organization during their sophomore year.
"We both wanted to do something to help out and give back to the community," Jack said, "and I was wondering what I could do to help, like what sort of skills I had, and I realized that I'm good with computers. And Tyler is really good at organizational stuff and communicating."
While Jack focuses more so on the technological aspects of Silicon for Society,Tyler, who has had extensive experience in different philanthropy organizations such as the E3 Youth Philanthropy Board, focuses more on the business and logistical aspects of their work.
"We both have strengths and weaknesses that complement each other," Tyler said. "And that has made Silicon for Society very much possible."
Silicon for Society was recently featured in an article in the Mountain View Voice. Despite this, Silicon for Society still faces some difficulties reaching out to the community for computer donations.
"We've tried to find different ways and channels to tell people about our cause," Jack said. "But it's been difficult to get newspapers to run a story like that. For some reason, it's not that interesting to them and they don't like listening to 17-year-old kids. But recently we've enlisted some adult help."
Through his connection with E3, Tyler was able to get Silicon for Society involved with the Los Altos Community Foundation. The Los Altos Community Foundation helps Silicon for Society with finances and advertising and allows the group to offer tax deductions for the computer donations.
Because Jack and Tyler are graduating this year, they are preparing for the time when they are no longer here to run the organization.
"We've gotten a lot more students involved, translators, tutors, and we're currently working with [Science teacher Thomas] Budd to keep it going after we graduate," Jack said. "Tyler's little brother, [freshman] Jordan Stout, is also getting involved and getting others involved too."
Although Silicon for Society mainly targets students for their philanthropic efforts, they have taught adults as well, some of whom needed volunteer student translators to help them understand.
"It made me feel really good to use my Spanish to good effect," senior Lauren Biglow said. "It was one of the first times I was really able to employ it in the community in a more practical sense."
Silicon for Society receives computer donations of all ages and models, either from people of the community dropping them off at Jack's house or Jack going to pick them up. Once Jack finishes fixing and installing software, he and Tyler take the computers to people's homes.
"Dropping off the computers is the best part," Jack said. "Sometimes we see family situations that are just different than how we live . . . they maybe have a microwave as the highest technology there. Then we bring in this huge computer, and we start it off, and everyone is like 'Ooh, so cool!' and the whole family starts getting into it."
Tyler agrees with Jack about his experiences when dropping off the computers.
"Every time we walk into a person's house to donate a computer, seeing what [these students] have gone through and what their current living conditions are and still being able to succeed," Tyler said, "it makes me so happy that what we are giving them will enable them to succeed even more."
Despite its success, Silicon for Society could use the help of students to fix computers, install software, tutor other students or translate. Students who want to get involved can contact Silicon for Society by phone at (415)-881-7342 or by email at [email protected]
"It's a great program for these kids," Jack said. "And the more that the word gets out there, the more donations that we can get, the more that we can help students."
Leave a Comment