Shadows get a taste of high school student life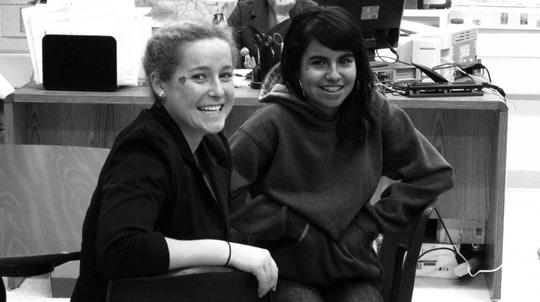 Junior Meg Nichols
smiles with her eighth grade shadow.
Despite the cloudy weather, there has been no shortage of shadows on campus. On certain days of the year, shadows have had the opportunity to trail upperclassmen around campus.
A shadow is a prospective incoming freshman who is assigned a current student to follow for the day. The shadow experience is intended to give the eighth graders a feel for the school's campus and help them decide whether they wish to attend LAHS.
"This experience did help influence my decision because it was really fun and I met a lot of people," said Tal Ron, an eighth grader from Egan. "I would recommend this to someone else because you get to see what it is like to be in high school."
Los Altos hosted four shadow days in late January and early February. The students came from a large variety of schools, with approximately 14 different middle and junior high schools between them.
"It went well," said Emily McKinney, an eighth grader from Hausner. "It was actually a good experience and nothing bad happened."
Most middle school students thrown directly into a chaotic high school environment would find it daunting, but the majority of the shadows seemed to have made the transition with ease and had a great experience.
"It was fun and I liked the English class a lot," said Avery Ikeda, an eighth grader from Egan. "And in PE they were doing line dancing and it was really fun to watch, and the PE teacher was nice."
According to Assistant Principal Cristy Dawson, the administration does its best to partner the shadows with current students that share like interests and class choices.
"I've gone to other schools and Los Altos actually called to see what I wanted instead of just setting me up with some random person," Avery said. "People should shadow because then you know what the school's like and if you can see yourself there."
Leave a Comment