Seven Wrestlers Advance at League Finals
The varsity wrestling team performed well at league finals at Cupertino yesterday, February 11, sending 7 wrestlers out of 14 to the next round of the CCS league finals. Co-captain senior Chris Jimenez and junior Paul Hernandez placed as league champions, adding on to their record of placing in prior league finals as well.
"[Getting two league champions] is awesome because we have not had two league champions in about 10 years," Coach Randy Jimenez said.
Chris went undefeated for the second year in a row at the league final and won his second consecutive championship at league finals. Over the past two years, he has gone a perfect 18-0 against SCVAL opponents.
To add to that tremendous feat, Chris's overall varsity record over the last two years is 71-12. He is currently ranked sixth on the CCS rankings.
"Chris has been team captain for the past two years and is a tremendous leader in the wrestling room," Jimenez said.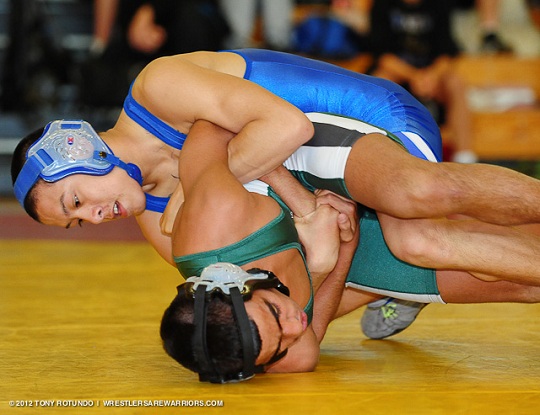 Paul won his first league championship this year, going undefeated at league finals. He took second last year but has made CCS for the past two years. Paul is currently ranked fourth on the CCS rankings and is expected to place in the top five at the tournament.
He won league finals this year in a magnificent fashion with a stunning pin over Joey Wood from Los Gatos in 1 minute and 22 seconds. Joey had beaten Paul earlier in the season and was seeded above Paul at the SCVAL tournament.
The following wrestlers will be going on to CCS: Chris (1st place, 113 lbs), Paul (1st place, 220 lbs), senior Evan Gilliland (3rd place, 182 lbs), senior Peter Sobrino (5th place, 195 lbs), sophomore James Sobrino (alternate, 7th place, 138 lbs), junior Dimitri Trembois (alternate, 7th place, 160 lbs) and senior Omar Zeitoun (alternate, 7th place, 170 lbs).
[Photo courtesy Randy Jimenez]
Leave a Comment