Seniors say goodbye to Season 1 sports
As spring started to bloom in full force and more athletes returned to campus, seniors said goodbye to their Season 1 sports. Despite the endless obstacles throughout the past year, sports were able to return to competitions for a season full of fond memories. Continue reading to learn more about the senior celebrations and final competitions for each Season 1 sport.
CROSS COUNTRY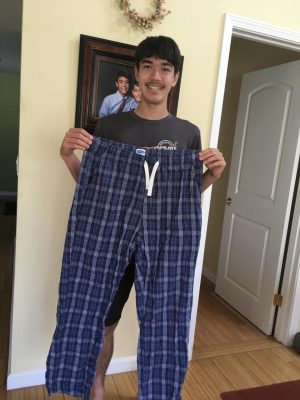 After a lively afternoon of speeches and celebrations, seniors from the cross country team took home their new prized possessions: posters and fresh pairs of pajamas. On Friday, March 26, the cross country team had their end of season celebration to recognize their six seniors.
Typically, the event would be an indoor banquet, but this year, athletes could be seen socially distanced in the quad. To bring a sense of normalcy to the special commemoration, however, there were still tasty snacks, spectators and games. Pictures of different athletes were taped to the pillar outside the Eagle theater, and participation awards were given out to all athletes, though there were no MVP or coach's awards at the event this year.
Head coach Stephanie MacKenzie gave a speech honoring each senior. The seniors themselves (wearing fancy party hats) also gave short speeches, sharing their favorite team memories, lessons and future plans.
Senior Hans Holst's favorite memory was, to say the least, quite hysterical: When he and his friends ran to Baskin Robbins one day after practice, a teammate dared others that if he drank the water in the dog bowl outside, they would have to pay for his ice cream. Agreeing to the challenge, Hans and his friends didn't expect him to instead splash the dog water all over one of them — being cross country runners, everyone went sprinting away.
On a more serious note, Hans felt that he's learned a great deal about the importance of hard work after his four years on the team. He said he'll also miss being able to go on runs with his friends and "goof off a little."
"It was a nice way to end off the season," Hans said. "It's a form of closure and made me reflect on how the season went and then move on to the future."
GIRLS GOLF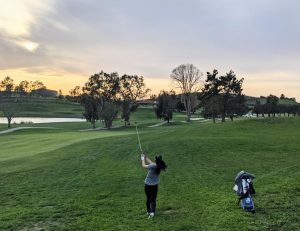 Finishing the season on their home green, the girls golf team celebrated their two seniors — Annika Gaglani and Joanna Hsieh — before their last match. The two teed off first as they represented the Eagles in the first group as the number 1 and number 2 spot in their match against Wilcox High School at Bay View. The team won by 69 shots and finished with a final score of 234-303, wrapping up the season with a 9–1 record. 
"Wilcox is a very friendly team and it was a perfect group to finish the season with," head girls golf coach Abe Roof said. "Both teams gave the seniors a round of applause for their last high school matches and for both playing all four years on the varsity team."
Although it's not easy for the seniors to bid this team farewell, they anticipate to keep golf as a part of their lives.
"I felt sad when I realized it would be my last high school match," Joanna said. "I will miss being a part of a team and playing with my friends, but I hope to continue playing in the future for fun."
GIRLS TENNIS
To honor all the seniors leaving the team this year, the girls tennis team had a small celebration on the back field at LAHS next to the tennis courts. Players returning to the team next year presented each senior with a short speech, along with a large tennis ball with signatures from all other players on the team. These served as a small gesture to thank the seniors for being on the team and for positively influencing others. 
"The seniors could have not played this year due to COVID, however many of them stuck with it," varsity head coach Hung Nguyen said. "They really served as positive role models for the non-seniors, and I thank them for that." 
From having trouble with organizing transportation to avoiding touching the opponents' tennis balls, the team had to cope with a series of unfamiliar safety precautions. However, by going through this experience together, the team was able to grow closer. These special bonds encourage many seniors to return to visit their younger teammates. 
"Dealing with COVID during the season was tough for everyone in their own way, but we went through it together which helped us get closer," senior Arya Sastry said. "Even though I'm sad I'm leaving, I know I can come back since LAHS is such a close-knit community."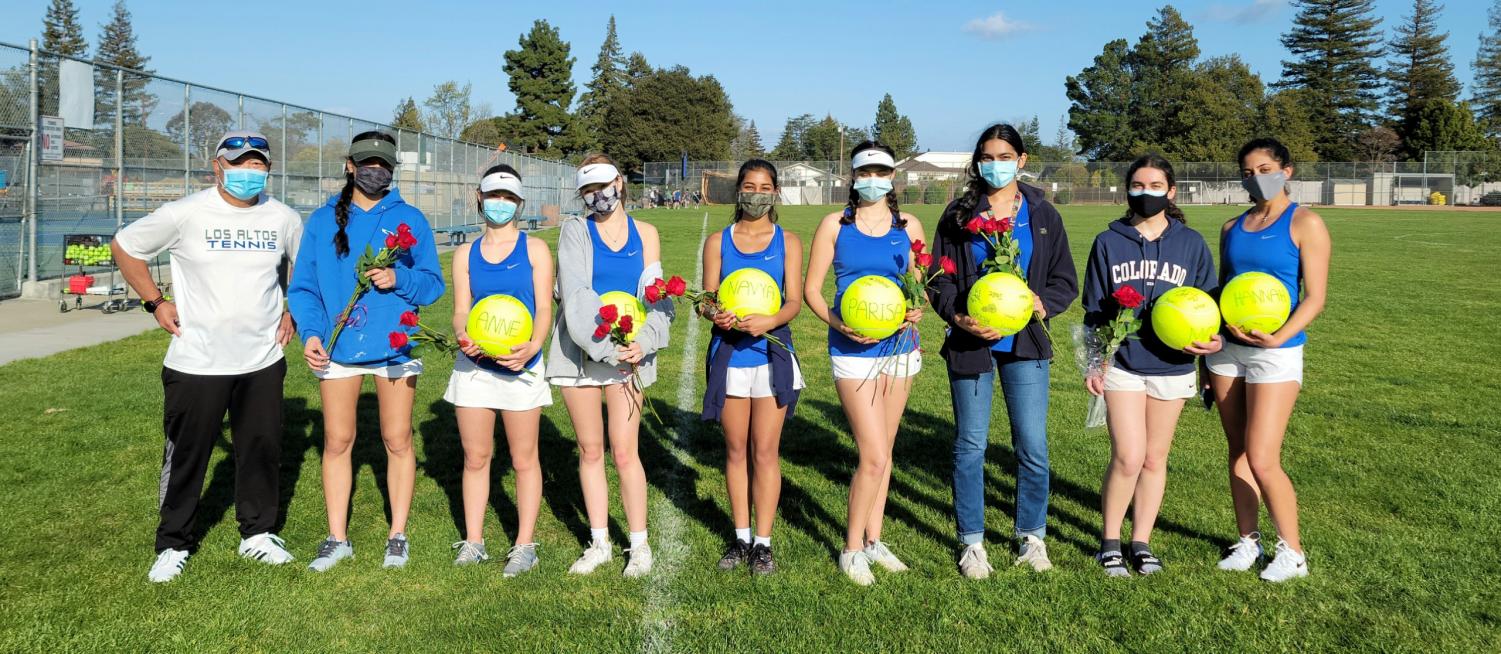 SWIMMING AND DIVING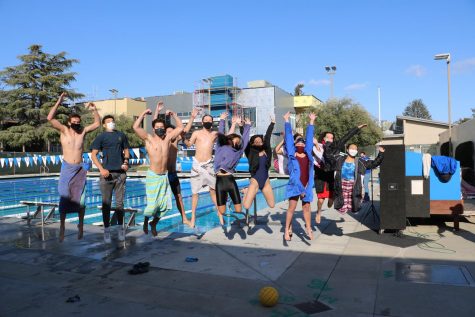 On the swim team, senior night was a flurry of cupcakes, flowers, posters and smiles. After a close virtual competition against Gunn High School and Homestead High School, the team was able to relax and enjoy their final moments together. 
Most competitive atmospheres have at least a hint of tension and stress, with the drive to get a record time taking center stage. Yet there was a noticeable lightness in the energy of the swim team during this final meet. Everyone was grateful to be there celebrating the completion of a wild but worthwhile season. 
The seniors acted as role models throughout the season for many of the underclassmen athletes, using their experience and leadership to lift the team's spirits and connect them. After a short but fun season, saying goodbye was bittersweet.
"The seniors were always the fastest and people on the team looked up to them," junior Alvin Xiao said. "Every time they swam in an event, everyone would watch in awe."
Head coach Seth Tasman called seniors onto swimming blocks to congratulate each of them on their hard work and individual accomplishments.
"The seniors did an amazing job, motivating, leading and showing the underclassman how hard work pays off," Tasman said.
Leave a Comment