Senior Sydney Carr signed her letter of intent to University of California, Santa Barbara (UCSB) today, February 6, committing herself to play Division I soccer for the school. Surrounded by her parents, brothers and aunt, she signed the official papers at brunch today.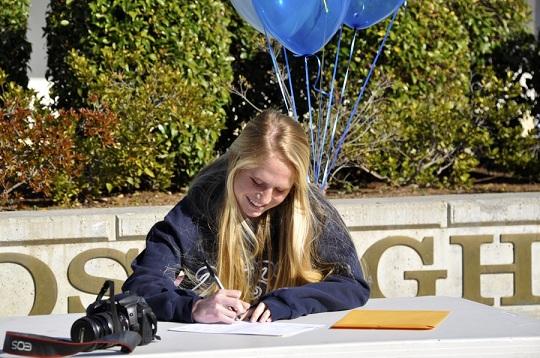 Sydney has been playing soccer since she was four, but started playing competitively when she was eight. For the last seven years she has played for the PSV Union FC in Palo Alto. Although she made the school's varsity team in freshman year, Sydney played for the Eagles only through junior year, opting out this season to train with her club throughout the winter season.
"Soccer, for as long as I can remember, has been the one thing I've wanted to do," Sydney said. "While other kids played multiple sports or did other things, I spent hours at the field everyday and it's something that makes me happy, so having the opportunity to play in college is something I have been aiming for since I was young."
Story continues below advertisement
Sydney's top two choices were UCSB and Cal Poly San Luis Obispo, but she ultimately picked UCSB because she felt that the soccer program at UCSB fit her better.
"After meeting the rest of the team and 2013 recruits I am very happy with my choice," Sydney said. "I have not picked a major and have no idea what I want to do, so not having to commit to a specific major like I would have at Cal Poly was also another deciding factor."
What excites Sydney most about playing Division I soccer for UCSB is the ability to continue playing the sport that she loves while going to a great school.
"The idea of having an entire team with me all four years and going through that experience with a group of people who have the same passion as I do is also something that I look forward to," Sydney said.
[Photo by Ciera Pasturel]