Senior Pursues Passion for Medicine
November 18, 2015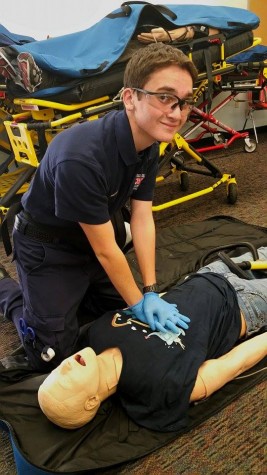 After completing a couple of medical emergency classes at Foothill College, volunteer experience in the field and CPR and Basic Life Support certifications, senior Marshall Scott is on his way to becoming an Emergency Medical Technician (EMT) and working toward his passion: helping others. Marshall is currently a volunteer Emergency Medical Responder (EMR). The next level of certification is an EMT, followed by an Advanced Emergency Technician and finally, a paramedic.
Since September, when an organization called Rock Medicine approved his application to work as an EMR, Marshall has volunteered to work at seven events through Rock Medicine, including a recent Zac Brown Band concert and a Bridge School Benefit concert. Rock Medicine is a nonprofit group that provides medical care at local events such as concerts, festivals and sporting events. Among the medical staff are doctors, nurses, EMTs, paramedics and volunteers.
"At [these events] I am part of the medical staff," Marshall said. "We get a variety of calls from people who just need Advil to people who are having a heart attack."
At an October concert at the Bill Graham Civic Center, Marshall played one of his largest roles yet as an EMR. His team was staged a level above the audience seats when he heard the frantic shouts of a man in the audience for help for his girlfriend.
"When we got to him the woman was on the floor grabbing seats and shouting, 'Help me!' while gasping for air," Marshall said.
Marshall was in charge of responding. He alerted his team, and once they helped her up to a quieter, lighted place, they began to question the couple.
"He denied they took any [drugs] until I took him aside and told him that her condition was deteriorating," Marshall said. "He then said that she took a drug called, 'Red Press,' which no one on our medical staff knew. Her body temperature reached 101.3 degrees fahrenheit, so we covered her in ice packs to help her body temperature cool."
Marshall's experience provides him with meaningful takeaways and interesting perspectives. This experience and others like it have shown Marshall the negative effects of substance abuse. They have also shown him first hand that some people are unwilling to get medical help because of the fear of getting in trouble for what they have done.
Volunteering at shows takes a huge amount of time and commitment for Marshall, as the medical staff arrives early to prepare supplies and medical booths and does not leave until the last patient leaves. Marshall's longest day began at 2:30 p.m. and lasted until 1:30 a.m.
"I thought [volunteering] would really help me get inside knowledge that you can't [get] from textbooks about different things you see in the field," Marshall said. "It also just allows me to help out people who need it."
As for the textbook learning, Marshall has completed HLTH 5: Emergency Response at Foothill College, which teaches the skills necessary to help sustain life and reduce pain before advanced medical care arrives. He is currently enrolled in EMT 304: EMT- Basic Part A, which includes all skills necessary for one to provide emergency medical care at a basic, life support-level. These are the first two of the three EMT classes offered at Foothill. He plans to begin the third and final class in January to earn all the credits for his EMT certification.
Marshall initially took these classes because he knew that he wanted to help people. His classes and volunteer experience has encouraged him to pursue this passion. He plans to attend business school to learn business management. He then hopes to use everything he has learned to create a business that incorporates medical assistance on a larger scale.
"Saving someone's life, once I'm on the job, would just be a regular day for me," Marshall said. "But for them it will mean everything because [the fact that] they could have died is a life experience that no one ever forgets."