Senior night ends in a victory for LAHS varsity boys volleyball team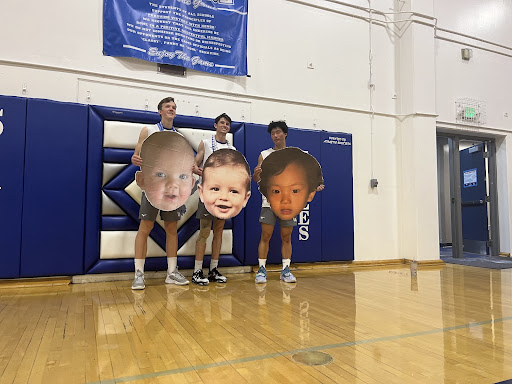 The Los Altos High School varsity boys volleyball team finished with a resounding victory in their senior night match against The King's Academy in the home gym last Tuesday, May 2. They closed out their season as the winners of the El Camino Boys Volleyball league, only losing one game out of 15.
They honored three seniors: setter Ethan Choe, middle blocker Tyler Cairns and outside hitter Zach Schuder.
The first two sets went smoothly with important momentum plays such as multiple service aces from Ethan and good connections with the middles; the Eagles secured early leads in both sets. They won 25–23 and 25–21 respectively.
However, the third set started with no real lead in sight, both teams keeping pace with each other. Although the Eagles fought hard — including a roof block from Zach to gain their momentum back during the 23–23 tie — the teams went to a deuce. It ultimately led to a loss for the Eagles and ended with a score of 27–29, six points over a typical set win of 25.
The tide turned early in favor of the Eagles in the fourth set — kills from pin hitters Zach, Aiden Cuppett and Sam Cousins kept the team dominating the scoreboard. Key plays included an impressive rolling dig from sophomore libero Kevin Rubio and a well-timed tip from Zach which led the Eagles to game point. Sam closed off the match with an ace, ending the set 25–20.
Although the Eagles secured their standing as first in the league earlier with an almost undefeated season, this victory signified much more than just another win in their record.
"It was my last season, my last go at it," Tyler said. "I've never won the league before, so that was a huge accomplishment."
And, even as the league season wraps up, the team looks forward into CCS and future years.
"I think we have a really good shot at CCS," Zach said. "And next year, after the seniors leave, our team is in capable hands."
The varsity boys volleyball team is heading off to CCS as winners of their league. Their first CCS game will be today at home, playing in the quarterfinals bracket.
Leave a Comment