Senior 'Nice Greg' Makes Music, Friends, Fans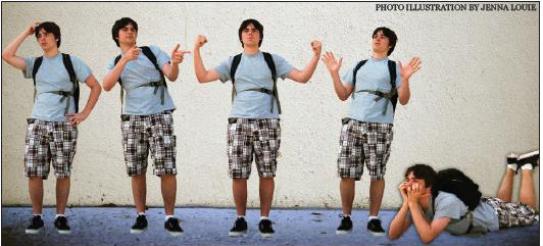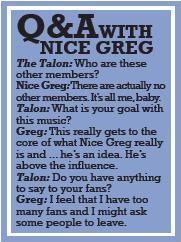 Nice Greg and Friends is not your average rap group.
It consists of one known member and possibly two other mysterious members (maybe there are more, or maybe there are none at all). It combines handwritten guitar riffs as the rhythm for its music with the beats of a hip-hop song, all of which are mixed digitally.
The lyrics, while rhythmic and witty, also aim for laughs. Oh, and its front man is a bit crazy too.
Senior Greg Cairns works in his personal studio—his bedroom, that is. As the leader of his group, Greg takes it upon himself to do all the technical work behind the music.
The band was originally going to be a cast, and Nice Greg and Friends would have instead been made in the style and form of a television show.
"The idea was that we were these hella good rappers, even though we were terrible," Greg said.
According to Greg, the group consists of just three members —Nice Greg (Greg Cairns), The Snuggler and Lil' Cesar. The true identities, whereabouts and contributions of the group's other members remain a mystery, however.
Some speculate that they don't even exist. Other rumors suggest that the unknown members are children Greg has adopted solely because of their musical talent.
"I actually don't know who the other guys are," said senior Wesley Oribello, who was introduced to the group by Greg himself. "I've heard they're some guys from another school, but I don't really know who they are."
Whoever they are, they definitely have some sort of involvement with the music, as they have made small, anonymous appearances in certain songs. Greg would only allude to one line in the song "Nice Greg, Twice Greg," which was dropped by a rapper other than himself.
So far, Greg has released only three songs to the general public: "Nice Greg, Twice Greg," "Gregalicious" and "We Get Real High." These three songs have been enough to already drive his popularity to levels unheard of at LAHS.
Friends and fans alike have taken a liking to Greg's music because of both the professionalism and humor that goes into making it.
"I feel like if he tried hard and put some more time and effort into it, Greg could be really famous," Wesley said. "Being a DJ myself, I've noticed that it's really hard to make music. Greg has really good editing techniques. It sounds really smooth. It sounds like someone who's an actual musical artist."
Greg's quirky music and somewhat silly lyrics have grabbed the attention of many students. With lyrics like "I was born in a stable at the age of three/skipped two years because of my destiny/I want to be like Jesus, but even better/ Jesus didn't have his own line of sweaters," from the song 'Nice Greg, Twice Greg' or "I'm on match dot com/gettin' ladies one click at a time/I got a sign as I look out my window/I saw a lady, her name was Roberto (man, who's Roberto?)/Sh*t, I don't know, I've never met her before/I'm going crazy bro," from the song "We Get Real High."
Even further proof of Greg's popularity is his Facebook fan page, which already sports 231 fans, a number that has continued to grow over the past few weeks. Unlike most rappers, however, Greg isn't excited about the attention and praise he's receiving.
"I feel that I have too many fans," said Greg. "I might ask some people to leave my fan page, or I'll create another fan page for them."
Wesley feels Greg is a different breed of musician, as he puts aside the allure of fame to aim for something much bigger.
"I think one of the reasons [he makes music] is to meet girls and get money like most rappers, but I feel like Greg goes deeper than that," Wesley said.
Greg's reason for starting a project and his ultimate goal in making music is much deeper than the bass in his songs.
"I don't know, that really goes into the core of what Nice Greg is," Greg said, when asked what the purpose and goal of his group is. "He's an idea. He's above the influence."
Leave a Comment