Senior Corey Moran is applying to become an Eagle Scout, the highest rank in the Boy Scouts, this year. To do so, he's helping out the school in his own personal way. He's in the process of building the set for Broken Box's new play, A Christmas Carol, that will be showing from December 6 to 8.
Because all of the requirements to become an Eagle Scout must be met before the applicant turns 18, Corey's time frame is shortening quickly. The play came at the perfect time, as Corey is able to fit his Eagle Scout project with the rest of his commitments and finish the final step of becoming an Eagle Scout.
"I'm already in Broken Box so building the set for it would be awesome." Corey said.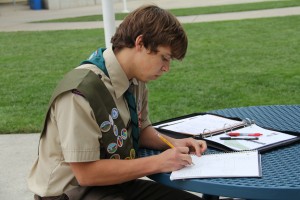 This time of the year is hectic for seniors like Corey, with college applications and dealing with the last classes of their high school career. The Eagle Scout project can help with much of the burden that these seniors are feeling, as well as provide a boost toward their self-confidence.
"There's the small tab that it's good for colleges and jobs and I've shown to myself that I can be committed to something for that long," Corey said.
To get approval for the building of the set, Corey created a plan and sent it to his Eagle advisors. Along with the traditional Scoutmaster that all Scouts are assigned, the Eagle rank application requires Corey to show the plan to district and the committee as well.
Story continues below advertisement
The plan was given the go-ahead and Corey began working with the help of construction consultant, Broken Box advisor Nancy Moran and English teacher Michael Moul to create a more detailed plan along with the material list.
The creation of the set will mark one of the last steps in becoming one of the highest ranks of the Boy Scouts. Although many others have dropped out of the Boy Scouts before being eligible to apply, Corey was able to and decided to finally do so after his years of being in the organization.
It was something of a family tradition, as Corey's father and brother were both Boy Scouts. Corey had started as a Cub Scout and worked his way up as a Boy Scout, part of the regular larger troop and then smaller Venture Crew.
"I just like the prospect of it, going out camping and all that," Corey said
The Venture Crew, a division of scouts age 14 and older, that Corey is a member of allows the older scouts to participate in more active programs. Corey is now the climbing coordinator for his crew, managing the gear and being in charge of teaching and directing the older scouts about how to take care of the younger scouts when on their annual two-day trips in April.
"Rather than your usual leadership positions, I chose to take something I like, which is rock-climbing," Corey said. "I just read the guidelines of the leadership requirement and found out that you can design your own position."
His creation of the climbing coordinator role, along with his Eagle Project, exemplifies how Corey was able to take his own interests and apply them to his career in the Boy Scouts. Corey believes this will give him an advantage during the interview process that he will undergo once completing his project.
"I think they'll really like that the fact that I found a way to put my own touch on it," Corey said.
This interview will check whether Corey has completely his project successfully and has met all the requirements to become an Eagle Scout, such as Life Scout for six months and demonstrating Scout Spirit, the attitude that members are expected to show based upon the ideals of the Boy Scouts.
One of the specific requirements of becoming an Eagle Scout is demonstrating obvious leadership in the troop or crew, such as being patrol leader. Corey has done that, assuming multiple leadership positions throughout his career.
"The decision was just left to me and then if you screw up, it'll be your fault," Corey said. "It's your job to get everyone through safely. It puts you in a position of leadership and that opportunity is what I really like."
Throughout his career as a Boy Scout, Corey was able to employ his skills with his different hobbies to create a unique take on the traditional Boy Scout path.
"I can always find my own individual touch on Boy Scouts," Corey said.