Senior Looks Back on a Decade of Dedication to Piano
Welcoming applause thunders through the hall as a solitary figure takes her bow on the vast stage. Fourteen-year-old Anna Martirosyan blinks into the bright spotlights of Carnegie Hall, grinning at the audience. The applause dies down and she takes her seat at the grand piano, conscious of the silence roaring around her. Hundreds look on, waiting for the music to begin, waiting to be awed by the incredible skill of this small 14-year-old girl. Anna does not disappoint.
Anna first began playing at the age of six under her mother's guidance but switched to a different piano teacher after three years because according to Anna, there is a "certain kind of relationship that's easier to work with." Reflecting back on rigorous piano lessons at such a young age, Anna admits that they were difficult.
"
I think it was the importance of playing because you love to, not because you want to win. – senior Anna Martirosyan"
"I usually didn't like it, [because] it's hard for a kid to sit down and focus so much for a long period of time," Anna said. "I usually knew that it was worth it, but a lot of times it was really annoying to have to put so much time into it when I could have been doing other fun things."
Through middle school, Anna participated in multiple piano competitions, such as the Menuhin-Dowling Music Competition, the California Association of Professional Music Teachers Honors and the United States Open Music Competition. Usually, she spent two to five months meticulously practicing for each competition, depending on the difficulty and appeal of each piece.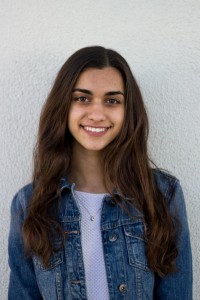 As Anna began high school, she found she had more schoolwork and less time to devote to the piano, so she decreased her competitions to one or two a year instead of the previous two or three. In spite of this, Anna remained passionately committed to music. Sophomore year, she performed in one of her most important competitions yet, the American Fine Arts Festival (AFAF), where she played "A la Albeniz" by Rodion Shchedrin.
"[The piece] sounds powerful, but also has a lot of charisma," Anna said. "It was short, but it's contemporary, [so] it's harder to learn by heart since it doesn't have traditional melodies. When you play, the most important thing to present is character. It took quite a bit of work to get the right character to project."
First place winners would get the chance to play at Carnegie Hall, the dream venue for any classical musician. With such high stakes, it was only natural that Anna felt the pressure of the moment during her performance. Yet due to her experience in competitions, Anna was able to channel her concentration into her music, allowing the emotion of the piece to soar and fill the audience.
"I think it was the importance of playing because you love to, not because you want to win," Anna said. "[The AFAF] was pretty frightening, but I tend to focus more on my playing and doing my absolute best rather than on what other people do."
Her skill and hard work earned her a winning place. As a result, she and the other first-place pianists traveled to Carnegie Hall in New York City for a final concert in November 2012. Despite the renowned location and audience, Anna did not find the concert stressful at all.
"Since it was already an accomplishment that I was there, it didn't feel like I had to beat anyone," Anna said. "I was able to play just because I wanted to. It was a really nice experience and New York was wonderful."
With a decade's worth of playing experience, Anna appreciates not only the challenges and beauty of each piece but also the way piano allows her to convey her emotions through a vast range of music.
"I feel like there is an endless repertoire you can learn," Anna said. "There are just so many pieces and so many different composers. When you're young, you have to play pieces that your teacher assigns you, but when you get older, at least for me, I get to pick the pieces that I find the most interesting for me, the ones that I relate to the most."
Recently, she performed "Fantasie in C," composed by Robert Schumann, in the Los Altos High School Talent Show on Friday, February 13.
"
I would want to keep up with my music because it has been such a big part of my life and I wouldn't want to not do it anymore. I definitely want to keep playing, even if it's not as often or as rigorous. – senior Anna Martirosyan"
"I liked being able to perform for a new type of audience," Anna said. "It's usually other people who play piano that I perform for, [but this time] it was my friends and my peers…It is usually a less judgemental environment than when it is in front of people who play piano."
Looking ahead, Anna has no plans to pursue a career in music because she will not be attending a music conservatory for college. However, she knows that piano will continue to be an integral part of of her future.
"When I go to college, I really hope that I'll have enough time to find a teacher and have lessons with them as well," Anna said. "I would want to keep up with my music because it has been such a big part of my life and I wouldn't want to not do it anymore. I definitely want to keep playing, even if it's not as often or as rigorous."
Leave a Comment