Leaving LAHS before graduating is not common for many students at school. However, those who do travel abroad as foreign exchange students often go to places in Europe or South America. In the past year, senior Sitar Terrass-Shah stepped outside of LAHS patterns and spent an entire year in Ghana.
Leaving in August of her junior year and not returning until 12 days before the start of her senior year, Sitar traveled to Ghana's capital, Accra. While there, she stayed with a host family.
"Growing up, I knew I wanted to [be an exchange student], but I always assumed I would end up in Europe," Sitar said. "But I figured that the point of an exchange experience is to get a different cultural experience and what would be most valuable to me is to go somewhere as different as possible."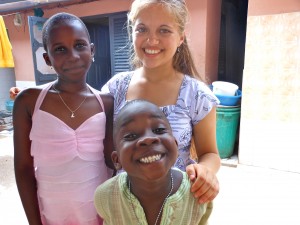 Sitar had never been to Africa before, but had been to Europe, Asia and South America. Her desire to acquire new experiences drove her to a new place. She said that when choosing her top three countries to travel abroad to, Sitar chose Ghana, Argentina and Spain. Out of these three countries, Ghana sounded the most exciting to her.
While in Ghana, Sitar's host family consisted of a mother, father, younger brother and younger sister. Although the family would be considered poor in the eyes of many students at this school–their home was not equipped with computers and phones–they were a typical working class family and were able to provide electricity and plumbing.
Sitar said that the hardest thing for her while living in Ghana was feeling like an outsider. Although the community was very nice and welcoming, she said that throughout her entire experience, there was always a barrier because of her nationality.
Story continues below advertisement
"The thing that I really enjoy about being home is being a part of a community," Sitar said. "The assumption was that because I was a foreigner, I didn't know certain things. It's nice to to feel like a complete part of a community again."
Despite facing initial difficulties in Ghana such as feeling homesick, Sitar developed strong relationships with her host family along with her friends. She was able to enjoy her year abroad through daily activities such as watching her siblings and making friends at school. Sitar said that she found herself calling her parents less and less as the year went on, but of course was happy to see them when returning home. Now that she is back, Sitar misses her friends in Ghana, but talks to them through a Skype phone plan.
"By the end, it wasn't so much that I was in a foreign country, I mean obviously it's not something you can forget, but I had fallen into a routine and all," Sitar said.
Sitar said that students in Ghana are expected to work at home after school, unlike many American high school students. She watched her host siblings and occasionally did household chores such as ironing. Instead of being expected to spend several hours on homework, less schoolwork is given in Ghana to allow students to help support their families. Many high school girls cook, clean and care for children while boys are expected to do manual labor to help support the family financially.
"Culturally, it's really different in that a lot more is expected of teenagers than here," Sitar said. "It's not typical and it's not really acceptable to be out with your friends all of the time."
Despite being the only exchange student in her school, Sitar adapted quickly. She was able to create strong friendships with people different from her friends in Los Altos. Along with the social aspects of school, Sitar took several classes that added to her time spent in Ghana. However, certain classes differed, such as her history course on African history. Sitar believes that more students from this school should travel abroad to learn new cultures.
"I think that it's interesting that there isn't a bigger exchange community here," Sitar said. "I know that in this area, everyone is so caught up in college apps … But I think it's important to realize that that's not the only thing that's going on. I mean, being in Ghana a year looks good on my college apps, but also it was a really good experience."