Senior Creates Website for Bell Schedule
Most students spend a portion of the class period figuring out how much time is left until the bell rings, often through going to the school website or simple memorization. Senior Nicolas Chan has taken the problem of knowing when the period ends into his own hands, creating a website called lahs.bell.club. The website provides a more efficient method by counting down how many minutes are left in the period.
"If I was wondering when class would end, I would search for the Los Altos bell schedule and then I'd have to click the link, but the school website is always super slow to load," Nicolas said. "I thought I could just make a shorter link and bookmark it, but then I thought it'd be even more useful to have a countdown so I wouldn't have to do any math."
The website is another addition to his web development and computer science projects which have included multiplayer minesweeper and 3D tic tac toe, a passion he hopes to expand on in college. Initially, Nicolas developed the website for himself and his friends, but its usefulness and efficiency drew attention from students and teachers.
"I never thought it would get this popular," Nicolas said. "I just thought it'd be useful and something I would use, and I thought it'd be maybe ten people using it regularly. It was really surprising to see."
With its growing popularity, Nicolas has made a number of improvements to enhance the aesthetic and functionality of the website, including accurate time synchronization. In the long term, he aims to further develop the analytical aspect of the website.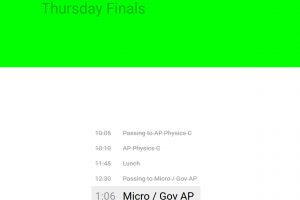 "I think it'd be more interesting to see more statistics, like what the most popular periods are when it's loaded up," Nicolas said. "Right now, we just have a graph of the daily hits. On Wednesdays it seems to dip a little bit, but Fridays and Tuesdays are more popular."
In the span of a couple weeks, the website has amassed a considerable number of daily hits and users. On Tuesday December 12th, the website garnered the most attention it's received since its inception: 1434 hits on 699 devices.
"If you go to bell.lahs.club/stats, there's a graph of daily hits with a difference between devices and daily hits," Nicolas said. "On your computer, you can load it up multiple times a day, so we get over a 1,000 daily hits on normal school days on roughly 500 devices. On average, people load it twice a day."
Leave a Comment