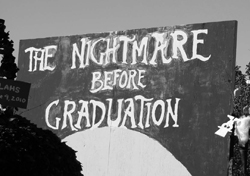 The Senior Class's float was paraded for Homecoming Week. The seniors have had recent success in raising more money for their class.
The Senior Class has recently had more success raising funds for class activities. In the past, it has been criticized for its lack of fundraising.
"The feeling we are behind is an unfair and very inaccurate picture," Senior Class adviser Terri Salsman de Rodriguex said.
She points out that the class currently has $6,500 in funds and that some of the deposits going toward senior activities like Prom and the Senior Picnic have already been made.
Story continues below advertisement
Rodriguex also said that the Senior Class's Boo-licious breakfast fundraiser was one of the best Senior Breakfast fundraisers in recent history, raising over $600.
She attributes much of this fundraising success to donated supplies, such as eggs and pancake mix from parents and coffee cake from Hobbees Restaurant.
And according to the other adviser, Karen Davis, the most important fundraisers still lie ahead with the Sadie Hawkins Dance and a See's Candy fundraiser in the spring.
"[The Sadie's dance] typically raises $6000 to $7000," Davis said.
Both Davis and Rodriguex mentioned that part of the reason people think the Senior Class is having problems raising funds is that there is a definite lack of participation in class council.
"Whenever there is a dinner night or a senior activity, [it is important] that each senior makes it a personal decision to support the Senior Class," Rodriguex said.
"We'd love to have more participation," Davis said.
According to Senior Class President Anjali Mehta, the lack of student enthusiasm and participation "is to be expected."
"Not everyone is into that sort of thing," Anjali said.
Despite the lack of participation, both of the class advisers were positive that the Senior Class would be able to reach its goals.
"There is going to be a Prom, the deposit is down," Rodriguex said, adding that the ticket price is "far from certain."
She added that "lots of things can affect the price. The meal, invitations, decorations, favors, that will determine part of it."
According to Anjali, the Prom will be held at the Hotel Sofitel in Redwood City.
"It's not your traditional venue," Anjali said. "[It is] very elegant, sophisticated and classy."
As for other class activities, the advisers believe that they are heading in the right direction.
"I think we are going to be on track," Davis said.