Senior Charlie Atkins finds purpose in philosophy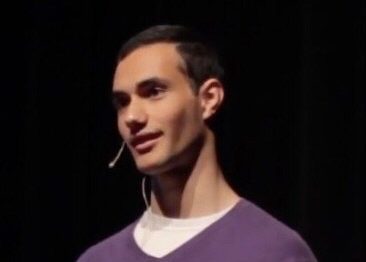 When sixth-grade students pick their own topics for a research project, most don't resort to complicated, obscure subjects like ancient Greek philosophy. Despite knowing hardly anything of the subject at the time, Charlie Atkins took the leap and discovered his life's passion six years ago.
"I guess I was pretty introspective back then," Charlie, now a senior, said. "I was always thinking and engaging in self-reflection."
His dad, Alexander Atkins, owns a collection of nearly 7,000 books extensively covering the humanities and gave Charlie a few books from his library to get started on the research project. Writing about the pre-Socratic era and studying famous philosophers like Aristotle and Plato, Charlie became engrossed with philosophy.
Today, at 17 years old, Charlie continues his studies through his own collection of over 1,500 books, mirroring his dad's interests — with books on history, literature, psychology and religion — but focusing mainly on philosophy.
(Charlie did admit that he's only read a handful of his books, but the collection's still pretty cool).
To amass these books, his dad likes to take Charlie on frequent book runs as a father-son bonding activity. Since the two know each other's tastes, they often find themselves recommending books to each other while sifting through the shelves.
"My collection started with a bookshelf," Charlie said. "Now it's overflowing downstairs and there are even boxes in the garage because I can't fit them all. It's very sad that people don't really care about books, but I've found the joy in them."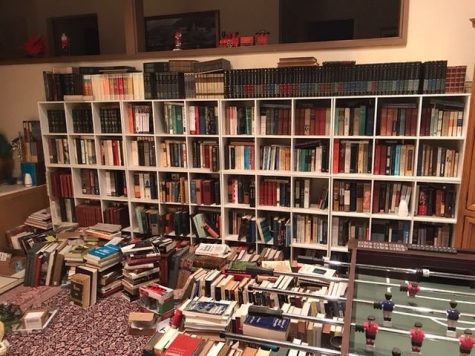 The Atkins' growing libraries are a reflection of the family's commitment to constant learning and discovery. But Atkins has always urged his children to go beyond self-interest and share their learning with others like he does through Atkins Bookshelf, a blog with short reflections on his daily readings. Ultimately, this inspired Charlie to start his own blog called Neologikon, filled with longer entries from his own reading journey.
Charlie came up with the blog's name by combining two Greek words that together mean "new reason." As such, Neologikon is dedicated to giving new purpose to the classic humanities for the current generation.
"I think that whatever path Charlie has chosen, a blog would allow him to share it with the world," Atkins said. "To think that, oh gosh, only university professors know about some obscure work is not so true. If you have the comprehension, the intelligence and the writing ability, you can teach someone else. And it doesn't matter how old you are, right?"
A day after his birthday, Charlie uploaded his first blog post in seventh grade on April 10. Five years later, Neologikon has reached over 800 email subscribers and 100,000 total hits; it's been viewed in nearly every country in the world.
"Right now it's kind of just a passion project," Charlie said. "I like doing it just because it's fun, and hopefully I can reach people through it."
As for his blogging schedule, Charlie likes to set the bar high: He tries to upload twice a week on Mondays and Fridays. Depending on a blog's length and complexity, it can take him from a few days up to a couple of weeks to research, outline, write and edit a post — and that's on top of rigorous schoolwork and various extracurricular activities.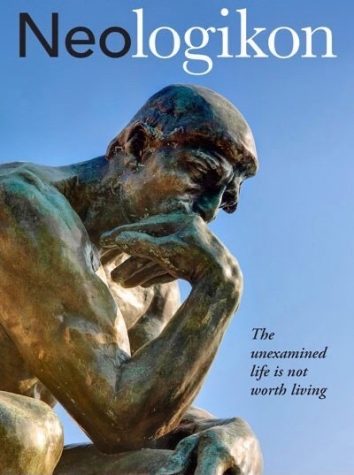 When he's writing a long post, you can normally find him listening to a chill playlist, sometimes cracking open a few Coca-Colas and being in a "flow state," as he calls it.
"I usually find that I get really immersed in the process," Charlie said. "The music blurs out, and it's almost as if I'm kind of just the cursor and the stream of writing."
For those around him, Charlie's dedication toward philosophical exploration is easy to recognize through the detailed nature of his blog posts.
"It's been a joy to watch because it's all been driven by him," Atkins said. "His vocabulary is way beyond mine, and his understanding of very arcane and in-depth philosophical work exceeds my comprehension."
While the blog's readership has grown over time, Charlie insisted that the interactions he gets with readers are what's most exciting and motivating to him, even if they're just a few comments here and there. A few years ago, memorably, a user commented on one of Charlie's blog posts that he was an English teacher and showcased Charlie's analysis of Ray Bradbury's Fahrenheit 541 during one of his lessons.
"I like English class, and if I can contribute to that excitement, or at least have somebody who teaches it find value in my work, that makes me want to continue doing blogging," Charlie said.
Another user recently commented asking Charlie for his professor credentials and where he taught, to which Charlie humbly responded that he is only a senior in high school.
Besides blogging and book-collecting, Charlie hopes to share and spread his philosophical interests in his own community. Currently, he leads discussions for Los Altos High School's Philosophy Club, and in his sophomore year, he presented a TEDx Talk on teen identity, sharing lessons that he derived from his philosophical studies. He hopes to continue doing the same in college while pursuing a degree in philosophy.
However, philosophy isn't just a detached hobby or career path for Charlie, it has fundamentally determined who he is as a person. As he's encountered new philosophies and ways of thinking over the years, Charlie has developed an eclectic view of himself and the world.
"Back in sixth grade, I thought philosophy was this godsend because it helped me become who I am and allowed me to create the life I wanted," Charlie said. "My current view of philosophy is that it can't directly change the world the way a scientific discovery can, but it can change how individuals perceive the world. It's an individually empowering thing."
Charlie has taken this lesson to heart, applying philosophical thinking to everything he does. As a varsity runner on the LAHS track team, Charlie likes to read books about the philosophy of running and has learned to value the pain he experiences when pushing himself during a track workout.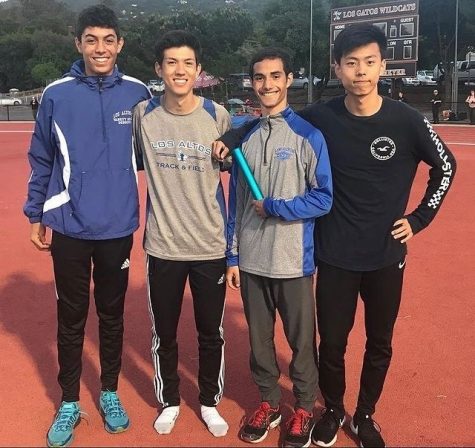 He bases this off philosopher Friedrich Nietzsche's famous quote, which states "He who has a why to live can bear almost any how."
"I'll be finishing up a workout and I'll either be lying on the ground or on my knees, probably have thrown up or cramped or something," Charlie said. "And I'm like, 'Why am I doing this? This is so painful.' But with Nietzsche's idea of aimless suffering versus suffering for something, I've really learned to embrace suffering as something that pushes me, something to be overcome."
As a result, Charlie has become a top sprinter for the school track team, and in the process, has inspired his teammates to do better and remain focused during training.
Inside the classroom, Charlie brings the same amount of immense commitment and discipline, while also excitedly helping his peers. His sophomore-year AP European History teacher Stephanie Downey explained how he brought a level of academic excellence in the class that was truly beyond his years.
"As a sophomore, he was reading philosophical works that most college philosophy majors need SparkNotes and YouTube video lectures to comprehend," Downey said. "But most impressively, he is one of the kindest students I have taught."
Reflecting on the way his studies have shaped his outlook on life, Charlie plans to become either a philosophy professor or a therapist in the future, while writing books on the side.
Charlie's studies have not only impacted his sports or career path but also his personal friendships and relationships. In seventh grade, he started "Jacuzzi Junctions," a tradition where he invites people he doesn't know too well, or people he does know well, to chill in his backyard Jacuzzi. The goal of these get-togethers is always to try to reach deep, personal conversations on topics ranging from the meaning of life to true happiness.
"It's just a way to sit down with people, get rid of unnecessary distractions and really just focus on the other person," Charlie said.
The topics aren't always that abstract and philosophical, however. Senior Kevin Andrews, who often participates in "Jacuzzi Junctions," explained that many times they like to use the opportunity to just check in with each other.
"If someone has something that's going on in their life, we just bring it up and allow ourselves to be vulnerable with one another," Kevin said. "I think it's personally helped put me on a path in life that leads to the most happiness."
Through these discussions, Charlie oftentimes offers helpful advice to others, and his naturally kind and thoughtful nature shines through.
"He's just a good person to talk to," Kevin said. "Charlie cares deeply about all of his friends and wants the best for them. He's always wanting to help people and make their lives as happy as they can be."
Leave a Comment