Senior Cathryn Krajewski takes on the COVID-19 vaccine one dose at a time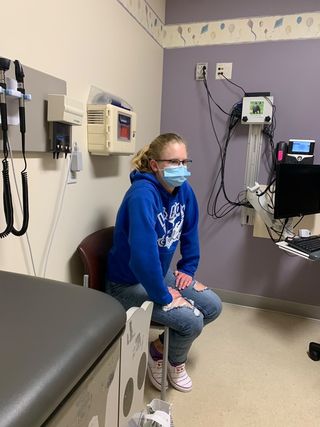 The Talon collaborated with New Media Lit Co-Editor-in-Chief senior Cathryn Krajewski to document her experiences as a participant of the local Pfizer COVID-19 vaccine trial for minors.
After months of trying to get off the sidelines in the medical fight against the coronavirus, senior Cathryn Krajewski seized her chance to join as a research participant in biopharmaceutical company Pfizer's first COVID-19 vaccine trial approved for minors.
Since the start of the pandemic, Cathryn's fascination with public health and epidemiology has inspired her to conduct hours of her own research into vaccine trials and the technology behind the vaccine's creation. Participating in a trial herself would give her the rare opportunity to observe the intersection of these two passions — and potential college majors— firsthand.
While others are frightened by the possibility of side effects that come with an mRNA vaccine, her research assuaged her concerns about getting involved.
"I'm not concerned about an mRNA vaccine specifically because I understand the entire process," Cathryn said. "mRNA isn't DNA, and it's coding for a very specific spike protein to create an immune response. No virus is being introduced to my system, so I'm much less concerned about adverse reactions."
She added that she really misses school and wants kids like her 14-year-old brother to be able to go back — something that will be hard unless kids can get vaccinated.
Her search for viable trials began in May, yielding few results at the time. It wasn't until four months later that Cathryn stumbled upon an article from the Mercury News covering Santa Clara County teenagers in COVID-19 vaccine trials.
She immediately contacted the head researcher Nicola Klein in late November to express her interest in participating, and four days later she received a text message informing her of her formal acceptance.
On Thursday, December 3, Cathryn and her mother visited the Kaiser Santa Clara Medical Center. There, Cathryn received a nasal swab, peed in a cup and had her blood drawn. She was also taught how to self-swab for at-home COVID-19 tests, while her mother signed the legal consent forms for the procedure.
She was then administered the first dose of either the vaccine or a placebo — a substance with no therapeutic effect that is prescribed for psychological benefit. The placebo group will observe how many people naturally contract COVID-19, but the patients and researchers are "blind" so as not to taint the results of the trial.
Cathryn will return to the Kaiser Santa Clara Medical Center on Tuesday, December 22, to receive the second dose. For a week after each dose, she must fill out a symptom tracker on her phone, which asks her to record any vaccine side effects such as chills, vomiting, aches and fevers. Then, for the next two years, she will have to fill out a weekly survey tracking COVID-19 symptoms.
"I also have to go in for visits where they draw my blood; that part is fun," Cathryn joked.
During these bi-annual visits, which will be expected for the duration of the two-year study, Cathryn will also get a pregnancy test, which is required to ensure vaccines are safe and effective for the general population, and also that the vaccine does not harm the potential fetus. For compensation, she will be paid $119 per visit and $5 per survey as a trial participant by Pfizer.
Although there is little information about the vaccine's effect on minors, Cathryn said her family is more concerned about the impacts of COVID-19 than that of the vaccine.
"The idea of having a kid who's protected was very cool," Cathryn said of her mother's reaction to her decision. "She thought it was very successful and safe for adults [based on the trial results]. I'm six months off, so she was not concerned at all."
Although Cathryn does not yet know if she received the actual vaccine or the placebo, Pfizer is likely to unblind the trial between the one-month and six-month visit, when Pfizer will submit results to the FDA. She added that Pfizer believes it is unethical to have a placebo group in a vaccine approved for teenagers, and the placebo group will likely be vaccinated after the trial is complete.
For now, Cathryn hopes she can normalize the vaccine in the eyes of her community through the documentation of her participation in the trial.
"One thing that's really important to me right now is helping to increase confidence in the vaccine," Cathryn said. "Knowing someone who is involved in a trial could be a tool to help make people feel more confident in the science behind these trials."
Watch Cathryn's video below for an inner look into her involvement in the vaccine trial.
Courtesy Cathryn Krajewski
Leave a Comment