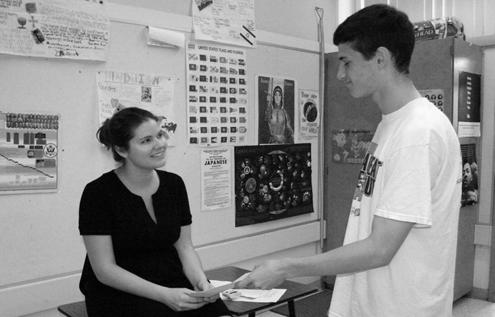 Social studies teacher April Fritz collects a current event from senior Sammy Meckler. While some teachers educate students about current events to an extent, more needs to be done to connect students to the real world.
High school is short—four years and then students become independent and voting adults. Consequently, the school prides itself in its role in preparing students to enter the world beyond campus as responsible adult contributors to society.
It is detrimental, then, that the school minimally emphasizes both political awareness and knowledge of the events affecting the greater world.
As the most truly politically neutral place that students can access, the school has a duty to keep students informed about important local and national news and political going-ons. Not performing this duty shortchanges the students by leaving them unprepared for one of the most significant aspects of adult life— political engagement.
Story continues below advertisement
Social studies teacher April Fritz encourages her AP Government students to stay politically aware by assigning weekly "current events" where students connect news stories to what they study. But Fritz said more should be done to promote political awareness.
"The school should have a structured time to discuss current events," Fritz said. "We want [students] to graduate from here with a larger conception of the world around [them]."
With the Social Studies Department's requirement to adhere to a history-based curriculum, it is imperative that the school also take on the role of providing news to the students. Discussion of current events promotes the critical thinking skills needed to stay connected to a democratic society as adults.
Senior Kayla Polanco said she finds it helpful when she can connect her classwork to the outside world.
"It kind of makes you feel like you're learning something that's actually going to help you understand the way the real world works and what's actually going on," Kayla said.
The school could simply mention top stories of the day in the morning announcements. Just including events that affect citizens could benefit those who wish to be informed. According to junior Chris Beyer, who has worked on the school announcements, such integration would be "very easy" to do.
Another means of integrating current events into the school culture would be to occasionally hold special tutorials where students can meet to discuss prominent occurrences in the world.
Freshman Christina Luk said she wishes the school put more emphasis on current events as a whole. "We hardly ever talk about actual events that are going on politically in our own country or in other countries," Christina said.
Regardless of how the school chooses to do it, it is essential to put some emphasis on current events. Otherwise, the school runs the risk of breeding apathetic individuals who lack incentive to maintain some level of political and social awareness.
Without the integration of current events, students are left less capable of contributing meaningfully to a democratic society and connecting their high school educations to the real world.